14 janvier 2019
Twitter Art Exhibit 2019 soutiendra Art in Healthcare, une organisation caritative basée à Edimbourg dont la devise est de créer "une Ecosse où les arts visuels améliorent la santé et apportent le bien-être à tout un chacun".
Art in Healthcare oeuvre étroitement avec une grande variété d'acteurs du domaine de la santé tels que les hôpitaux, les cabinets médicaux, les groupes communautaires de santé, les maisons de repos, les centres de santé,... et offre des ateliers artistiques sur-mesure tout au long de l'année. Les participants y développent de nouveaux talents, ils y trouvent une distraction face à leurs craintes et angoisses du quotidien et ils peuvent également y faire de nouvelles connaissances. L'aspect thérapeutique de ces ateliers a maintes fois été démontré et ceux-ci ont un impact positif à long terme sur l'équilibre de la santé mentale et le bien-être des patients.
Les fonds récoltés par Twitter Art Exhibit 2019 permettront à Art in Healthcare de développer, voire d'étendre son programme d'ateliers à davantage de patients et de stimuler leur créativité, que ceux-ci se trouvent à l'hôpital, en maison de soins, en centre communautaire de santé, en maison de repos ou au sein de toute autre structure de soins de santé.
Vernissage : samedi 11 mai 2019, de 17h30 à 20h30
Exposition : du 11 au 13 mai 2019, les ventes se poursuivront ensuite online
Lieu : Out of the Blue Drill Hall, 32-36 Dalmeny Street, Edimbourg EH6 8RG, Ecosse
http://twitterartexhibit.org
Twitter Art Exhibit 2019 is supporting Art in Healthcare, an Edinburgh based charity whose core aim is to have "a Scotland in which visual art improves health and keeps people well".
Art in Healthcare works closely with a broad cross section of healthcare providers in hospitals, GP surgeries, community care groups, hospices, healthcare centres and other bodies involved in the provision of healthcare to run a series of carefully tailored art workshops throughout the year. Participants to these workshops are given the opportunity to build new skills, make new friends. Workshops have a therapeutic effect, they also serve as a distraction to anxieties and bring routine, all of which have been shown to have a positive impact on the long term mental health and well being of those in the healthcare system.
Funds raised by Twitter Art Exhibit 2019 will enable Art in Healthcare to develop and extend their workshop programme to benefit more people within the healthcare system. All Art In Healthcare's workshops bring the power of creativity to people in times of need whether in a hospital, care home, community health centre, hospice or any other health care setting.
Opening day: Saturday 11th May 2019 5:30pm-8:30pm
Show runs: May 11th-13th, 2019 and thereafter sales will continue online
Where : Out of the Blue Drill Hall, 32-36 Dalmeny Street, Edinburgh EH6 8RG, Scotland
29 novembre 2018
Cette aquarelle est l'une des dernières-nées de la série Textures. Je n'ai pas débuté ce tableau par un arrière-plan texturé, contrairement à mon habitude. Dans l'humide, j'ai déposé un premier lavis de terre de sienne naturelle, d'or quinacridone et de bleus, permettant aux pigments de se mélanger et de créer des nuances intéressantes de turquoise et de verts. Cette base établit la structure de la composition et définit l'atmosphère / la gamme colorée de l'aquarelle.
Comme vous pouvez le voir ci-dessous, couleurs et valeurs naissent graduellement, lavis après lavis, en partant des nuances les plus claires vers les plus foncées. Le blanc du papier est préservé d'emblée alors que les détails et les effets de texture sont ajoutés tout au long du travail.
This watercolour painting is one of the latest from the Textures series. To start this work, I didn't use a textured background as usual. I layered down an initial wash of raw sienna, quinacridone gold and blues, allowing the pigments to mix together and to create some interesting shades of turquoise and greens. This underpainting establishes the structure of the composition and defines the atmosphere / colour scheme of the work.
As you can see on the three images above, colours and values are gradually built up, layer by layer, from light to dark. Blank areas are preserved while details and texture effects are added during the entire process.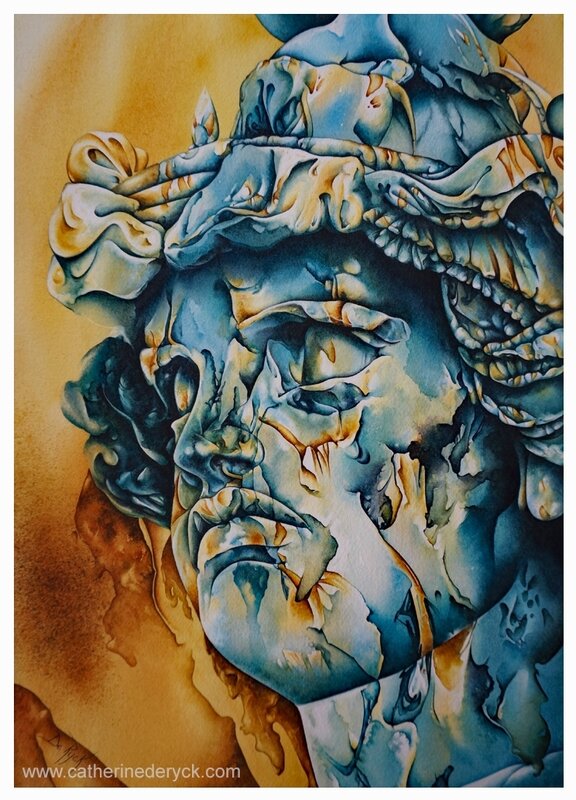 Hidden Treasures. Aquarelle / Watercolour, 38 x 28 cm. 2017.
19 décembre 2017
Le Salon International d'Aquarelle II, s'est déroulé à la Galerie EMS (Galerie d'Art de la Société d'Etudes Macédoniennes) à Thessalonique, en Grèce, du 10 novembre au 3 décembre. L'exposition, initiée et organisée par George Politis, a réuni 125 artistes originaires des pays suivants : Allemagne, Belgique, Bengladesh, Canada, Chine, Espagne, Etats-Unis, France, Grèce, Hong-Kong, Hongrie, Inde, Indonésie, Israël, Italie, Japon, Malaisie, Myanmar, Norvège, Pakistan, Pays-Bas, Philippines, Portugal, Royaume-Uni, Russie, Singapour, Slovénie, Suède, Taïwan, Thaïlande, Turquie, Ukraine. J'ai eu l'honneur d'y être conviée en tant que Leader de la Délégation belge.
Pour ceux qui n'ont pas pu faire le déplacement, il est possible de visionner en ligne le catalogue de l'exposition.
Au terme du Salon International d'Aquarelle II, un jury composé d'artistes et de critiques d'art internationaux a décerné différents prix et à élaboré le Top 25 International des Aquarellistes pour l'année 2017. J'ai le plaisir de figurer à la 20ème place de ce classement.
Jury Awards Watercolor Salon II 2017 :
The International Watercolour Salon II, took place from 10 November until 3 December in the EMS Gallery (Gallery of the Society of Macedonian Studies) of Thessaloniki, Greece. The exhibition, organized and curated by George Politis, gathered 125 artists coming from the following countries : Belgium, Bengladesh, Canada, China, France, Germany, Greece, Hong-Kong, Hungary, India, Indonesia, Israël, Italy, Japan, Malaysia, Myanmar, Netherlands, Norway, Pakistan, Philippines, Portugal, Russia, Singapour, Slovenia, Spain, Sweden, Taïwan, Thaïland, Turkey, Ukraine, United Kingdom, United States. I was honoured to be invited as Leader of the Belgian Delegation.
For those who couldn't attend, it is now possible to view the online exhibition catalog.
At the end of the International Watercolour Salon II, a jury made of international artists and art critics several awarded the participants and elaborated the Top 25 International Watercolour Ranking for 2017. I am happy and honoured to find my name at the 20th place.
08 octobre 2017
En ce mois d'octobre, partons sous le soleil du Portugal. Vous trouverez ci-dessous l'itinéraire suivi. Au programme :
Porto : la Tour des Clercs et l'église baroque de Nicolau Nasoni, la gare de São Bento, le quartier de la Ribeira, le Douro...
Bracelos, Braga, Guimarães et son château médiéval qui domine la ville
Amarante, sur les bords du fleuve Tãmega, et le pont São Gonçalo
Vila Real
Régua, la capitale du Douro, et Lamego
Aveiro, la Venise portugaise, et la Ria
Viseu et Coimbra, la bien nommée Ville des Arts et des Lettres
Fatima et sa basilique, Tomar et le Couvent de l'ordre du Christ qui fut occupé par les Templiers pendant deux siècles, Castelo de Vide
la ville fortifiée de Marvão, surnommée le nid d'aigle
Setúbal, l'une des villes les plus anciennes du Portugal
le Parc Naturel de l'Arrábida
Sesimbra, pittoresque ville de pêcheurs
Le Tage
Lisbonne et ses quartiers : Belém, Alfama, la Baixa, ...
This October, let's go to Portugal. Our travel itinerary is traced on the map above. We are going to visit:
Porto : the Clérigos Church by Nicolau Nasoni and its Tower, the São Bento railway station, the district of Ribeira, the Douro...
Bracelos, Braga, Guimarães and its medieval castle that overlooks the city
Amarante and the São Gonçalo Bridge, the Tâmega River which runs through the town
Vila Real
Régua, the capital of Douro, and Lamego
Aveiro, aka the Portuguese Venice, and the Ria
Viseu and Coimbra, the well-named City of Arts and Letters
Fatima and its basilica, Tomar and the Convent of Chirst which was the home of the Templars during 200 years, Castelo de Vide
the fortified town of Marvão, nicknamed the eyrie
Setúbal, one of Portugal's oldest cities
Arrábida Natural Park
Sesimbra, a pittoresque fishing town
the Tagus River
Lisbon and its districts : Belém, Alfama, Baixa, ...
24 septembre 2017
L'exposition Once upon a time, au Cinquantenaire (Bruxelles), a fermé ses portes le 17 septembre. Pendant plusieurs mois, 120 montres émaillées issues des collections du musée ont brillé à côté de répliques en papier de robes historiques datant de la même période (1650-1850). Ces robes ont toutes été réalisées par l'Atelier Isabelle de Borchgrave, à Ixelles. Elles appartiennent à la collection Papiers à la Mode imaginée par l'artiste pour raconter à sa façon 300 ans d'histoire de la mode, de la reine Elisabeth Ière jusqu'à Coco Chanel. A ce jour, cette collection a été admirée par plus d'un million de visiteurs à travers le monde.
Isabelle de Borchgrave est une artiste bruxelloise active depuis les années 70. En 1994, elle est bouleversée par la vsite d'une rétrospective consacrée à Yves Saint-Laurent. Depuis, elle a élaboré quatre grandes collections de robes en papier mettant chaque fois en scène des univers différents.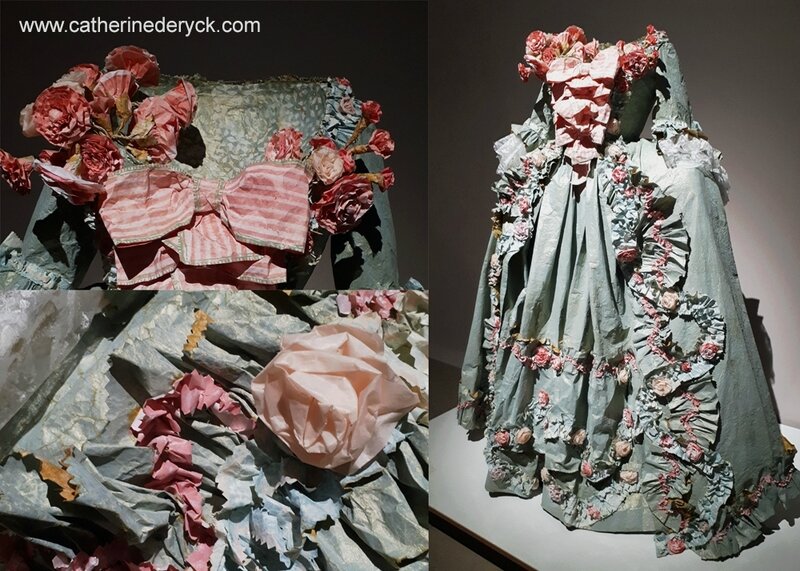 The Once upon a time exhibition, in the Cinquantenaire (Brussels), closed its doors on 17th September. For a few months, 120 enamelled watches from the museum's prestigious collections were shown accompanied by paper dresses, all copies of period outfits from the same era (1650-1850). These dresses have been created by the Isabelle de Borchgrave Studio, in Ixelles. They are part of the collection Paper in Fashion, in which the artist reviews 300 years of fashion history, from Queen Elizabeth the First to Coco Chanel. To date, this collection has been seen by more than a million visitors worldwide.
Isabelle de Borchgrave is a Brussels artist who has been active since the 1970's. In 1994, she was inspired by a visit to an Yves Saint-Laurent retrospective exhibition, and she has since produced four large collections of paper dresses, each time creating a different universe.