20 mai 2017
L'exposition Grandmasters of Fine Arts 2017 est en ligne. Cette année, elle s'intitule 40.000 ans plus tard.
Les premières oeuvres d'Art ont été découvertes dans les grottes, il y a environ 40.000 ans.
L'Art coule dans nos veines. Pour les artistes et les amateurs d'art, il est nécéssité vitale !
Imaginez, il y a des milliers d'années, les peuples s'arrêter devant de magnifiques créations.
Plus tard, à travers les siècles, autour du monde, l'Art s'est développé, donnant naissance aux étonnantes peintures du Moyen-Age, puis de la Renaissance. Nos Impressionistes lancèrent une nouvelle tendance, une nouvelle ère elle-même suivie par le Cubisme, l'Abstraction et bien d'autres encore... A travers cette exposition, vous apprécierez combien l'Art est aujourd'hui plus fort que jamais et encore bien vivant.
Par le biais du site internet, vous pouvez naviguer dans les galeries virtuelles et découvrir le travail d'un pléiade d'artistes (59 exactement !) venus des 5 continents. Le fait qu'il s'agisse d'une exposition multi-techniques qui réunit aquarellistes, peintres à l'huile ou à l'acrylique, pastellistes, ... démontre à quel point l'art est versatile et exprime tant de choses de tant de manières différentes.
Merci à l'artiste britannique Beatrice Cloake pour toute son énergie investie dans la collecte des images, la création des galeries et l'organisation de cette exposition. Elle a réalisé un travail incroyable, comme toujours. Rendez-vous sur le site web et partez à la découverte de nouveaux horizons artisitques, nous espérons que vous apprécierez la visite !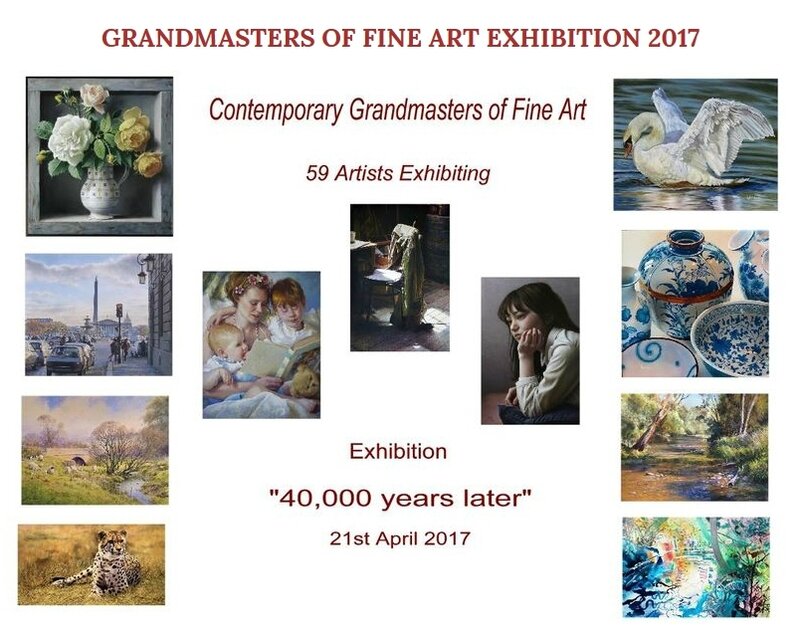 The Grandmasters of Fine Arts 2017 exhibition is online live. This year, the show is untitled 40.000 years later.
The first works of Art were found in caves, approximately 40.000 years ago.
Art is in our blood. Either for artists or for their followers, it is a necessity of life !
Imagine thousands of years ago, people staring at the magnificent creations.
Later, through centuries, around the world, Art carried on, giving birth to the astonishing paintings of the Middle Age, then Renaissance. Our Impressionists started a new trend, a new era and it carried on with Cubism, Abstract and more... Through this exhibition, you will appreciate that real Fine Art is stronger than ever and very much alive.
Through the website, you will be able to browse the galleries and discover the works of a crowd of artists (59 exactly!) coming from the 5 continents. The fact that this is a multi-media exhibition gathering watercolour, acrylics and oil painters, pastellists, ... shows how art can be versatile and express so many things in so many ways.
Once again, I wish to thank my friend, UK-based artist Beatrice Cloake, for her tremendous work collecting the pictures, organizing the galleries and curating this online exhibition. She did an amazing job, as always. Go see the website and discover all artists and works, we hope that you will enjoy the visit !
01 mai 2017
Le Cap des Peuples Endormis / The Point of the Sleepy People. Aquarelle / Watercolour, 26 x 36 cm. 2017.
Rhue est un petit village situé à environ 5 km au nord d'Ullapool, dans l'ancien Comté de Ross et Cromarty, au nord-ouest des Highlands, en Ecosse.
Rhue vient du nom An Rubha qui signifie cap (ou promontoire) en gaélique. Le nom complet de cet endroit est Rudha Cadail, qui peut se traduire par "le Cap des Peuples Endormis". Selon la légende, ce nom provient des marins qui avaient été retrouvés endormis et totalement désarmés sur les rochers du cap, après le naufrage de leur navire par une nuit de tempête. Rudha Cadail est accessible par une courte balade qui prend son point de départ au village de Rhue.
Le phare, aujourd'hui devenu un emblême du lieu, a été construit sur ces rochers. Il se trouve à la séparation entre le Loch Kanaird et le Loch Broom et il marque l'entrée nord de la partie supérieure du Loch Broom et du port d'Ullapool. La vue sur le Loch Broom et vers la mer, en ce compris les Iles d'Eté, y est magnifique. Sur l'aquarelle ci-dessus, vous pouvez voir se dessiner la montagne de Beinn Ghobhlach (635 m), située sur l'autre rive du Loch Broom, dans la Péninsule de Scoraig.
Sur la photo, en bas de ce post, vous pouvez apercevoir le phare et les rives de Rhue. La photo a été prise sur le ferry qui relie Stornoway à Ullapool, au retour de notre voyage dans les Hébrides Extérieures.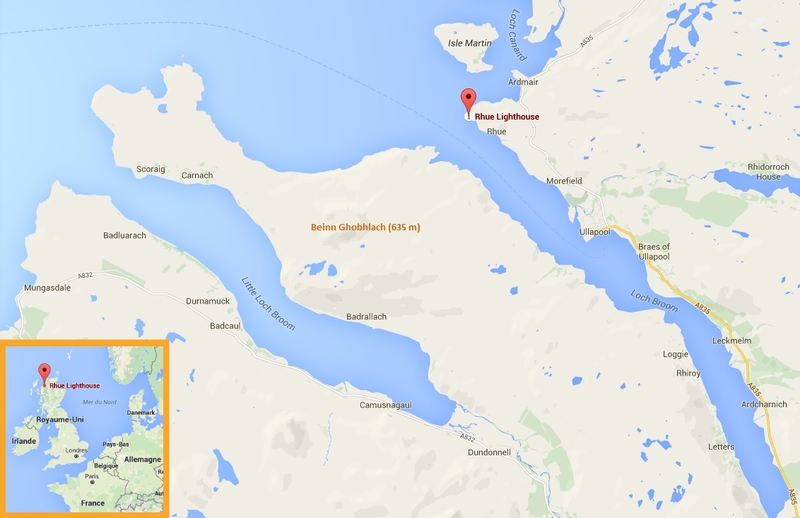 Rhue, Beinn Ghobhlach and the Scoraig Peninsula. Highlands, Scotland. Cliquez pour agrandir / Click to enlarge.
Rhue is a small settlement about 5 km north of Ullapool in Ross and Cromarty, it is located in the North West of the Highlands, Scotland.
Rhue derives from An Rubha which means headland in Gaelic. The full name of the area depicted here is Rudha Cadail, which in Gaelic means "the Point of the Sleepy People". According to the legend, the name came from sailors found asleep but quite unharmed on the rocks after their boat was shipwrecked on a stormy night. Rudha Cadail is accessible by a short walk from the village of Rhue.
The lighthouse, which is now a landmark of the place, was built on these rocks. The Rudha Cadail lighthouse is located on the point separating Loch Kanaird and Loch Broom, marking the north side of the entrance to the upper portion of Loch Broom and the harbour of Ullapool. It offers good views down Loch Broom and out to sea including to the Summer Isles. On the watercollour above, you can see the shapely mountain of Beinn Ghobhlach (635 m) which is directly situated across Loch Broom, on the Scoraig Peninsula.
On the picture below, you can see Rhue's lighthouse and shores. This picture was taken on the ferry that connects Stornoway to Ullapool, during our return journey from the Outer Hebrides.
15 avril 2017
Cet été, mon grand ami George Politis (RI, AWS) organise un stage watermedia en Grèce. Celui-ci se déroulera du 22 au 28 août à Pélion. Le Mont Pélion est ponctué de villages traditionnels aux toîts de pierre grise, aux maisons élégantes et aux sentiers pavés. De magnifiques plages bordant la mer turquoise s'étendent à l'est de la péninsule. Les artistes et les amoureux du paysage apprécieront sans aucun doute son authenticité et la beauté naturelle du lieu.
Description par George : nous utiliserons une grande variété de techniques, aquarelle, gouache, acrylique, encres, collage... Peinture sur YUPO, etc...
L'accent portera sur la composition et la création d'oeuvres étonnantes qui pourront être présentées en exposition.
Un autre aspect sera dédié à comment "sauver" une aquarelle. Comment la retravailer et lui donner une nouvelle vie.
Programme et sujets :
mardi : esquisse, composition, centre d'intérêt. Peindre les textures à l'aquarelle.

mercredi : techniques mixtes, abstraction. Technique, pratique & comment peindre les graffiti sur papier. Peindre la plage et le paysage de bord de mer à l'aquarelle.

jeudi :

esquisse, composition

. Utilisation du collage. Mixed watermedia (acrylique, collage) : sujets urbains, nature.
vendredi : peinture sur YUPO : abstraction + nature morte, paysage sur YUPO. Texture à l'aquarelle.


samedi : peinture sur le motif. Texture watermedia, approches expérimentales et classiques.

dimanche :

esquisse

/ p

einture sur le motif

.
Je vous recommande vivement les stages de George. Toutes les informations pratiques et photos se trouvent ici.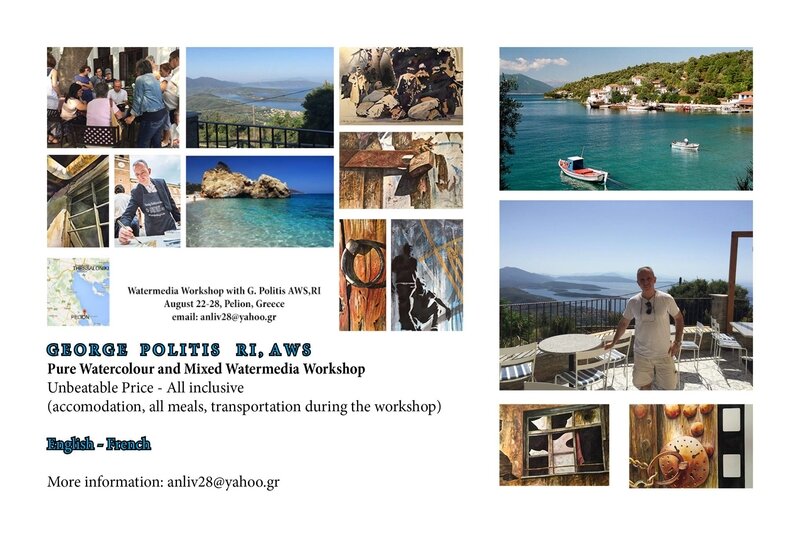 This summer, my dear friend George Politis (RI, AWS) organizes a watermedia workshop in Greece. The workshop will take place from 22nd until 28th August in Mount Pelion. Pelion is actually a large mountain dotted with traditional villages, with grey stone roofs, elegant houses and paved paths. On the eastern side of the peninsula, there are wonderful beaches with exotic blue water. All landscape lovers and artists will appreciate its authenticity and its natural beauty.
Description by George: We will be using a variety of techniques, watercolour, gouache, inks, acrylics, collage... YUPO painting, etc...
A great emphasis is given to compositional ideas and how to create striking pieces for entering exhibitions.
Another part is trying to "save" unsuccessful watercolours. How we could rework and "save" them.
Schedule and subjects:
Tuesday: sketching, composition, centre of interest. Painting texture in watercolour.

Wednesday: mixed media, abstract paintings. Techniques, practice & painting graffiti on paper. Painting a beach landscape in watercolour.

Thursday: sketching, composition. Use of collage. Mixed watermedia (acrylics, collage): buildings, nature.

Friday: YUPO painting: abstract + still life, YUPO landscape. Texture in watercolour.

Saturday: plein air painting. Texture in watermedia, experimental and classical approaches.

Sunday: sketching / plein air painting.
I can't recommend George's workshops enough. All pratical information and more pictures can be found here.
is a place of great natural beauty. It is actually a large mountain dotted with traditional villages and exotic beaches. Makrinitsa, Portaria, Milies and Tsagarada are the most traditional villages of Pelion, with grey stone roofs, elegant houses and paved paths. On the eastern side of the peninsula, there are wonderful beaches with exotic blue water. Source:
www.greeka.com
05 mars 2017
Theatreland. Technique mixte sur papier / Mixed media on paper, 12 x 16 cm. 2017. SOLD.

Cette année, j'ai la chance d'exposer à Stratford-Upon-Avon, ce qui me rend très enthousiaste. C'est à Stratford-Upon-Avon que Shakespeare est né et qu'il a vécu les premières années de sa vie ; le siège de la Royal Shakespeare Company y est également situé. Je m'y suis rendue il y a plusieurs années et je me rappelle l'atmosphère particulière de la ville, l'impression de croiser le dramaturge à chaque coin de rue, la visite de la maison où il a passé son enfance... Assister à une pièce au Swan Theatre est en quelque sorte magique.
L'oeuvre de Shakespeare est intemporelle et universelle. Au cours des 20è et 21è siècles, ses pièces ont régulièrement été adaptées sur scène et leur popularité est constante. Elles sont étudiées, jouées et réinterprétées dans des contextes historiques et politiques divers à travers le monde. Theatreland, ci-dessus, est une technique mixte (acrylique et collage) sur papier. Elle rend hommage à l'héritage que Shakespeare à légué au monde, à son omniprésence sur scène pendant des siècles et à la manière dont le théâtre a permis, à une époque lointaine, d'ouvrir une fenêtre sur le monde.
J'ai intégré quelques souvenirs personnels à la composition. Sur la droite, partiellement dissimulé sous la peinture acrylique, vous pouvez voir un ticket d'une représentation RSC - Antoine et Cléopâtre jouée en 2003 au Swan de Straford-Upon-Avon, avec Joaquina Kalukango et Jonathan Cake dans les rôles-titres. J'ai aussi ajouté de petits éléments promotionnels plus ou moins reliés à Shakespeare.
Cette peinture au format carte postale sera mise en vente lors de l'exposition Twitter Art Exhibit 2017. 100% des bénéfices des ventes seront directement reversés à une association caritative, Molly Olly's Wishes. Cette association vient en aide aux enfants atteints de pathologies lourdes ou de maladies au stade terminal et à leurs familles afin d'améliorer leur quotidien sur un plan émotionnel. Ce soutien prend différentes formes. Molly Olly exauce des souhaits allant de l'acquisition de matériel thérapeutique, en vue d'améliorer le bien-être physique ou émotionnel des enfants, à l'organisation d'une journée exceptionnelle en famille afin de valoriser le temps passé ensemble.
Twitter Art Exhibit 2017 se déroulera à la Stratford Arts House, 14 Rother Street, Stratford-Upon-Avon, Warwickshire, CV37 6LU, UK. Les oeuvres seront exposées et vendues dès le jour du vernissage, le samedi 1er avril, et jusqu'au 19 avril 2017. Accès libre pour le public.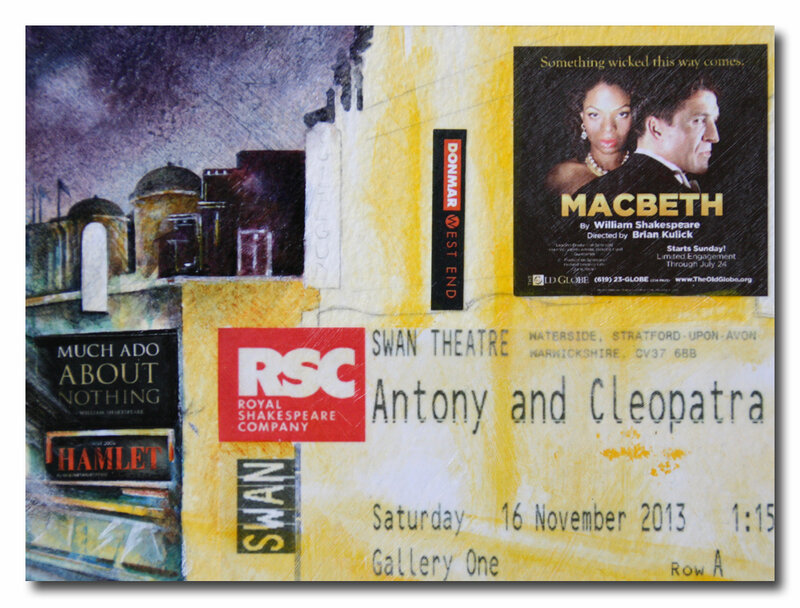 Theatreland, work in progress : la technique du clipping apprise auprès de ... / the clipping technique learned from Roland Palmaerts.

This year, I have the chance to exhibit in Stratford-Upon-Avon and I must admit that I feel quite thrilled about this. Stratford-Upon-Avon is Shakespeare's birthplace as well as the home of the Royal Shakespeare Company. I visited the town a few years ago and I remember its particular atmosphere, the feeling to meet the playwright at every street corner or when I visited the house where he spent his childhood... Attending to a play there is kind of magic.
Shakespeare's work is intemporal and universal. In the 20th and 21st centuries, his plays have been repeatedly adapted on stage and they remain highly popular. They are constantly studied, performed, and reinterpreted in diverse cultural and political contexts throughout the world. Theatreland, shown above, is a mixed media (acrylic and collage) work on paper. It celebrates Shakespeare's legacy to the world, its omnipresence on stage during centuries and how the theatre once opened a window on a wider world.
I included some personal souvenirs in the composition. On the right, partly hidden with acrylic paint, you can see a ticket of the RSC - Antony and Cleopatra performance played in 2003 at the Swan in Straford-Upon-Avon, with Joaquina Kalukango and Jonathan Cake in the title roles. I also added small clipped pieces of advertising material related to Shakespeare.
This postcard-sized painting will be for sale during Twitter Art Exhibit 2017 Exhibition. 100% of proceeds from art sales will be directly donated to a charity organization, Molly Olly's Wishes. This charity supports children with terminal or life threatening illnesses and their families to help with their emotional wellbeing. This is done in various ways. They grant "wishes" which can be be for therapeutic equipment to aid both physical and emotional wellbeing or can be a day out for the family to spend some much needed quality time together.
Twitter Art Exhibit 2017 will take place at the Stratford Arts House, 14 Rother Street, Stratford-Upon-Avon, Warwickshire, CV37 6LU, UK. Artworks will be displayed and sold on opening night, Saturday April 1st through April 19th, 2017. This event is free to attend and open to the public.
02 janvier 2017
Chers Lecteurs,
Tout d'abord je vous souhaite une très belle année 2017, qu'elle soit créative et vous apporte bonheur, santé et paix ! Depuis sa création il y a 8 ans, ce blog a accueilli près de 229.000 visiteurs. Merci pour vos commentaires, votre gentillesse et votre soutien qui sont de précieux moteurs. Merci aussi pour votre fidélité, votre présence aux expositions, démonstrations et stages.
Au cours de ces dernières années, j'ai eu l'opportunité de beaucoup voyager : Italie, Espagne, Portugal, Angleterre, Ecosse continentale - Iles Hébrides et Orcades, Irlande, Canada... Mon travail a suivi le mouvement. Mes dessins et peintures retracent désormais presqu'exclusivement ces itinéraires mais ils évoquent aussi une pensée, un ressenti sur la beauté et la diversité du monde.
En ce qui me concerne, 2017 sera majoritairement placée sous le signe d'un retour au Canada, en Colombie Britannique et en Alberta plus précisément. Ensuite, je vous inviterai à me rejoindre sur les routes du Portugal, de Porto à Lisbonne. Une année plus riche en rencontres et découvertes, très productive mais pendant laquelle ma participation aux expositions se fera plus rare.
Je vous donne donc rendez-vous sur ce blog pour de nouvelles aventures ! Dans la colonne de droite, vous retrouverez désormais des pages thématiques consacrées aux aquarelles et dessins qui dépeindront ces voyages : Canada - D'un Océan à l'Autre, Ecosse - Terres de Contrastes, Portugal - de Porto à Lisbonne. Des extraits de mes carnets de croquis, photos et inspirations... ainsi que de nouvelles aquarelles y seront ajoutés régulièrement.
---------------------------------------------------------------------------
Dear Readers,
First of all, I wish you a happy, healthy, peaceful and creative year 2017! Nearly 229.000 people have been visiting this blog since its creation, 8 years ago. Thank you for your comments, kind words and support, I am very grateful for that. Thank you also for coming to the exhibitions, workshops, demonstrations and other events.
I have been traveling a lot during the recent years: Italy, Spain, Portugal, England, continental Scotland - Hebrids and Orkney Islands, Ireland, Canada... My work has been following the movement too. My art is now mainly inspired from these itineraries but it also expresses my feelings and thoughts about the beauty and diversity of the world.
The year 2017 will take me back to Canada, more precisely to British Columbia and Alberta. Then, I will invite you to join me on the roads of Portugal, from Porto to Lisbon. It will be a productive and very busy year, therefore my attendance to exhibitions and other events will be reduced.
Our meeting place will be this blog! On the right column, you will now find thematic art pages dedicated to these travels: Canada - From Sea to Sea, Scotland - Land of Contrasts, Portugal - From Porto to Lisbon. Excerpts from my sketchbooks, photographs and new watercolour paintings will be regularly uploaded. Enjoy!