04 septembre 2017
Rejoignez-nous à Lille dès le 26 septembre à l'occasion de POUR TOI L'AQUARELLE, une exposition organisée par Richard Vanlerberghe avec les amis de l'Association Aquarellistes En Nord.
Je vous y attends aux côtés d'artistes de talent : Sylviane Cateau, Dominique Coppe, Pierre Debroucker, Marie-Françoise Ingels, Edith Janssen, Eugène Kwiatkowski, Jacques Lefevre, Evelyne Le Roy Sénéchal, Caroline Peters, Patrick Pichon, Nadine Roll, Emile Thibaut, Josiane Troonen, Emmanuel Vandekerkove, Richard Vanlerberghe, Jean Vaudois, Anne Verdiere-Druart.

Le vernissage se déroulera mardi 26 septembre 2017 à 18 heures 30 et il sera suivi d'un cocktail dînatoire.
Adresse du jour : Centre social du Faubourg de Béthune, 65 rue Saint-Bernard à 59000 Lille (voir sur Google Maps).
L'exposition est accessible du 25 septembre au 6 octobre 2017, de 9h à 12h et de 14h à 18h. Invitation cordiale à tous.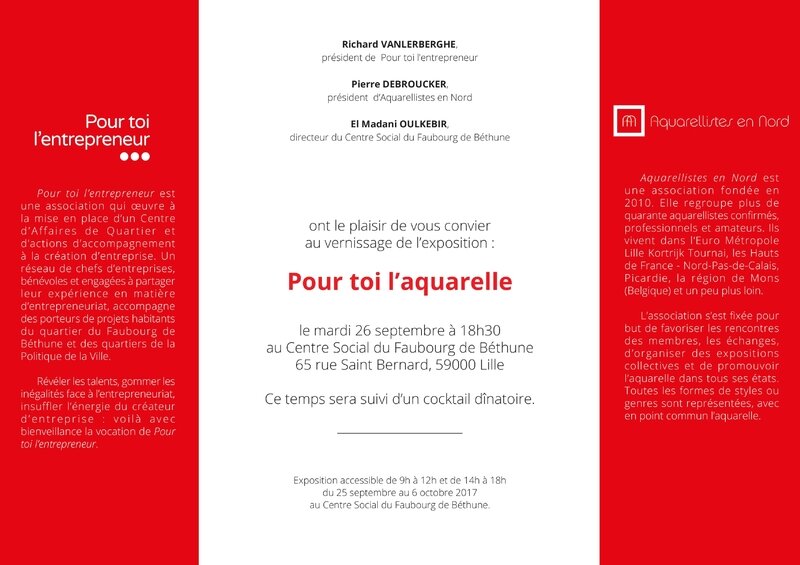 Let's meet in Lille from the 26th September for POUR TOI L'AQUARELLE, an exhibition organized by Richard Vanlerberghe with the friends of the Aquarellistes En Nord Association.
I take part in this event alongside many talented artists: Sylviane Cateau, Dominique Coppe, Pierre Debroucker, Marie-Françoise Ingels, Edith Janssen, Eugène Kwiatkowski, Jacques Lefevre, Evelyne Le Roy Sénéchal, Caroline Peters, Patrick Pichon, Nadine Roll, Emile Thibaut, Josiane Troonen, Emmanuel Vandekerkove, Richard Vanlerberghe, Jean Vaudois, Anne Verdiere-Druart.

The opening ceremony will take place on Tuesday 26th September 2017 at 6.30 pm and will be followed by a walking dinner.
The place to be: Centre social du Faubourg de Béthune, 65 rue Saint-Bernard in 59000 Lille (view on Google Maps).
The exhibition opens from 25th September until 6 October 2017, from 9 to 12 am and from 2 to 6 pm.
31 juillet 2017
Je vous donne rendez-vous à la rentrée, pour un dernier trimestre sur les chapeaux de roue !
Nos prochains rendez-vous en 2017 :
"Aquarellistes en Nord" à Lille. Du 23 septembre au 8 octobre. Centre social de Faubourg de Béthune, rue Saint-Bernard 65, 59000 Lille, France. Vernissage le mardi 26 septembre dès 18h30 (heure à confirmer). Entrée gratuite.
Tournée au Portugal, de Porto à Lisbonne. Du 12 au 20 octobre. Démonstrations et travail sur le motif, dates et lieux à préciser.
Salon International d'Aquarelle II, à partir du 10 novembre à la Galerie EMS (Galerie d'Art de la Société d'Etudes Macédoniennes) à Thessalonique, Grèce. Leader de la Délégation belge. Vernissage le jeudi 9 novembre à 19h00. Démonstrations d'aquarelle (entrée gratuite) le vendredi 10 novembre. Curateur de l'exposition : George Politis.
Let's meet this autumn...
Forthcoming exhibitions 2017:
"Aquarellistes en Nord" in Lill

e

. From 23 september until 8 ocotber. Centre social de Faubourg de Béthune, rue Saint-Bernard 65, 59000 Lille, France. Opening Ceremony on Tuesday 26 September from 6.30 pm (to be confirmed). Admission is free.
Touring Portugal, from Porto to Lisbon. From 12 until 20 October. Demonstrations, plein-air painting. Dates and places to be confirmed.
International Watercolour Salon II, from 10 November at the EMS Gallery (Gallery of the Society of Macedonian Studies) in Thessaloniki, Greece. Leader of the Belgian Delegation. Opening Ceremony on Thursday 9 November at 7.00 pm. Free watercolour demonstrations in the Gallery on Friday 10 November. Exhibition Curator: George Politis.
20 juin 2017
Cet étalon étrange se dresse fièrement au croisement entre Stephen Avenue et Centre Street, dans Downtown Calgary. Outre sa qualité technique, tout l'attrait de cette sculpture réside dans les matériaux dont elle est constituée : équipements mécaniques et déchets métalliques qui proviennent de vieux véhicules agricoles pour la plupart. A y regarder de plus près, cette statue ressemble à un puzzle tridimensionnel complexe où chaque morceau de métal est venu trouver sa place à la perfection. Sa ligne fluide et son réalisme confèrent à l'étalon une vivacité et un dynamisme saisissants.
Souvent surnommée le Destrier Mécanique, cette statue de rouille et d'acier répond officiellement au nom de Powder the Plow Horse. Elle a été créée par la sculptrice américaine Dixie Jewett. En 2000, elle a rejoint Calgary par camion plateau en provenance de Sedona, dans l'Arizona.
Bring on the Empty Horse. Croquis, graphite sur papier / Sketch, graphite on paper. 2017.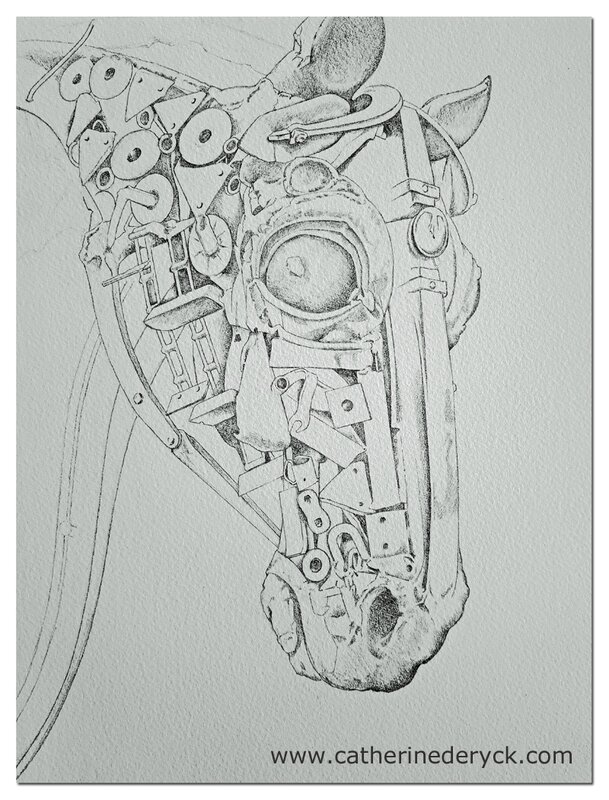 This quite unusual, more than life-size stallion proudly stands at the corner of Stephen Avenue and Centre Street in Downtown Calgary. The remarkable feature about the sculpture is the material it was made of: mechanical equipment and junk metal parts from old farm machinery, for the most part. On close inspection, it looks like an intricate three-dimensional puzzle where each piece of metal found its place to the perfection. The fluid line and realism of the sculpture makes the horse look amazingly lifelike and animated.
Often referred to as the Mechanical Horse, this rusty statue officially answers to Powder the Plow Horse. It was created by American sculptor Dixie Jewett. In the year 2000, it arrived in Calgary via ­flatbed truck from Sedona, Arizona.
19 juin 2017
C'est parti ! Voici venu le temps tant attendu de notre voyage en Alberta et Colombie Britannique, au Canada. Dans ces provinces, la Cordillère canadienne est entourée par les Rocheuses à l'est et par l'Océan Pacifique à l'ouest. Les Rocheuses canadiennes font partie de la ligne continentale de partage des eaux qui s'étend de la partie occidentale de l'Amérique du Nord jusqu'en Amérique du Sud. La ligne continentale délimite également la frontière entre l'Alberta et la Colombie Britannique.
Bien que ce voyage soit principalement consacré à la nature et aux grands espaces, nous goûterons aussi à l'une ou l'autre escale cosmopolite avec un séjour à Victoria et Vancouver. J'ai localisé les lieux que nous visiterons sur la carte ci-dessous (cliquez pour l'agrandir).
Here is the beginning of our roadtrip to Alberta and British Columbia, Canada. In these provinces, the Canadian Cordillera is bounded by the Rocky Mountains to the east and the Pacific Ocean to the west. The Canadian Rockies are part of a major continental divide that extends north and south through western North America and western South America. The continental divide also defines much of the border between Alberta and British Columbia.
This trip will be mainly dedicated to nature and wide open spaces but we will also enjoy some time in the city, with stops in Victoria and Vancouver. I located the places that we will visit on the map (please click on the image to enlarge).
20 mai 2017
L'exposition Grandmasters of Fine Arts 2017 est en ligne. Cette année, elle s'intitule 40.000 ans plus tard.
Les premières oeuvres d'Art ont été découvertes dans les grottes, il y a environ 40.000 ans.
L'Art coule dans nos veines. Pour les artistes et les amateurs d'art, il est nécéssité vitale !
Imaginez, il y a des milliers d'années, les peuples s'arrêter devant de magnifiques créations.
Plus tard, à travers les siècles, autour du monde, l'Art s'est développé, donnant naissance aux étonnantes peintures du Moyen-Age, puis de la Renaissance. Nos Impressionistes lancèrent une nouvelle tendance, une nouvelle ère elle-même suivie par le Cubisme, l'Abstraction et bien d'autres encore... A travers cette exposition, vous apprécierez combien l'Art est aujourd'hui plus fort que jamais et encore bien vivant.
Par le biais du site internet, vous pouvez naviguer dans les galeries virtuelles et découvrir le travail d'un pléiade d'artistes (59 exactement !) venus des 5 continents. Le fait qu'il s'agisse d'une exposition multi-techniques qui réunit aquarellistes, peintres à l'huile ou à l'acrylique, pastellistes, ... démontre à quel point l'art est versatile et exprime tant de choses de tant de manières différentes.
Merci à l'artiste britannique Beatrice Cloake pour toute son énergie investie dans la collecte des images, la création des galeries et l'organisation de cette exposition. Elle a réalisé un travail incroyable, comme toujours. Rendez-vous sur le site web et partez à la découverte de nouveaux horizons artisitques, nous espérons que vous apprécierez la visite !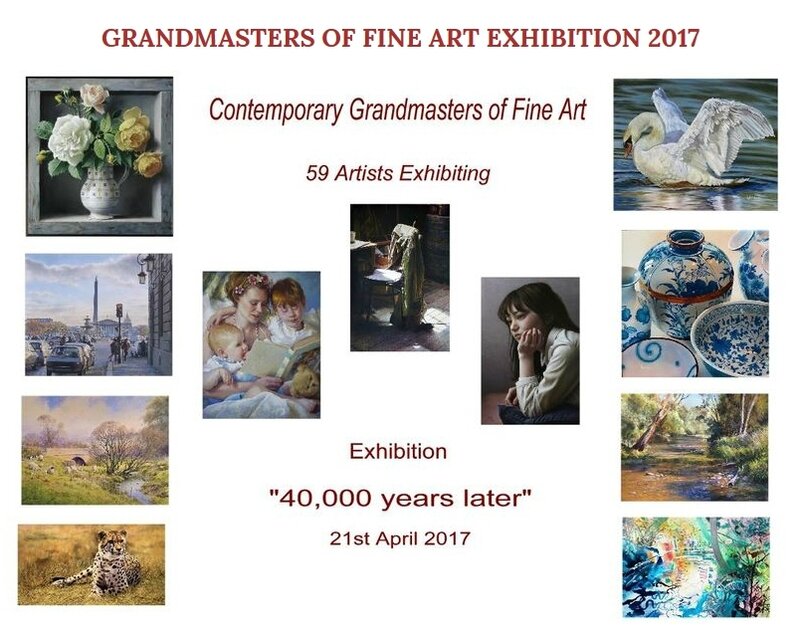 The Grandmasters of Fine Arts 2017 exhibition is online live. This year, the show is untitled 40.000 years later.
The first works of Art were found in caves, approximately 40.000 years ago.
Art is in our blood. Either for artists or for their followers, it is a necessity of life !
Imagine thousands of years ago, people staring at the magnificent creations.
Later, through centuries, around the world, Art carried on, giving birth to the astonishing paintings of the Middle Age, then Renaissance. Our Impressionists started a new trend, a new era and it carried on with Cubism, Abstract and more... Through this exhibition, you will appreciate that real Fine Art is stronger than ever and very much alive.
Through the website, you will be able to browse the galleries and discover the works of a crowd of artists (59 exactly!) coming from the 5 continents. The fact that this is a multi-media exhibition gathering watercolour, acrylics and oil painters, pastellists, ... shows how art can be versatile and express so many things in so many ways.
Once again, I wish to thank my friend, UK-based artist Beatrice Cloake, for her tremendous work collecting the pictures, organizing the galleries and curating this online exhibition. She did an amazing job, as always. Go see the website and discover all artists and works, we hope that you will enjoy the visit !