12 juin 2020
Je vous donne rendez-vous du 9 au 18 octobre, à la Galerie du Beffroi de Namur, pour la prochaine exposition des Aquarellistes Francophones de Belgique. Les deux aquarelles dont vous pouvez apercevoir un détail ci-dessous ont été présentées et retenues par le jury.
L'exposition proposera une double scénographie, un espace sera en effect consacré au patrimoine belge alors que le second présentera des oeuvres au thème libre. Des stages seront également proposés pendant toute la durée de l'exposition. Un événement incontournable à noter dans votre agenda !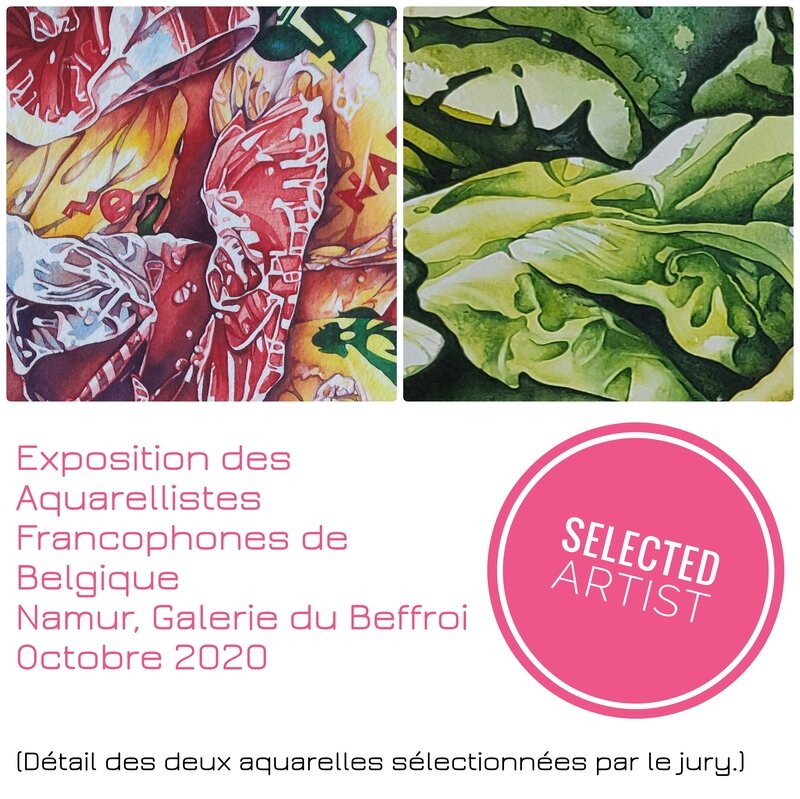 Shall we meet between 9th until 18th October, at the Galerie du Beffroi, Namur (Belgium), for the next exhibition organized by the Aquarellistes Francophones de Belgique? Both watercolour paintings presented above, in a close-up view, were submitted and selected by the panel of judges.
The exhibition space will be divided into two rooms, one will be dedicated to the Belgian heritage and the second will present theme-free watercolours. Lots of workshops will also take place during the exhibition. An unmissable event to note in your agenda !
28 février 2020
REPORTE AU DIMANCHE 4 OCTOBRE 2020
Le Rotary Club Louvain-la-Neuve organise son 4ème repas artistique le samedi 21 mars 2020 à 19 heures, au profit de l'asbl ESCALPADE. ESCALPADE permet à des enfants lourdement handicapés de suivre une éducation aussi qualitative que possible. Les bénéfices récoltés lors de cet événement aideront à l'agrandissement de l'école secondaire de Limal, plus spécifiquement à investir dans un ascenseur et une cuisine adaptés.
Je participe à ce dîner artistique en y présentant 3 aquarelles. L'une sera mise en jeu et pourra être remportée comme lot de tombola tandis que les deux autres seront proposées à la vente.
Pour y assister, n'hésitez pas à vous inscrire en suivant ce lien, https://louvain-la-neuve.rotary2170.org/.
28 janvier 2020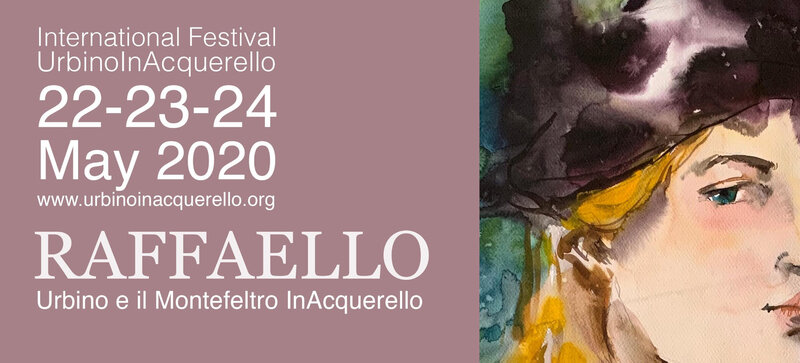 Raffaello Sanzio da Urbino, connu sous le nom de Raphaël, était l'un des trois grands maîtres de la Haute Renaissance, aux côtés de Michel-Ange et de Léonard de Vinci. Il excellait entre autres dans la représentation réaliste et détaillée des émotions qui donnait vie à ses tableaux. Raphaël est très souvent considéré comme un génie de l'harmonie artistique, de par ses tableaux dans lesquels couleur et dessin s'équilibraient à la perfection.

A l'occasion du 500ème anniversaire de la mort de Raphaël Sanzio, le Festival 2020 organisé par l'Association Urbino In Acquerello sera intitulé "Raphaël - Urbino et la région de Montefeltro à l'aquarelle". Les oeuvres créées par des artistes nationaux et internationaux seront exposées dans les étages inférieurs du Palais Ducal D'Urbino, avec le soutien de la Galerie Nationale des Marches. Le Festival se déroulera du 22 au 24 mai 2020. Ci-dessous, mon aquarelle intitulée "Equilibrio" qui sera présentée aux côtés des oeuvres de trois autres artistes belges.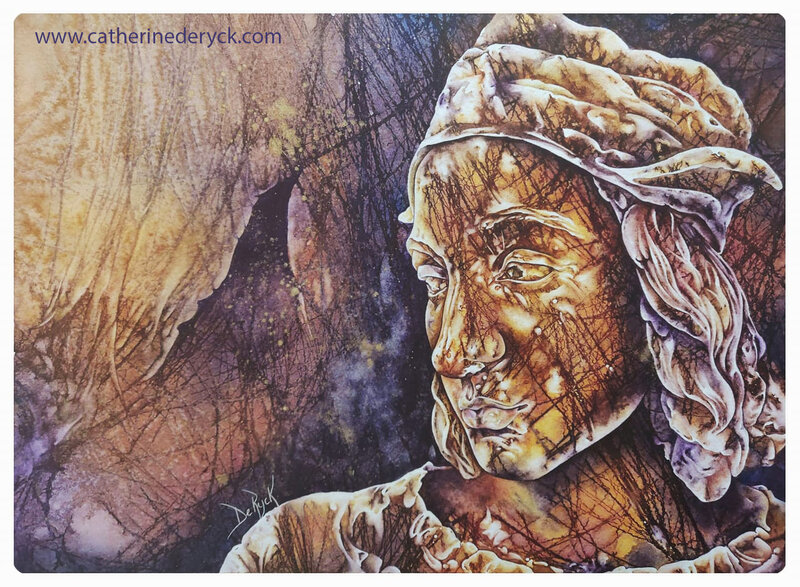 Equilibrio. Aquarelle / Watercolour, 25 x 35 cm. 2020.
Raffaello Sanzio da Urbino, known as Raphael, was one of three great masters of High Renaissance art along with Michelangelo and Leonardo da Vinci. He was a master in realistically depicting emotion in great detail which brought his paintings to life. Raphael is often regarded as the "ideal balanced painter" thanks to his paintings where drawing and colour were ideally balanced.
On the occasion of the fifth centenary of the death of Raffaello Sanzio, the 2020 Festival planned by the Urbino In Acquerello Association will be untitled "Raphael - Urbino and the Montefeltro in watercolour". It will consist of an exhibition of the works created by national and international artists and presented in the underground areas of the Palace Ducal of Urbino, with the support of the Galleria Nazionale delle Marche. The Festival will take place from 22nd to 24th May 2020. Above, my watercolour untitled "Equilibrio" which will be shown on exhibit alongside works from 3 other Belgian artists.

24 janvier 2020
Comme point de départ pour mes tableaux, je réalise souvent un fond coloré. En fonction du sujet, cet arrière-plan recouvre tantôt la totalité, tantôt une partie de la surface de la feuille. Les couleurs fusent et se mélangent, en fonction de la nature des pigments. Elles créent des effets et textures intéressants. Ensuite, lorsque le premier lavis est sec et sans dessin préléminaire, je peins les pierres et galets en négatif. J'ajoute enfin les ombres et les détails.
J'ai utilisé cette technique pour le tableau ci-dessous, intitulé Hidden Gems. Ce tableau sera présenté lors de l'exposition internationale IWS Ukraine - Pologne 2020, "Our Wonderful World".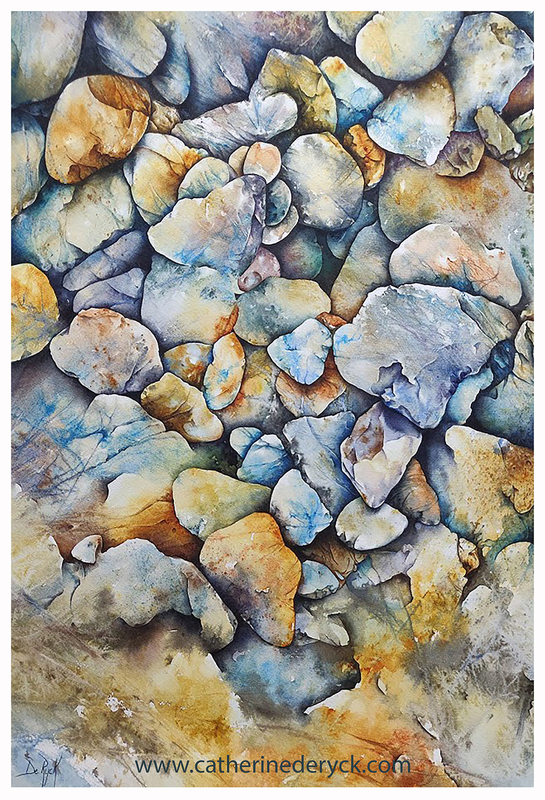 Hidden Gems. Aquarelle / Watercolour, 56 x 38 cm. 2018.
I often use a textured background as starting point for my paintings. Depending on the subject, the textured background sometimes recovers the entire surface of the sheet, sometimes only a part of it. The colours flows and mix together, depending on the nature of the pigments, and they create some interesting textures and effects. Then, when the painting is dry and without any preliminary drawing, I paint the rocks using the negative painting technique. Finally, I add shadows and details.
I used this technique for the watercolour shown above, which is untitled Hidden Gems. This painting will be exhibited for the International Exhibition Tour IWS Ukraine and Poland, "Our Wonderful World".
13 janvier 2020
Voici nos rendez-vous en 2020...
Expositions :
Cours et stages aquarelle chez Pierre Papiers Ciseaux (Braine-l'Alleud, Belgique) :
Cours hebdomadaire, 10 mardis par mois, de 18h à 20h, chez Pierre Papiers Ciseaux - Inscription
Paysage de montagne, 11 janvier de 13h à 17h - COMPLET
Couleur 1/3 - Pigments et mélanges, 1er février de 13h à 17h - COMPLET
Paysage de montagne, 21 mars de 13h à 17h - COMPLET
Couleur 2/3 - Valeurs, 25 avril de 13h à 17h - COMPLET
Paysage de montagne, 9 mai de 13h à 17h - COMPLET
Couleur 3/3 - Nuances et intensités, 30 mai de 13h à 17h - COMPLET
Marines et bord de mer - été 2020 - dates à préciser
Here are the exhibitions planned in 2020: