05 mars 2017
Theatreland. Technique mixte sur papier / Mixed media on paper, 12 x 16 cm. 2017.
Cette année, j'ai la chance d'exposer à Stratford-Upon-Avon et cela me rend très enthousiaste. C'est à Stratford-Upon-Avon que Shakespeare est né et qu'il a vécu les premières années de sa vie ; le siège de la Royal Shakespeare Company y est également situé. Je m'y suis rendue il y a plusieurs années et je me rappelle l'atmosphère particulière de la ville, l'impression de croiser le dramaturge à chaque coin de rue, la visite de la maison où il a passé son enfance... Assister à une pièce au Swan Theatre est en quelque sorte magique.
L'oeuvre de Shakespeare est intemporelle et universelle. Au cours des 20è et 21è siècles, ses pièces ont régulièrement été adaptées sur scène et leur popularité est constante. Elles sont étudiées, jouées et réinterprétées dans des contextes historiques et politiques divers à travers le monde. Theatreland, ci-dessus, est une technique mixte (acrylique et collage) sur papier. Elle rend hommage à l'héritage que Shakespeare à légué au monde, à son omniprésence sur scène pendant des siècles et à la manière dont le théâtre a permis, à une époque lointaine, d'ouvrir une fenêtre sur le monde.
J'ai intégré quelques souvenirs personnels à la composition. Sur la droite, partiellement dissimulé sous la peinture acrylique, vous pouvez voir un ticket d'une représentation RSC - Antoine et Cléopâtre jouée en 2003 au Swan de Straford-Upon-Avon, avec Joaquina Kalukango et Jonathan Cake dans les rôles-titres. J'ai aussi ajouté de petits éléments promotionnels plus ou moins reliés à Shakespeare.
Cette peinture au format carte postale sera mise en vente lors de l'exposition Twitter Art Exhibit 2017. 100% des bénéfices des ventes seront directement reversés à une association caritative, Molly Olly's Wishes. Cette association vient en aide aux enfants atteints de pathologies lourdes ou de maladies au stade terminal et à leurs familles afin d'améliorer leur quotidien sur un plan émotionnel. Ce soutien prend différentes formes. Molly Olly exauce des souhaits allant de l'acquisition de matériel thérapeutique, en vue d'améliorer le bien-être physique ou émotionnel des enfants, à l'organisation d'une journée exceptionnelle en famille afin de valoriser le temps passé ensemble.
Twitter Art Exhibit 2017 se déroulera à la Stratford Arts House, 14 Rother Street, Stratford-Upon-Avon, Warwickshire, CV37 6LU, UK. Les oeuvres seront exposées et vendues dès le jour du vernissage, le samedi 1er avril, et jusqu'au 19 avril 2017. Accès libre pour le public.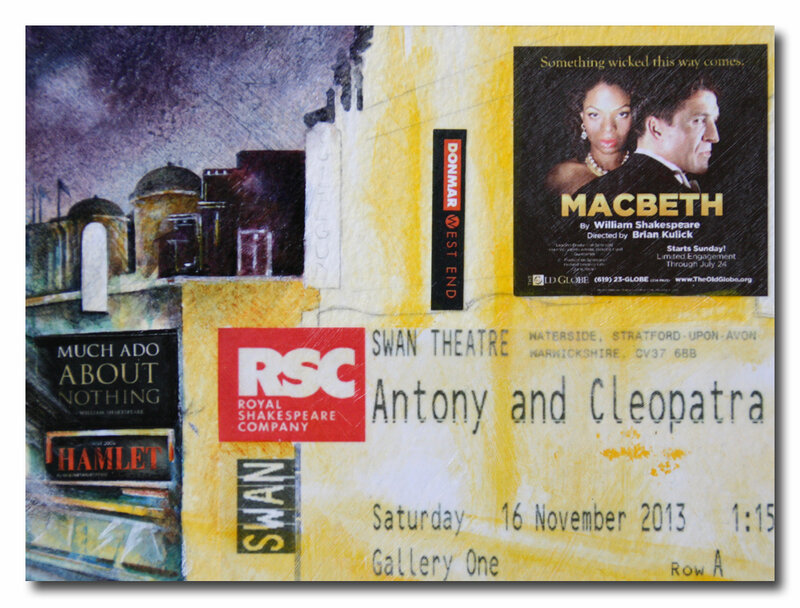 Theatreland, work in progress : la technique du clipping apprise auprès de ... / the clipping technique learned from Roland Palmaerts.

This year, I have the chance to exhibit in Stratford-Upon-Avon and I must admit that I feel quite thrilled about this. Stratford-Upon-Avon is Shakespeare's birthplace as well as the home of the Royal Shakespeare Company. I visited the town a few years ago and I remember its particular atmosphere, the feeling to meet the playwright at every street corner or when I visited the house where he spent his childhood... Attending to a play there is kind of magic.
Shakespeare's work is intemporal and universal. In the 20th and 21st centuries, his plays have been repeatedly adapted on stage and they remain highly popular. They are constantly studied, performed, and reinterpreted in diverse cultural and political contexts throughout the world. Theatreland, shown above, is a mixed media (acrylic and collage) work on paper. It celebrates Shakespeare's legacy to the world, its omnipresence on stage during centuries and how the theatre once opened a window on a wider world.
I included some personal souvenirs in the composition. On the right, partly hidden with acrylic paint, you can see a ticket of the RSC - Antony and Cleopatra performance played in 2003 at the Swan in Straford-Upon-Avon, with Joaquina Kalukango and Jonathan Cake in the title roles. I also added small clipped pieces of advertising material related to Shakespeare.
This postcard-sized painting will be for sale during Twitter Art Exhibit 2017 Exhibition. 100% of proceeds from art sales will be directly donated to a charity organization, Molly Olly's Wishes. This charity supports children with terminal or life threatening illnesses and their families to help with their emotional wellbeing. This is done in various ways. They grant "wishes" which can be be for therapeutic equipment to aid both physical and emotional wellbeing or can be a day out for the family to spend some much needed quality time together.
Twitter Art Exhibit 2017 will take place at the Stratford Arts House, 14 Rother Street, Stratford-Upon-Avon, Warwickshire, CV37 6LU, UK. Artworks will be displayed and sold on opening night, Saturday April 1st through April 19th, 2017. This event is free to attend and open to the public.
02 janvier 2017
Chers Lecteurs,
Tout d'abord je vous souhaite une très belle année 2017, qu'elle soit créative et vous apporte bonheur, santé et paix ! Depuis sa création il y a 8 ans, ce blog a accueilli près de 229.000 visiteurs. Merci pour vos commentaires, votre gentillesse et votre soutien qui sont de précieux moteurs. Merci aussi pour votre fidélité, votre présence aux expositions, démonstrations et stages.
Au cours de ces dernières années, j'ai eu l'opportunité de beaucoup voyager : Italie, Espagne, Portugal, Angleterre, Ecosse continentale - Iles Hébrides et Orcades, Irlande, Canada... Mon travail a suivi le mouvement. Mes dessins et peintures retracent désormais presqu'exclusivement ces itinéraires mais ils évoquent aussi une pensée, un ressenti sur la beauté et la diversité du monde.
En ce qui me concerne, 2017 sera majoritairement placée sous le signe d'un retour au Canada, en Colombie Britannique et en Alberta plus précisément. Ensuite, je vous inviterai à me rejoindre sur les routes du Portugal, de Porto à Lisbonne. Une année plus riche en rencontres et découvertes, très productive mais pendant laquelle ma participation aux expositions se fera plus rare.
Je vous donne donc rendez-vous sur ce blog pour de nouvelles aventures ! Dans la colonne de droite, vous retrouverez désormais des pages thématiques consacrées aux aquarelles et dessins qui dépeindront ces voyages : Canada - D'un Océan à l'Autre, Ecosse - Terres de Contrastes, Portugal - de Porto à Lisbonne. Des extraits de mes carnets de croquis, photos et inspirations... ainsi que de nouvelles aquarelles y seront ajoutés régulièrement.
---------------------------------------------------------------------------
Dear Readers,
First of all, I wish you a happy, healthy, peaceful and creative year 2017! Nearly 229.000 people have been visiting this blog since its creation, 8 years ago. Thank you for your comments, kind words and support, I am very grateful for that. Thank you also for coming to the exhibitions, workshops, demonstrations and other events.
I have been traveling a lot during the recent years: Italy, Spain, Portugal, England, continental Scotland - Hebrids and Orkney Islands, Ireland, Canada... My work has been following the movement too. My art is now mainly inspired from these itineraries but it also expresses my feelings and thoughts about the beauty and diversity of the world.
The year 2017 will take me back to Canada, more precisely to British Columbia and Alberta. Then, I will invite you to join me on the roads of Portugal, from Porto to Lisbon. It will be a productive and very busy year, therefore my attendance to exhibitions and other events will be reduced.
Our meeting place will be this blog! On the right column, you will now find thematic art pages dedicated to these travels: Canada - From Sea to Sea, Scotland - Land of Contrasts, Portugal - From Porto to Lisbon. Excerpts from my sketchbooks, photographs and new watercolour paintings will be regularly uploaded. Enjoy!
09 octobre 2016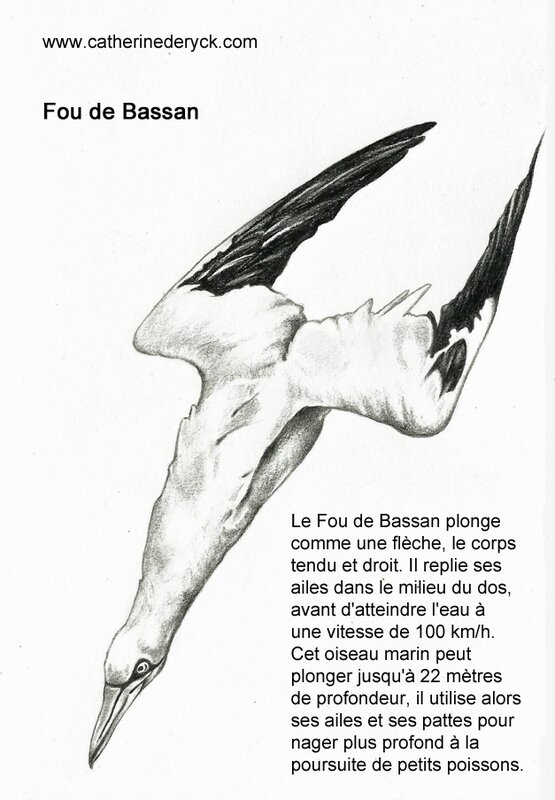 Voici quelques études consacrées aux Fous de Bassan. Lors de notre randonnée sur l'Ile Bonaventure, dans la Péninsule gaspésienne, nous avons emprunté le "Sentier des Colonies" pour rejoindre la plus importante colonie de Fous de Bassan présente en Amérique du Nord. La zone est balisée et interdite au public mais je me trouvais néanmoins à deux ou trois mètres de ces oiseaux et j'ai pu les observer de près. J'ai appris que les Fous de Bassan possèdent une espérance de vie allant de 20 à 40 ans et que chaque individu retrouve son propre nid à chaque saison, ceci durant toute son existence. Il en résulte que ces oiseaux se sont habitués à la présence de l'homme et qu'ils ne lui prêtent aucune attention. Des crevasses aux plus hauts sommets, les falaises accueillent plusieurs milliers de Fous de Bassan dont les chants et les cris offrent un concert à nul autre pareil.
Le Fou de Bassan, dont l'envergure peut atteindre plus de deux mètres, est le plus grand oiseau marin de l'Atlantique Nord. Il vole à une vitesse comprise entre 55 et 65 km/h. Son plongeon en mer est très impressionnant : lorsqu'il a repéré sa proie, le Fou de Bassan plonge d'une hauteur de 10 à 40 mètres. Il plonge comme une flèche, le corps tendu et droit, et il replie ses ailes dans le milieu du dos avant d'atteindre l'eau à une vitesse de 100 km/h. Le Fou de Bassan peut plonger jusqu'à 22 mètres de profondeur, il utilise alors ses ailes et ses pattes pour nager plus profond à la poursuite de petits poissons.
Here are a few more sketches of Northern Gannets. While hiking in Bonaventure Island, in the Gaspé Peninsula, we took the "Sentier des Colonies" to reach the largest gannet colony in North America. The gannets area is restricted to the public but that was no problem as I stood approximately 2 or 3 metres from the birds. I learned that gannets live from 20 to 40 years and that each bird returns to its own particular nest site for its entire life. These birds have become habituated to humans and pay no attention to them. The bare cliff tops of the island are the home of thousands upon thousands of birds whose calls and screams offer a unique concerto.
As you may know, the Northern Gannet is the largest seabird in the North Atlantic, with a wingspan of up to 2 metres (6.6 ft). It can attain velocities of between 55 and 65 km/h (34 and 40 mph). The way this seabird plunges is by far the most impressive that I have ever seen. Indeed, when it locates its prey in the water, the Northern Gannet can dive from various heights up to 10-40 meters (33-130 feet). The bird dives like an arrow, with its body straight and rigid, and it thrusts its wings straight out over back, touching in the middle, just before entering the water at a speed of up to 100 km/h (62 mph). The Northern Gannet can dive as deep as 22 meters (72 feet) and it uses its wings and feet to swim deeper in pursuit of small fishs.
06 octobre 2016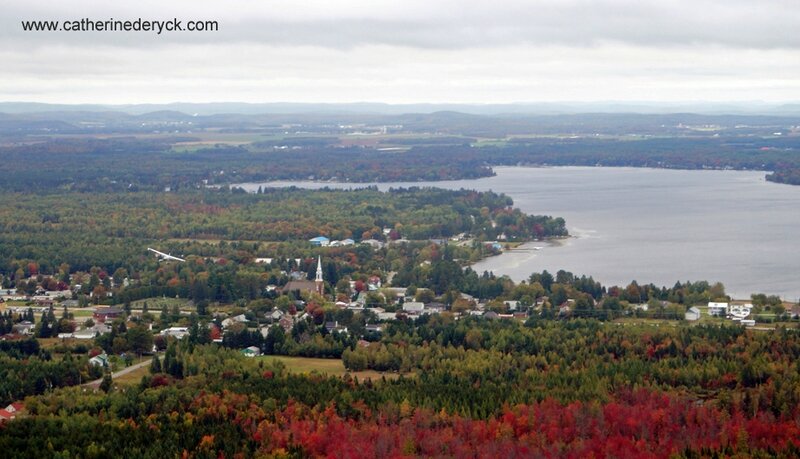 Couleurs du Québec, survol du Parc National de la Mauricie en hydravion, septembre 2016.
Suite à mon dernier billet concernant notre voyage au Canada et notre visite de l'Ile Bonaventure, plusieurs lecteurs m'ont demandé de retracer l'itinéraire parcouru sur une carte. En ce début d'automne, nous avons atterri à Toronto et nous avons visité l'Ontario avant de prendre la route vers Montréal et Québec. Après avoir exploré ces villes, nous sommes partis à la découverte des trésors cachés de Dame Nature et des paysages à couper le souffle de la Gaspésie, de la Sagamie et de la Mauricie. Nous avons choisi ces régions pour la beauté de leurs paysages, forêts, lacs et rivières, massifs montagneux et falaises, réserves naturelles et parcs nationaux, ainsi que pour les couleurs particulières de la flore qui peuvent être spécifiquement observées en cette saison.
J'ai répertorié les lieux que nous avons visités en croquant quelques paysages, animaux, silhouettes, éléments d'architecture, personnages... et en les annotant. Cette carte vous permettra de mieux les localiser.
After my latest post regarding our trip in Canada and the Bonaventure Island, some of my regular readers asked me to trace our travel itinerary on a map. This autmun, we landed in Toronto and we visited Ontario before driving to Montreal and Quebec. After having explored these cities, we discovered Dame Nature's natural beauties and breathtaking landscapes of Gaspesie, Saguenay and Mauricie. We chose these regions for their beautiful scenery, forests, lakes and rivers, mountainous massifs and cliffs, nature reserves, national parks and for the colours of the flora than can be observed in this particular season.
I kept some records of the places we visited by drawing landscapes, animals, silhouettes, people, architecture... and adding a few notes. This map will help you to locate each of them.
03 octobre 2016
Au cours d'un récent voyage au Canada, nous avons visité les provinces de l'Ontario et du Québec. J'ai réalisé quelques dessins ici et là que je partage avec vous, sans ordre précis. J'ai utilisé les crayons Luminance 6901 de Caran d'Ache et les crayons Illuminateur et Mélangeur de Derwent.
Au large de la péninsule gaspésienne, nous avons pris le bateau vers l'Ile Bonaventure, en longeant le Rocher Percé. Une fois débarqués et au terme d'une courte randonnée de 5 km à travers les sentiers forestiers de l'île, nous avons admiré le spectacle offert par la plus importante colonie de Fous de Bassan au monde, nichée sur les falaises situées à l'est de l'île.
During our last trip in Canada, we visited the provinces of Ontario and Quebec. I made some drawings there and I wish to share them with you, in no particular order. I used Caran D'Ache Luminance 6901 coloured pencils and Derwent Blender and Burnisher.
One of the most beautiful steps of our itinerary was Bonaventure Island and the Percé Rock. Bonaventure Island is located 3,5 kilometres (2,2 miles) of the village of Percé, in the southern coast of Quebec's Gaspé Peninsula. Grouped with the Percé Rock, located 5 kilometres (3,1 miles) north, the island constitutes the Bonaventure Island and Percé Rock National Park, one of the largest and most accessible bird sanctuaries in the world.
Bonaventure Island is home to the world's largest colony of Northern Gannets. These seabrids have a bright white plumage, the colour of their head and neck is brushed in a delicate pale yellow. They have light-blue eyes, surrounded by bare, black skin, which gives the birds their characteristic facial expression.