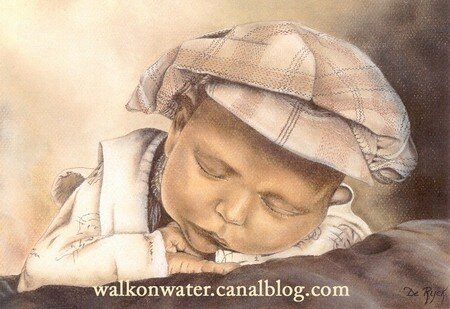 Maxim. Pastel sur Mi-Teintes Canson / Pastel on Canson Mi-Teintes drawing paper. 20 x 30 cm. 1999. Collection privée / Private collection.
Here is one of my earlier pastel portraits, using the Conté Sketching Crayons. These crayons give accurate strokes when the edges of the sticks are used, and flat areas when the artist works with the flat of the crayon. The Conté Sketching Crayons are manufactured using natural pigments (iron oxides, carbon black, titanium dioxide), clay (kaolin) and a binder (cellulose ether). These pastels are very hard (because of an important amount of kaolin added during the pastel making), so I recommend their use for detailed or energetic works. The Conté Sketching Crayons need a firm paper.
The support used for this portrait is the Canson Mi-Teintes drawing paper (also suitable for framing or scrapbooking). This classic French paper has a rough texture on the top side and a flat surface on the reverse, both equally suitable for soft pastel, oil pastel, chalk, pencil, watercolour, gouache and acrylic. It is a heavy sheet (98 lbs or 160 gsm), with a high cotton content (55%). - My readers have to know that papers made with cotton possess a great strength because of the bonding and intertwining of long cotton fibers during the papermaking process. - The entire range of 60 shades are highly light-resistant and acid-free. These Mi-Teintes papers are available in individual sheets or pads.
---
Voici l'un de mes premiers portraits au pastel, réalisé à l'aide de Carrés Esquisse Conté. Ceux-ci permettent un travail précis s'ils sont utilisés sur les arêtes. Un travail en aplats est également possible en utilisant la tranche des craies. Ces carrés sont fabriqués à partir de pigments naturels (oxyde de fer, noir de carbone, dioxyde de titane), d'argile (kaolin) et d'un liant (éther cellulosique). Ces pastels sont très durs (suite à un apport important de kaolin lors du procédé de fabrication), je recommande donc plutôt leur utilisation pour un travail nerveux ou détaillé. Les Carrés Esquisse Conté doivent être utilisés sur un papier suffisamment solide.
Le support utilisé pour ce portrait est le papier à dessin Canson Mi-Teintes (qui peut aussi être utilisé pour l'encadrement ou le scrapbooking). Ce papier français classique présente une texture rugueuse sur une face et lisse sur l'autre. Il convient à la fois pour le pastel sec, le pastel à l'huile, le fusain, le crayon, l'aquarelle, la gouache et l'acrylique. Il possède un fort grammage (98 lbs ou 160 gsm), ainsi qu'une importante proportion de coton (55%). - Mes lecteurs doivent savoir que les papiers fabriqués à base de coton possèdent une grande solidité suite à la liaison et à l'entrelacement des longues fibres de coton au cours du processus de fabrication du papier. - La gamme complète est composée de 60 teintes hautement résistantes à la lumière et sans acide. Ces papiers Mi-Teintes sont commercialisés en feuilles individuelles ou en blocs.