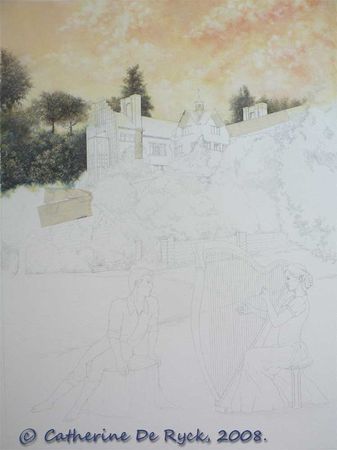 La Joueuse de Harpe (The Harp Player), work in progress. 55 x 40 cm. 2008. Toute reproduction, totale ou partielle, est strictement interdite. Any (total or partial) reproduction of this picture is strictly forbidden.
La semaine dernière, j'ai terminé les arbres situés à l'arrière-plan. Comme vous le voyez, je ne travaille pas en appliquant des lavis colorés successifs sur la totalité du papier mais je peins morceaux par morceaux. Ce procédé me permet de garder davantage de contrôle sur l'évolution du tableau. Voici une vidéo présentant les différentes étapes de mon travail.
Last week, I finished to paint the trees in the background. As you can see, I do not paint by applying successive coloured washes all over the paper but I work piece by piece. This process enables me to keep more control over the painting. Here is a video showing the different stages of my work.