Blockx, c'est 5 générations de chimistes qui ont consacré leur vie à la peinture depuis 1865. Aujourd'hui, la compagnie fournit aux artistes des produits de qualité qui comptent parmi les meilleurs : aquarelles, huiles, pastels, pigments et auxiliaires.
Ce qui distingue Blockx des autres marques, c'est que les pigments sont finement sélectionnés et utilisés purs, au meilleur taux de saturation. En ce qui concerne l'aquarelle, des pigments rares sont mélangés à de la gomme arabique, du miel extrait de différentes variétés de fleurs, de la glycérine et de l'eau. La présence de miel n'est pas un hasard, c'est en effet l'un des humectants les plus efficaces. Ensuite, la pâte est broyée lentement et répétitivement sur pierre de porphyre pour atteindre la consistance optimale, ne pas échauffer la matière au cours du processus de broyage et éviter toute réaction avec le métal.
En pratique, les couleurs sont merveilleusement pigmentées, incroyablement lumineuses et offrent de multiples propriétés d'exécution. Toutes les couleurs obtiennent d'excellents résultats lors des analyses menées par les laboratoires officiels de par le monde, en termes de stabilité et de résistance à la lumière et ce, afin d'assurer la conservation des oeuvres dans le temps. La gamme d'aquarelles Blockx est le parfait compromis entre la tradition et les demandes des peintres actuels.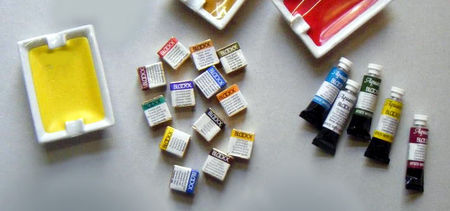 Blockx, it is 5 generations of chemists who have devoted their life to paint since 1865. Today, the company provides some of the best quality products to the artists : watercolours, oil colours, pastels, pigments and auxiliairies.
What distinguishes Blockx from other brands is that pigments are finely selected and used pure, at their best saturation. For watercolour, rare pigments are blended with gum arabic, honey made from selected flowers, and chemically pure glycerin and water. The presence of honey is not a randomness, indeed it is one of the most effective humectants. Then, the paste is ground slowly and repeatedly on stone mills to achieve the optimum consistency and to eliminate overheating and iron pollution.
Practically, the colours are rich in pigmentation, have a great luminosity and offer wonderful working properties. All the colours obtain excellent results for analysis made by official laboratories worldwide in terms of stability and lightfastness, in order to insure the artworks time preservation. The Blockx watercolour range is a perfect balance between tradition and demands of modern painters.