Voici le croquis de ma dernière aquarelle, intitulée "La Belle Oubliée". Il s'agit de la figure de proue de l'épave d'un navire, dont vous n'apercevrez la coque qu'en plongée. Ceci est un dessin préléminaire, j'en modifierai sans doute quelques éléments, comme par exemple le drapé de la robe, en fonction de la manière dont l'eau et les pigments interagiront ensemble au cours de la pose couleur.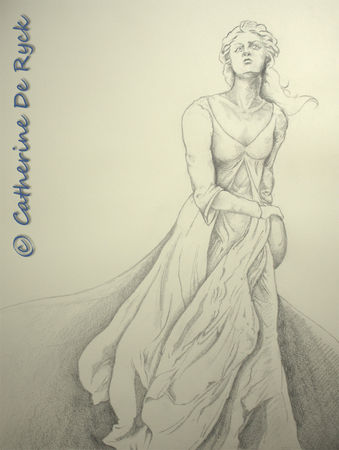 "La Belle Oubliée", croquis / sketch. 37 x 27 cm. 2009. Toute reproduction, totale ou partielle, est strictement interdite. Any (total or partial) reproduction of this picture is strictly forbidden.
Here is the sketch of my latest watercolour, untitled "La Belle Oubliée". It depicts the figurehead of a shipwreck, from which you will only see the hull from above. This is a preliminary drawing, I will modify some elements, as f.g. the dress, depending on how water and watercolour pigments will interact one with each other during the painting process.