Dix ans après la première publication, les Editions Art in Belgium préparent actuellement une nouvelle éditions du « Piron » - Dictionnaire des artistes, en langue néerlandaise. Ce nouvel ouvrage reprendra plus de 45.000 peintres, dessinateurs, sculpteurs, photographes ou céramistes. Une version française est prévue d'ici 5 ans. Il s'agira du répertoire le plus complet jamais consacré aux artistes belges ou actifs en Belgique. Le collectionneur, le chercheur, l'amateur, le marchand, belge ou étranger, trouvera, pour chaque créateur recensé, une notice biographique complète, une présentation de l'œuvre et de l'évolution de chaque artiste, une description de la production, divers commentaires, ...
Une interface Internet est également accessible sur le site http://www.nobel.be. Pour m'y retrouver, il vous suffit d'entrer mon nom dans la barre de recherche et de cliquer ensuite sur le lien qui renvoie à ma notice biographique ainsi qu'aux photos de quelques-unes de mes dernières œuvres. Vous pouvez également cliquer ici ou sur le lien "Dictionnaire Piron en ligne" (colonne de droite de ce blog).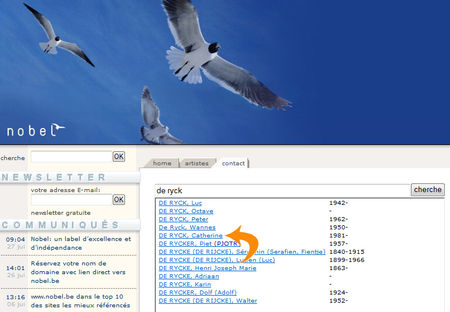 Ten years after the first publication, the Art in Belgium Editions are working on a new edition of the « Piron » - Dictionary of artists, written in Dutch. This new work will gather more than 45.000 painters, draughtsmen, sculptors, photographers or ceramists. A French version will appear within 5 years. This will be the most complete directory dedicated to Belgian artists or artists who are active in Belgium. The Belgian or foreign art collector, art lover, dealer, will find, for each creator, a complete biography, a presentation of each artist's work and evolution, a description of its production, several comments, ...
An Internet ressource is also available on the website http://www.nobel.be. To find my entry, please enter my name in the search bar and then click on the link to read my biography and view some pictures of my latest paintings. You can also click here or on the link "Dictionnaire Piron en ligne" (right column of this blog).