Voici le second dessin de ma série "Danse". J'ai étudié de nombreuses poses différentes avant de choisir de représenter celle-ci. Il me faut encore dessiner l'environnement des personnages, définir la perspective et ajouter quelques éléments plus abstraits afin d'obtenir une composition harmonieuse à la fois de temes de forme, dynamisme et contraste.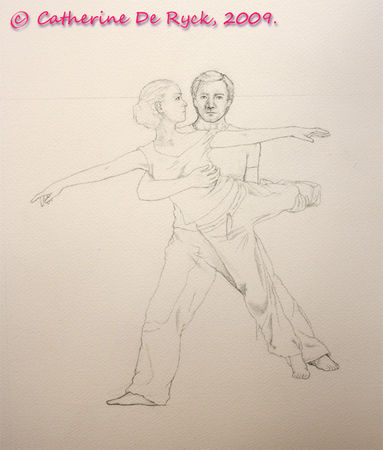 "Dance Series n°2", croquis / sketch. 37 x 27 cm. 2009. Toute reproduction, totale ou partielle, est strictement interdite. Any (total or partial) reproduction of this picture is strictly forbidden.
Here is the second drawing of my "Dance Series". I studied a lot of different poses before choosing to depict this one. I still have to draw the environment around the figures, define the perspective and add some abstracts elements in order to obtain a harmonious composition in terms of shape, dynamism and contrast.
---
Cliquez ICI pour voir le premier dessin de cette série. / Please click HERE to view the first drawing of this serie.