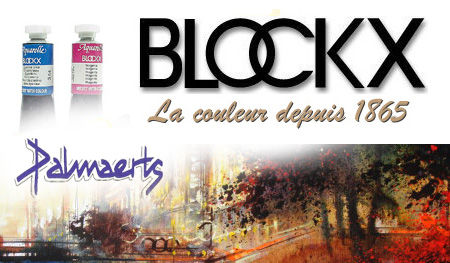 Avec plus d'une centaine de visiteurs, la première édition du BBQ Blockx a remporté un vif succès. De nombreux peintres, principalement des aquarellistes, ont participé à l'événement, visité l'usine et découvert le procédé de fabrication des aquarelles mais également des couleurs à l'huile et pastels secs. Cette journée, initiée par Roland Palmaerts et organisée en collaboration avec Jacques Blockx, représentait une occasion unique pour chaque artiste de poser directement ses questions couleur à l'ingénieur chimiste.
Fondée en 1865 par Jacques Blockx Ier, la compagnie est reconnue par les peintres du monde entier pour la qualité de ses couleurs à l'huile extra-fines. Aujourd'hui, la firme familiale perpétue la tradition en offrant aux artistes des produits Beaux-Arts de première qualité tels que couleurs à l'huile, aquarelles, pastels secs, pigments et auxiliaires. (Pour en apprendre davantage sur les aquarelles Blockx, veuillez cliquer ICI.)
Les ingrédients de l'aquarelle / Watercolour paint ingredients :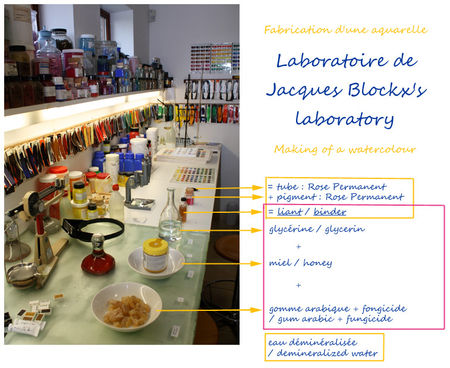 (Pour découvrir comment les aquarelles sont fabriquées, cliquez ICI. / To learn how watercolours are made, please click HERE.)
With more than a hundred visitors, the first edition of the Blockx BBQ encountered a great success. A lot of painters, mainly watercolourists, attended to this event, they visited the factory and discovered the manufacturing process of watercolours but also of oil colours and soft pastels. Initiated by Roland Palmaerts and co-organized by Jacques Blockx, the day was an unique occasion for each artist to directly ask his questions about colour to the chemical engineer.
Founded in 1865 by Jacques Blockx the First, the company is well known worldwide and appreciated by famous painters fort its extra-fine oil colours. Today, the family company perpetuates the tradition and offers the best Fine-Arts quality products, such as oil colours, watercolours, soft pastels, pigments and auxiliairies, to artists. (To learn more about Blockx's watercolours, please click HERE.)
Fabrication de la couleur aquarelle "Gomme Gutte" : Jacques Blockx explique le processus de broyage de la pâte sur pierre de porphyre pour atteindre la consistance optimale, éviter tout échauffement de la matière ainsi que toute réaction avec le métal.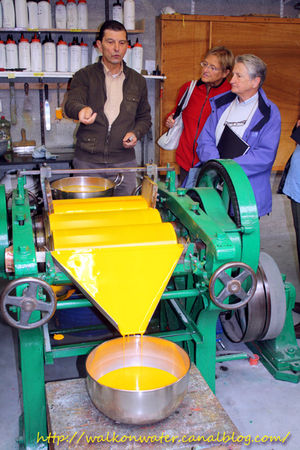 Fabrication process of the "Gambodge" watercolour : Jacques Blockx explains how the paste is ground on stone mills to achieve the optimum consistency and to eliminate overheating and iron pollution.
Démonstration à l'huile par / Oil painting demonstration by : Slava PRISHEDKO
Viktoria Prishedko (aquarelle), Franco Fortunato (pastel) et Slava Prishedko (huile) se sont succédés lors des séances de démonstration, certains d'entre eux découvraient pour la première fois les couleurs et auxiliaires Blockx. Ci-dessous, vous trouverez un aperçu de la brillante maîtrise de l'huile par Slava Prishedko. Il était remarquable de pouvoir observer ses touches abstraites et colorées donner progressivement naissance au portrait.
Viktoria Prishedko (watercolour), Franco Fortunato (pastel) and Slava Prishedko (oil painting) followed each other during the demonstration times, some of them discovered Blockx's colours and auxiliairies for the first time. Above, you will find an overview of Slava Prishedko's brilliant mastering of the oil painting medium. How remarkable it was to watch his abstract and coloured strokes bringing the portrait to life.
>> Voir de précédentes démonstrations à l'aquarelle par ... / View former watercolour demonstrations by ... Viktoria & Slava Prishedko (Salon de l'Aquarelle de Belgique 2007).