Cette exposition artistique collective accueillera plus de soixante artistes qui se partageront les cimaises aménagées pour l'occasion dans l'Eglise Saint-Joseph. Environ 200 oeuvres seront exposées : aquarelles, pastels, huiles, acryliques, techniques mixtes et sculptures. Je présenterai deux aquarelles et une technique mixte, basées sur le thème "Personnages et Statues" : "L'Eveil", "La Joueuse de Harpe" et "L'Invitée de l'Hiver". J'assiterai au vernissage, le vendredi 1er Octobre.
Pour plus d'informations ou pour recevoir une invitation au vernissage, n'hésitez pas à me contacter. Exposition accessible au public le samedi 02/10 de 14h à 18h et le dimanche 03/10 de 14h à 19h.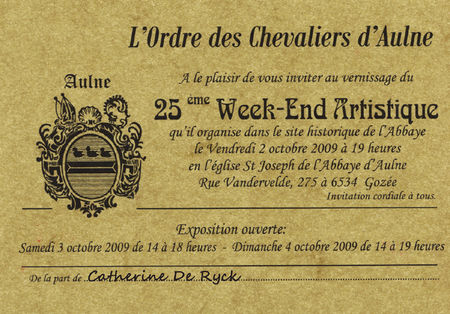 This collective art exhibition will gather more than 60 artists who will share out the picture rails in the Saint-Joseph Church. About 200 artworks will be shown on exhibit : watercolours, pastels, oil paintings, mixed media works and sculptures. I will present two watercolour and one mixed media works, based on the theme "Figures & Statues", these are : "The Awakening", "The Harp Player" and "The Winter Guest". I will attend to the preview of the exhibition, on Friday 1rst October.
For more information or to receive an invitation for the preview, do not hesitate to contact me. Public opening on Saturday 2nd October, from 2 p.m. to 6 p.m., and on Sunday 3rd October, from 2 p.m. to 7 p.m.