1. Introduction (lire l'article / read the article.)
2. Sec sur sec / Dry on dry (lire l'article / read the article.)
3. Pastel aquarellé / Watercoloured pastel
4. Pastel & ... techniques humides / wet techniques
Peindre au pastel sous-entend l'introduction de pinceaux et d'eau au médium. Outre la technique du pastel aquarellé, il est possible d'obtenir une autre grande diversité d'effets qui seront fonction de la manière dont l'eau est ajoutée.
A. Sec sur humide : le peintre humidifie son papier à l'aide d'une brosse large et applique ensuite le bâtonnet de pastel. Sous l'effet de l'eau, l'intensité colorée s'éclaire tandis que les nuances apparaissent plus sombres alors qu'elles sont humides. Une bonne connaissance des différents stades d'humidité du papier (ou cycle de l'eau) permettra également à l'artiste d'obtenir une grande variété d'effets (Fig. 1).
B. Humide sur sec : cette technique se réalise en humidifiant le pastel (soit en mélangeant de la poudre de pastel à de l'eau pour obtenir une solution liquide, soit en plongeant le bâtonnet dans un récipient d'eau) avant de l'appliquer sur papier sec (Fig. 2).
C. Humide sur humide : il s'agit là de la forme la plus humide de la peinture au pastel. L'artiste utilise un pinceau large pour balayer l'eau sur toute la surface du papier. Ensuite, il peint par dessus à l'aide de pastels préalablement humidifiés (Fig. 3).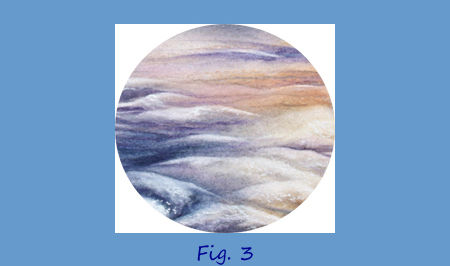 Painting with pastels means introducing brushes and water to the medium. Alongside the watercoloured pastel technique, it is possible to obtain another great diversity of effects depending on the way of adding the water. Indeed, soft pastels can be transformed into wet media by different ways. It is always advised to use a medium weight watercolour paper rather than pastel paper because this last one may buckle once in contact with water.
A. Dry on wet : the painter wets his paper with a large brush before applying the pastel sticks. Under the effect of water, the colour intensity lightens although hues appear darker while they are wet. A good knowledge of the different stages of paper wetness will also enable the artist to achieve a wide range of effects, from semi-dry to very wet (Fig. 1).
B. Wet on dry : this technique is accomplished by wetting a soft pastel (by preparing a mix of pastel powder and water to obtain a liquid solution or by dipping the pastel into a cup of water) before applying it to dry paper (Fig. 2).
C. Wet on wet : this is the wettest form of pastel painting. The artist uses a large brush to sweep water onto the paper. Then, he paints on it with wet pastels (Fig. 3).