Un autre dessin ... J'aime ces poses classiques et leur symbolisme dissimulé. Le personnage est tourné vers la droite et s'oriente vers le futur. Cependant son regard se porte vers la gauche. La gauche symbolise le passé et évoque la nostalgie.
J'ai toujours été intéressée par le Symbolisme présent dans les oeuvres des Grands Maîtres tels qu'Albrecht Dürer, Léonard De Vinci, Salvador Dalí, René Magritte, ... Il est facile de passer un temps infini à la recherche de signes (éléments figuratifs tels que les objets mais aussi couleurs, poses, ...) et de tenter ensuite de les comprendre. Le Symbolisme est en quelque sorte le pont, le lien, entre l'idée abstraite et l'image qui exprime celle-ci.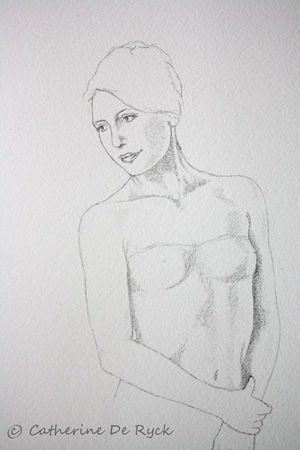 "Back to the Light", croquis / sketch. 2010.
Another drawing ... I just love this kind of classical pose and all its hidden symbolism. The figure is turned to the right and walks to the future, but looks to the left. Left symbolises the past and evocates nostalgy.
I've always been interested in Symbolism in Master Painter's works, as Albrecht Dürer, Leonardo Da Vinci, Salvador Dalí, René Magritte, ... It is easy to spent a lot of time looking for signs (figurative elements as objects but also colours, poses, ...) and trying to understand their meaning. Symbolism acts like a link between the abstract idea and the image that expresses it.