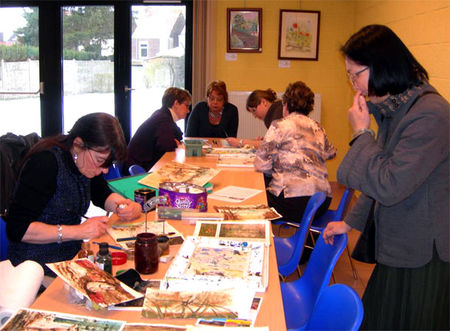 Mon amie artiste, Martine THIBAUT (à gauche), a utilisé du broux de noix pour créer d'originaux sous-bois pendant que je peignais quelques iris (au fond de la pièce). / Martine THIBAUT (on the left) used "broux de noix" to create original undergrowths, while I was painting some iris (at the back of the room). Photo : Eric DELBART.
Voici un aperçu de la démonstration d'aquarelle "La Magie des Fleurs en Négatif" réalisée à Maisières ce 14 février. Nous avons abordé les différentes gestuelles à adopter pour créer le Négatif :
le négatif pur,

la technique du positif qui permet de donner naissance au Négatif,

les contrastes,

les différentes méthodes pour réserver les blancs.
Merci à Nancy, Eric, Frédéric pour l'organisation de cette exposition. Merci également aux courageux(ses) qui ont bravé la neige et abandonné leur Valentin (ou qui se sont faites accompagner) le temps de cette démonstration : "Mamypaule", Shu Tsin et leurs époux, Martine, et tous les artistes ou élèves d'aquarelle dont je ne connais pas le nom. Nous avons partagé de précieux échanges et j'espère vous retrouver bientôt !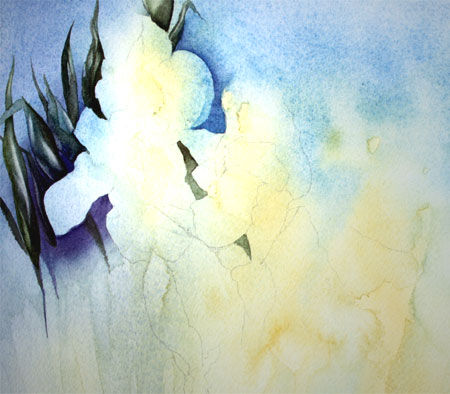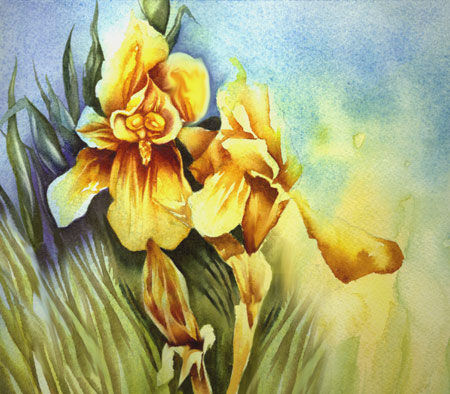 Here is a of the watercolour demonstration "The Magic of Flowers from Negative Space", which took place on 14th February in Maisières. We discussed the several gestures to adpot in order to achieve negative space :
the basic negative technique,

the use of Positive painting to create Negative Space,

the contrasts,

the different methods to save whites.
A huge thank you to Nancy, Eric, Frédéric for organizing this exhibition. Special thanks to all the braves who left their Valentine at home (or came with him) and attended to the demonstration despite the heavy snowfalls : "Mamypaule", Shu Tsin and their respective husbands, Martine, and all the artists or watercolour students whom I don't know the name. We had interesting exchanges of views and I hope to meet you again !