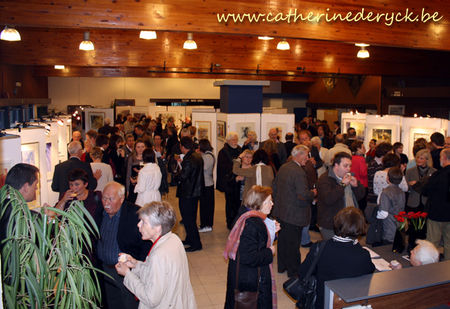 Le vernissage du 19è Salon d'ensemble "Les Printemps de l'Aquarelle de Libramont" s'est déroulé le 13 mai dernier. Soixante artistes venus de Belgique (Wallonie - Bruxelles - Flandre) mais aussi de France, des Pays-Bas, d'Allemagne et du Grand-Duché de Luxembourg. L'exposition est accessible jusqu'au 24 mai 2010, de 13h30 à 18h30, au Centre Culturel de Libramont (Avenue de Houffalize 56D, Belgique).
Cet événement est également l'occasion de belles retrouvailles, de nouvelles rencontres, de découvertes d'autres styles, techniques et conceptions de l'aquarelle. De merveilleux échanges pour de merveilleux moments !
Aux côtés d'amies aquarellistes talentueuses / With talented watercolour painters and friends ... Odette Feller (BE), Nicole Zeimet (FR).
The opening night of the 19th Salon "Watercolour Springs in Libramont" took place on 13th May. Sixty artists coming from Belgium (Wallonia - Brussels - Flanders), France, the Netherlands, Germany and Grand Duchy of Luxembourg, are showing their works on 2 levels. The exhibition is open until 24th May 2010, from 1.30 p.m. until 6.30 p.m., at the Cultural Centre of Libramont, avenue de Houffalize 56D, Belgium).
This event is also a great occasion to meet some of my dearest artist friends, make new acquaintances, discover other styles, techniques and watercolour conceptions. A lot of wonderful exchanges and wonderful moments !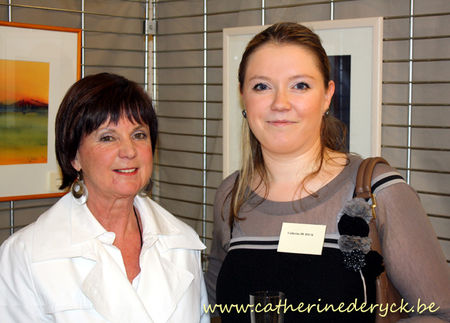 Avec / with ... Nicole B., artiste de référence parmi les maîtres belges de l'abstraction et membre du jury de cette exposition 2010. / a reference artist among the Belgian abstract watercolour masters and juror of this 2010 exhibition.
Dans le cadre de cette exposition, un catalogue illustré présente chaque aquarelliste ainsi que l'une des oeuvres sélectionnées accompagnée du commentaire émis par le jury de sélection (voir ci-dessous) :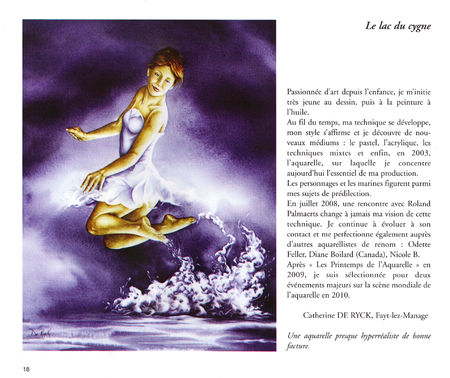 For this exhibition, a fully illustrated catalogue presents each watercolourist as well as one of his selected paintings, accompanied by the comments of the jury (Please, look above).