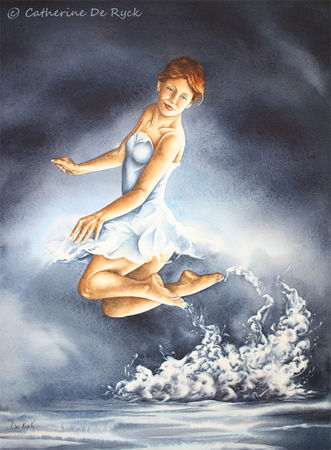 Le Lac du Cygne / Swan Lake. Aquarelle / Watercolour. 46 x 36 cm (18,2" x 14,2"). 2010. Toute reproduction, totale ou partielle, est strictement interdite. Any (total or partial) reproduction of this picture is strictly forbidden.
Comme promis, voici ma dernière aquarelle, Le Lac du Cygne, présentée pour la première fois lors du 19è Salon d'ensemble Les Printemps de l'Aquarelle de Libramont.
Sur les différentes vues en détail présentées ci-dessous, vous pouvez voir quelques magnifiques effets de granulation de pigments Minéraux : Bleus Céruléen, Cobalt et Outremer. Les pigments Sédimentaires sont ensuite entrés en scène pour le travail des teintes chair. Associés en mélange, ils permettent de rendre efficacement et rapidement la texture du grain de peau grâce à leur propriété de sédimentation.
As promised, here is my latest watercolour painting, Swan Lake, which was shown for the first time during the 19th Exhibition Watercolour Springs in Libramont.
On the different close-ups presented above, you can see beautiful effects of Mineral pigment's granulation : Cerulean, Cobalt and Ultramarine Blues. Sedimentary pigments then came on stage for the painting of flesh tones. Combined in the mix, they enable the artist to quickly and properly depict the texture of the skin, thanks to their sedimentation property.