Voici une nouvelle illustration de comment peindre les fleurs en Négatif. Le fond a été préalablement teinté de nuances claires. J'ai donné vie aux pétales en peignant autour de chacun d'eux et en intégrant peitit à petit de nouvelles formes. L'alternance entre les contours cernés ou non préserve la spontanéité du tableau et lui confère une certaine abstraction. Cette technique apporte de la modernité à un sujet classique de fleurs et permet donc de (re)découvrir celui-ci d'un oeil contemporain.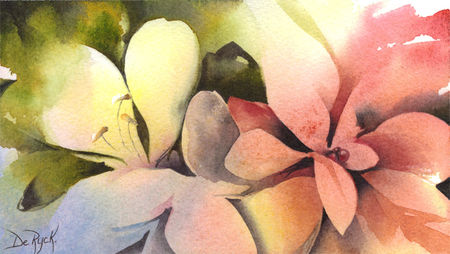 "Reflet d'été" / "Summer glow", 10,5 x 18,5 cm. Arches CP.
Here is another illustration of how to paint flowers using Negative Space. I started working from a lightly coloured background and created the petals by painting around them and adding new shapes, little by little. The alternance between hard and soft edges preserves the spontaneity of the work and gives more abstraction to it. This painting process brings modernity to a classical flower-subject, so that the eye can discover it in a contemporary way.