Ce dessin a été réalisé le mois dernier, alors que je visitais Paris et me rendais à l'Exposition Monet. Le portrait est un sujet à la fascination éternelle, ne trouvez-vous pas ? Je consigne souvent des visages, expressions, ... dans mon carnet de croquis et les réutilise plus tard, pour donner naissance à un tableau ou un dessin plus abouti.
Ma prochaine série d'aquarelles se concentrera sur les statues. J'associerai deux de mes sujets de prédilection : le portrait et les textures. Voici la première étape de mon travail, juste après la pose du premier lavis, qui offre déjà un fond texturé aux nuances multiples. J'utilise à présent les effets créatifs précédemment obtenus et alterne les techniques du positif et du négatif pour "sculpter" mon aquarelle.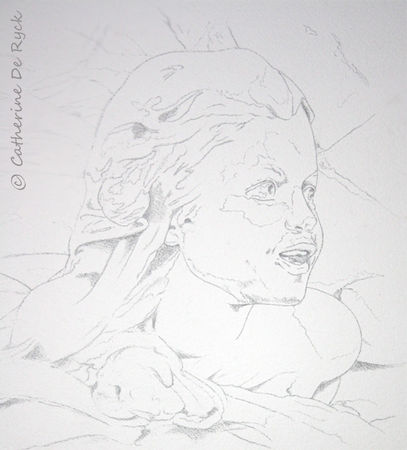 Trésor de Pierre / Stone's treasure, croquis / sketch. 2010.
Here is an excerpt of my sketchbook. This drawing was made last month, while I was visiting Paris and the Monet's Exhibition. The human face is an endlessly fascinating subject, don't you think ? I often keep records of faces, expressions, ... in order to use them later for a painting or a more accurate drawing.
Statues wil be the theme of my next watercolour series. I combine both of my favourite subjects : figure and texture. Here is the first step of the painting, just after the first wash, which already offers a textured and colourful background. I now use the creative effects previously obtained and alternate positive and negative techniques to "sculpt" my watercolour.

Trésor de Pierre / Stone's treasure (détail / detail). Aquarelle / Watercolour. 2010.