Le mois prochain, 28 artistes féminines se partageront les cimaises du C.A.L.V.A. de Maisières (Mons, BEL) dans le cadre de la Journée Internationale de la Femme. L'invitée d'honneur de cet événement sera Odette Feller, qui exposera deux acryliques. L'artiste donnera également un stage d'aquarelle le samedi 5 mars. L'exposition collective sera accessible les 5 et 6 mars prochains, de 14h à 18h à la Salle Calva de Maisières (région montoise), 79 Cité des Epinois, 7020 Maisières, Belgique.
Pour plus d'informations à ce sujet, consultez l'annonce du stage et l'affiche de l'exposition. L'événement est organisé par l'association Conceptions et Magie d'Eau Créatrice (Nancy Wattiaux et Eric Delbart).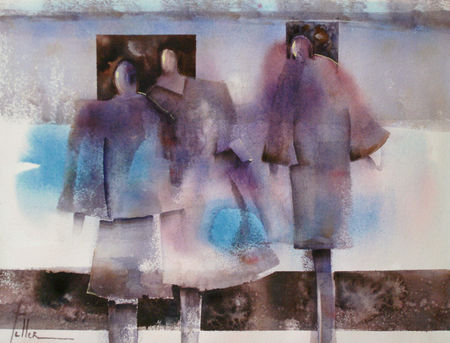 © Odette FELLER. Tous droits réservés / All rights reserved.
Next month, 28 women artists will show their works at the C.A.L.V.A., located in Maisières (Mons, BEL), to celebrate the International Women's Day. Odette Feller will be the guest of honour of this event, she will present two acrylics for the exhibition. The artist will also give a workshop on Saturday 5th March. The public view of this collective exhibition will take place on 5th and 6th March at the Salle Calva, 79 Cité des Epinois, 7020 Maisières, Belgium.
For more information, please have a look to the workshop advertisment and the poster of the exhibition. The event is organized by the "Conceptions et Magie d'Eau Créatrice" association (Nancy Wattiaux and Eric Delbart).