Au cours de mon dernier séjour à Londres, j'ai eu quelques moments de libre pour me balader, carnet de croquis en main. Je me suis arrêtée Cathédrale Saint-Paul, au coeur de la City. L'édifice est considéré comme le chef d'oeuvre du célèbre architecte anglais Christopher Wren. Cette cathédrale a été érigée dans un style post-Renaissance qui représente le Baroque sobre de l'Angleterre. Son dôme impressionnant s'inspire de la basilique Saint Pierre de Rome. Il s'élève à 108 mètres de hauteur, de sa croix à son sommet, ce qui en fait l'un des points de repères célèbres de la capitale britannique.
During my latest trip to London, I had some free time for sketching. This is a view of Saint-Paul's Cathedral, located in the City. It is considered as the masterpiece of the famous English architect, Christopher Wren. The cathedral is built in a late Renaissance style that represents England's sober Baroque. Its impressive dome was inspired by the Saint Peter's Basilica in Rome. It rises 108 m (365 feet) to the cross at its summit, making it a famous London landmark.
Parmi mes croquis, voici un détail d'architecture. Comme vous pouvez le voir, je continue à m'intéresser aux statues ou autres ornements des bâtiments.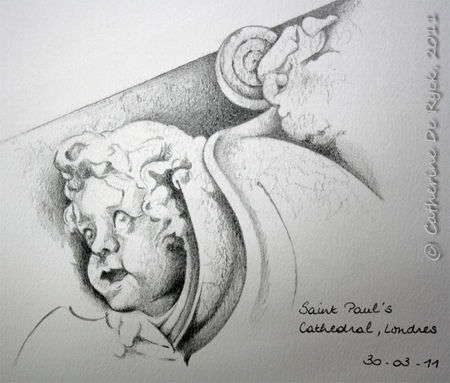 L'Ange de Saint Paul, croquis / sketch. 2011.
Among the sketches I made, here is a detail of architecture. As you can see, I am still interested in statues or other building ornaments.