Je suis heureuse de vous annoncer que Rouge Baiser a remporté la troisième place du Prix Athena, catégorie Figuratif / Semi-figuratif, lors du Gala Academia XXI, organisé par l'Académie Internationale des Beaux-Arts du Québec (Canada). Le prix Athéna est décerné à trois artistes professionnels pour une oeuvre originale et inédite présentée devant un jury dans chaque catégorie : Figuratif / Semi-figuratif et Non-figuratif.
Rouge Baiser est actuellement présentée dans le cadre de la 12è Biennale Salon de l'Aquarelle de Belgique, qui se déroule jusqu'au 29 mai 2011.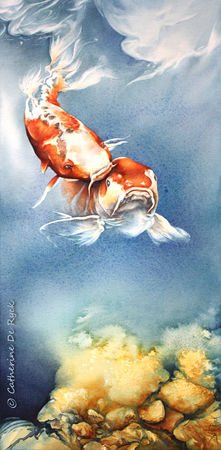 "Rouge Baiser" / "Red Kiss". Aquarelle sur papier Saunders Waterford, 50 x 25 cm (20" x 10"). 2010. Toute reproduction, totale ou partielle, est strictement interdite. Any (total or partial) reproduction of this picture is strictly forbidden.
I am pleased to announce that Red Kiss won the 3rd place of the Athena Prize, Figurative / Semi-figurative Art category, during the Gala Academia XXI, organized by the International Academy of Fine Arts of Québec (Canada). The Athena Prize is given to 3 professionnal artists for an orignial and exclusive work submitted to a jury in each category : Figurative / Semi-figurative and Abstract Art.
Red Kiss is currently shown on exhibit during the 12th Biennial Watercolour Salon of Belgium. The show runs until 29th May 2011.
---
Pour connaître le palmarès complet, rendez-vous sur ce lien. / For a look to the complete prize list, please click here.