Nous sommes de retour de Gaillon (Normandie, FRA) où l'Association ADAGGE organisait son 2è Festival Aquarell'Eure, du 28 mai au 5 juin dernier.
Un grand merci à Louis Aubert, Pascal Templier et l'ensemble des bénévoles qui ont contribué à faire de cet événement un succès. Votre talent artistique n'a d'égal que votre talent humain ! Merci pour votre accueil, votre convivialité, votre enthousiasme et ces beaux moments de partage passés ensemble.
Voici les démonstrations du 5 juin en images. Celles-ci étaient sponsorisées par le manufacturier belge d'aquarelles Jacques Blockx. Chaque aquarelle a été réalisée sur papier Arches grain fin, sans dessin préliminaire, et peinte en Négatif.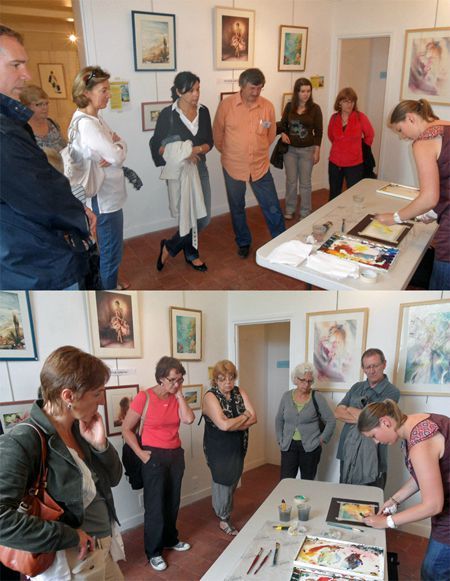 We are back from Gaillon (Normandy, FRA), where the ADAGGE Association organized its 2nd Aquarell'Eure Festival, from May 28 until June 5, 2011.
Here are some pictures of the watercolour demonstrations that took place on 5 June and were sponsored by the Belgian manufacturer of watercolours, Jacques Blockx. Each watercolour work was painted on Arches paper (CP), without preliminary drawing. The subject was depicted using the Negative technique.