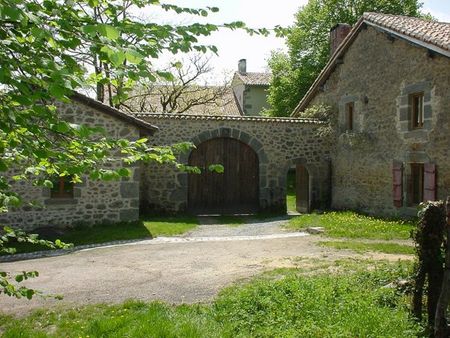 © Picture courtesy from Manoir de Maison Blanche. All rights reserved.
Le dernier stage de Nicholas Simmons s'est déroulé du 4 au 8 juillet au Manoir de Maison Blanche (Périgord-Vert, France). Je vous l'annonçais il y a quelques mois par le biais de cet article, Nicholas Simmons : Prêt pour l'aquarelle autrement ? Ce blog ne propose pas souvent de compte-rendu de stage et je ne me place certainement pas en critique mais celui-ci mérité réellement d'être mis à l'honneur. Pourquoi ? Tout d'abord, grâce à l'accueil chaleureux et à la gentillesse d'Alain et Véronique, les propriétaires du Manoir. Ils mettent tout en oeuvre pour que vous vous sentiez "comme à la maison" et passiez d'inoubliables moment dans leur magnifique région. Ensuite, parce que ce stage a rencontré toutes les attentes des participants et bien plus encore ! Nick a partagé avec nous sa vision innovante, tonique, riche et haute en couleurs de la technique de l'aquarelle et a ouvert une porte vers de nouveaux horizons créatifs. Ce stage se concentrait donc sur les concepts et techniques qui ont fait la renommée de l'artiste : diversité des sujets choisis, travail sur grand format, acrylique fluide et aquarelle, textures inhabituelles, méthodes de peinture indirecte, photographie créative pour obtenir des images de référence non-conventionnelles et composition.
Le prochain stage de Nicholas Simmons au Manoir de Maison Blanche se tiendra du 18 au 22 juin 2012. Pour plus d'informations au sujet de ce stage unique en son genre, contactez Alain et Véronique Duvivier, (e-mail : duvivier.alain3@wanadoo.fr, T. + 33 553 56 90 55), ou visitez le site Internet.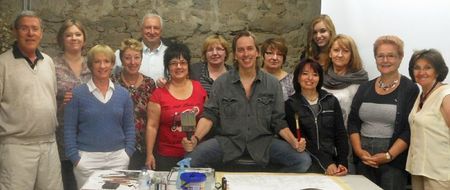 The workshop team ... Nicholas Simmons, Véronique and Alain Duvuvier (the Manoir owners) and art students coming from Belgium, France and Spain.
Nicholas Simmons latest workshop took place from 4th until 8th July at Manoir de Maison Blanche (Périgord-Vert, France). I published a note about it a few months ago, Nicholas Simmons : Ready for unusual watercolour ? I do not often write workshop reviews and do certainly not place myself as a critic but this one really deserves to be in the spotlight. Why ? First, because of the wonderful and warm welcome of Alain and Véronique, the Manoir owners. They work very hard to make you feel at home and spend wonderful moments in their beautiful region. Then, because this workshop met all expectations and even more ! Nick shared with us his innovative, tonic, rich and colourfull vision of the watercolour technique and opened the door to new creative horizons. This workshop concentrated on concepts and techniques the artist is noted for : diversity in subject matter, large scale painting, fluid acrylic and watercolor, unusual textures, indirect methods of painting, creative photography for obtaining unconventional reference shots and composition.
Nicholas Simmons's next workshop at the Manoir de Maison Blanche is scheduled from 18th until 22nd June 2012. For more information about this fabulous and unique workshop, please contact Alain and Véronique at duvivier.alain3@wanadoo.fr (Phone : + 33 553 56 90 55), or visit the website.