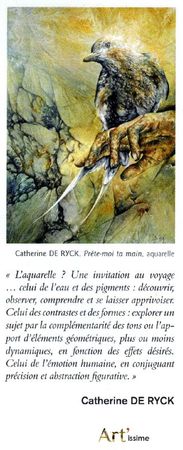 Le dernier numéro du magazine artistique indépendant français Art'issime est largement consacré à l'aquarelle. De nombreux articles traitent de l'oeuvre d'aquarellistes ou présentent les manifestations artistiques de l'été, notamment la seconde édition du Festival Aquarell'Eure. Une double page raconte la création de ce Festival et le ressenti de six artistes par rapport à leur médium favori. J'ai la chance de faire partie de ces derniers et mon aquarelle, "Prête-moi ta main", apparaît dans les colonnes du magazine, page 11.
The latest issue of the French independent art magazine Art'issime is largely devoted to watercolour, with articles introducing several watercolour artists as well as the second edition of Aquarell'Eure Festival. This 2 pages article relates the story of the creation of this Festival and collects the feelings of six artists about their beloved medium. My watercolour painting, "Lend me your Hand", is featured in these columns.
Art'issime Magazine n°20, avril - mai - juin 2011, pages 10 - 11. Extrait de l'article : Succès incontestable pour Aquarell'Eure.