Eau, or bleu, source de vie aux richesses, bienfaits et usages infinis … Nous buvons tous à la même source. L'eau nous unit en tant qu'humains et citoyens du monde. Pourtant, alors que l'eau est synonyme d'abondance en certaines régions du monde, elle est source de misère et de maladie voire de mort là où elle fait défaut. Toutes les huit secondes, un enfant meurt de ne pas avoir accès à l'eau portable. N'est-ce pas une raison suffisante d'agir ?
Onze artistes présenteront leurs oeuvres au profit du projet "Has'ART d'Eau, Promesses de vie". Cette exposition-vente se déroulera les 28 et 29 avril, 1er, 5 et 6 mai 2012 à l'Espace Grand-Leez (Grand-Leez, BEL) .Grâce à votre participation, nous soutiendrons deux projets au Rwanda (www.inyange.org) et au Sénégal (http://kasumaye-casamance.com) : achat de pompes pour l'irrigation des champs et filtration de l'eau pour limiter les maladies infantiles, création d'activités génératrices de revenus telles que des jardins maraîchers, ... En effet, 30% du montant des ventes seront reversés pour contribuer à leur financement.
Nous avons besoin de vous, aussi je lance un appel à votre générosité ! Après l'exposition, les oeuvres invendues seront mises aux enchères sur Ebay. (Plus d'informations sur le site de l'Atelier des Femmes ASBL.)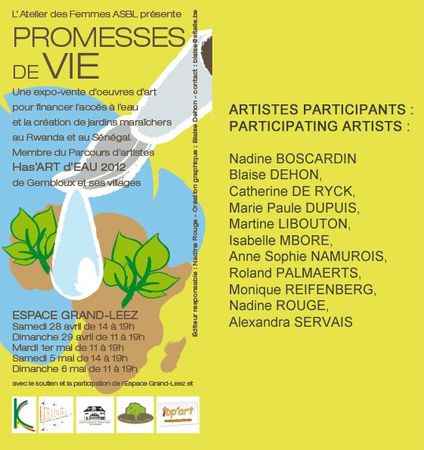 Art can be used in some way to serve charitable causes. Eleven artists take part in the exhibition - sales auction "Has'ART d'Eau, Promesses de vie". The show will take place on 28 and 29 April, 1rst, 5 and 6 May 2012 at the "Espace Grand-Leez" (Grand-Leez, BEL). 30% of the proceeds of sale will be donated to support two projects in Rwanda (www.inyange.org) and Senegal (http://kasumaye-casamance.com) : purchase of irrigation pumps and water filtration equipment in order to reduce childhood diseases, to encourage the creation of income generating activities such as market gardens, ...
We need you, so I appeal to your generosity ! After the show, the unsold works will be auctioned on Ebay. (More information on the Atelier des Femmes ASBL website.)