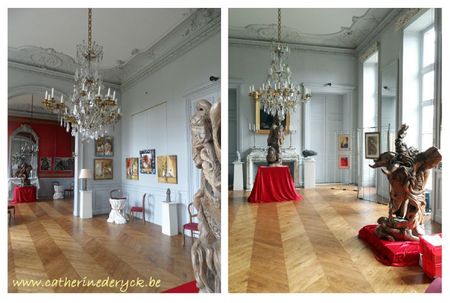 Je rentre de France, où j'ai assisté au vernissage de l'exposition Prestige des Arts. En tant que lauréate du Prix d'Aquarelle lors du 32è Salon International de Haute-Loire en 2011, je figure parmi les artistes invités à présenter leur travail pour cet événement.
L'exposition réunit une sélection de 17 artistes belges et français. Elle présente un intéressant aperçu des techniques artistiques les plus diverses ; huile, aquarelle, pastel sec et gras, encre, gravure, sculpture (sur bois, faite de bois flotté ou sur pierre) et un art que je croyais presque totalement disparu de nos jours : la tapisserie. L'ensemble des oeuvres atteste de la diversité des sources d'inspiration, approches, techniques, sujets et matériaux que l'Art offre à quiconque est désireux de l'apprécier dans son éclectisme. L'exposition ouvre ses portes jusqu'au 8 mai, de 14h à 18h, au Château d'Olliergues (FRA).
Un grand merci à Jacques Bernard, Président du Salon International de Haute-Loire, et à Françoise Chapuis, propriétaire du Château d'Olliergues.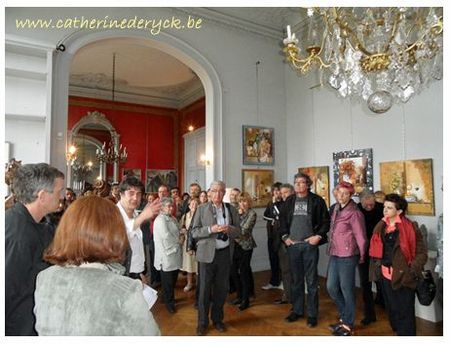 I am back from France, where I attended to the opening ceremony of the "Prestige des Arts" exhibition. As winner of the Watercolour Prize during the "32nd Salon International de Haute-Loire" in 2011, I am one of the invited artists for this show.
This exhibition gathers a selection of 17 French and Belgian artists. It presents an interesting overview of several art techniques : oil painting, watercolour, soft and oil pastel, ink, engraving, sculpture (wood, driftwood, stone) and an art that, I tought, had completely disappeared : tapestry. All works attest to the diversity of inspirations, approaches, techniques, subjects and materials that Art offers to anyone who will to enjoy it in all its eclecticism. The show runs until 8 May, from 2 to 6 p.m., at the Castle of Olliergues (FRA).
A huge thank you to Jacques Bernard, President of the International Exhibition in Haute-Loire, and Françoise Chapuis, owner of the Castle of Olliergues.