La
SKETBE
est une Société Artistique (Arts Visuels) dont le siège se situe à Thessalonique, au Nord de la Grèce.
Au cours de ces trois dernières années, nos amis de la SKETBE ont choisi le dernier dimanche de mai pour organiser le "
Sketching Day
" (ou Journée de l'Esquisse).
De 2009 à
2011, les participants se sont rencontrés et ont dessiné ensemble à Thessalonique. Ils ont également pris part à différentes conférences sur les usages et objectifs de l'esquisse.
En 2012, la SKETBE souhaite organiser une Journée de l'Esquisse qui puisse s'étendre au-delà d
es frontières grecques et réunir des artistes du monde entier.
Inscrivez cette date sur votre calendrier :

dimanche

27 mai.
Lancez-vous, munissez-vous de votre matériel et partez dessiner sur le motif. Adressez ensuite un e-mail accompagné d'une photo de votre croquis, votre nom, votre pays, et quelques détails concernant votre croquis à la SKETBE (sketbe2@gmail.com).
Votre esquisse sera publiée sur ce blog :

http://

sketbegallery.blogspot.com/

2012/04/

lets-sketch-together.html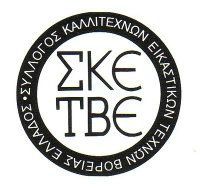 SKETBE
is a Society of Artists (Visual Arts) based in Thessaloniki, Northern Greece.
For the past three years, our friends from SKETBE hasset the last Sunday of May as "
Sketching Day
".
From 2009 until
2011, participants met and sketched in Thessaloniki. They also too part in lectures on the various purposes and uses of sketching.
In 2012, SKETBE plans to have a sketching day without boundaries and would love to sketch together with artists from all over the world.
Mark your calendars. Last Sunday of May.

May 27th

.
Let's go and sketch outside, en plein air. Send an email with a photo of your sketch, along with your name, country, and details about your sketch to SKETBE (sketbe2@gmail.com).
Your sketch will be posted in this blog :

http://

sketbegallery.blogspot.com/

2012/04/

lets-sketch-together.html