Le premier salon des Aquarellistes en Nord se déroulera du 21 juin au 1er juillet à l'Espace Saint-Joseph (rue Derain, Marcq-en-Baroeul, FRA). Il réunira trente artistes issus de l'Eurométropole Lille - Tournai - Courtrai, tous aquarellistes confirmés. L'exposition présentera une grande diversité d'approches techniques et de thèmes abordés autour de l'Aquarelle.
Je vous donne rendez-vous lors du vernissage, le vendredi 22 juin à partir de 18h30. L'exposition sera accessible du lundi au vendredi, de 15h à 19h, et les samedis et dimanches de 10h à 13h et de 15h à 19h.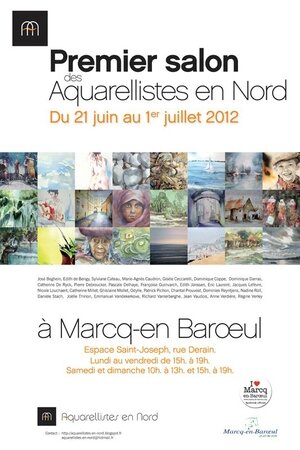 Les artistes exposants sont / the participating artists are : José Beghein, Edith de Bengy, Sylviane Cateau, Marie-Agnès Caudron, Gisèle Ceccarelli, Dominique Coppe, Dominique Darras, Catherine De Ryck, Pierre Debroucker, Pascale Delhaye, Françoise Guinvarch, Edith Janssen, Jacqueline Lansman, Eric Laurent, Jacques Lefèvre, Nicole Louchaert, Catherine Millet, Ghislaine Mollet, Odylle, Patrick Pichon, Chantal Prouvost, Dominiek Reyntjens, Nadine Roll, Danièle Stach, Joëlle Thirion, Emmanuel Vandekerkove, Richard Vanlerberghe, Jean Vaudois, Anne Verdière, Régine Verley.
The first salon of Aquarellistes en Nord will take place from 21th June until 1rst July in the "Espace Saint-Joseph" (rue Derain, Marcq-en-Baroeul, FRA). This show will gather thrity artists coming from the European metropolis Lille - Tournai - Courtrai, who are confirmed watercolour painters. A wide variety of technical approaches and subjects will be presented during this exhibition.
I'll be happy to meet you during the opening ceremony, on Friday 22nd June from 6.30 p.m. The exhibition opens from Monday to Friday, from 3 until 7 p.m., and on Saturdays and Sundays from 10 a.m. until 1p.m. and from 3 until 7 p.m.