Le premier salon des Aquarellistes en Nord a fermé ses portes ce dimanche 1er juillet. Pour cette édition inaugurale, l'exposition vous proposait de découvrir les oeuvres d'une trentaine d'artistes et d'assister à plusieurs démonstrations d'aquarelle. De plus, cet événement a créé de nouvelles amitiés ou renforcé les liens existants entre les artistes de part et d'autre de la frontière franco-belge, comme le suggèrent les objectifs de l'association.
L'exposition a attiré 900 visiteurs et a été annoncé dans la presse locale ainsi que dans les magazines artistiques français L'Art de l'Aquarelle et Art'Issime.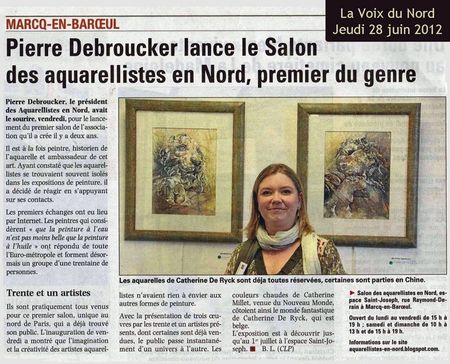 The first Aquarellistes en Nord's exhibition closed its doors on Sunday 1rst July. For its inaugural edition, the show invited you to discover the works of 30 artists and to attend to several watercolour demonstrations. Moreover, this event created new friendships between artists from each part of the French border or strengthened the existing ones, as it is one of the goals of the association.
The show attracted about 900 visitors and was announced in the local press as well as in French art magazines such as L'Art de l'Aquarelle and Art'Issime.