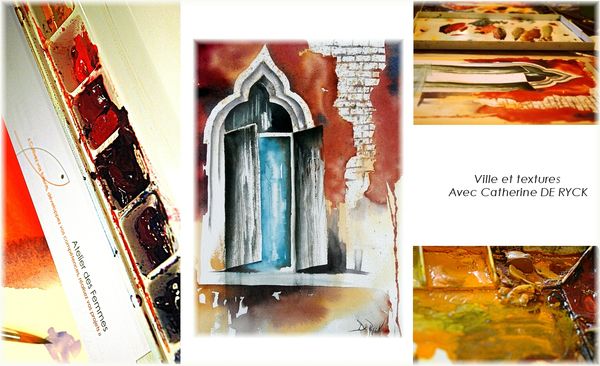 Les 17 et 18 novembre 2012, L'Atelier des Femmes ASBL, Eau en Couleurs ASBL, Marie-Paule Dupuis et moi-même avons organisé la première session du stage d'aquarelle en 4 jours intitulé Villes et Villages. Durant ce premier week-end, les participants ont appris comment utiliser les trois éléments de base (la ligne, la forme et le point) pour créer des payasages urbains dynamiques, ainsi que les règles de base d'une bonne composition avec Marie-Paule. Ensuite, ils se sont essayés au dégradé en un coup de pinceau et ont découvert comment choisir leurs pigments en fonction de l'effet désiré. Enfin, nous avons observé ensemble les textures du métal, du verre, de la pierre, des briques, ... utilisés dans la construction et j'ai proposé différentes manières de représenter celles-ci, démonstrations à l'appui.
La seconde session de Villes et Villages abordera la notion de perspective et proposera une introduction au personnage dans le paysage urbain et aux scènes de nuit. La théorie sera illustrée par de nombreux exemples. Chaque démonstration d'aquarelle sera réalisée étape par étape afin de permettre aux participants de découvrir, comprendre et maîtriser chaque approche créative et l'ensemble des aspects techniques. Ce stage se déroulera les 16 et 17 mars 2013 à Grand-Leez (BEL).
Il reste encore quelques places disponibles. Cette activité vous est proposée au prix (très !) abordable de 50 euros pour le week-end. De plus, les bénéfices seront reversés en vue de soutenir deux projets humanitaires au Rwanda et au Sénégal, notamment l'achat de pompes pour l'irrigation des champs et filtration de l'eau pour limiter les maladies infantiles, ou favoriser la création d'activités génératrices de revenus telles que des jardins maraîchers. Si ce stage vous intéresse, n'hésitez pas à me contacter à l'adresse : stages@catherinederyck.be.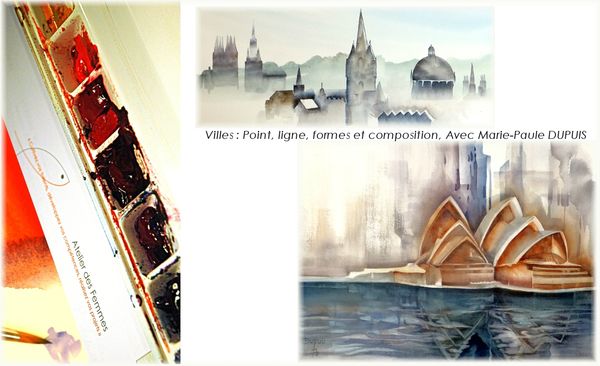 On 17th and 18th November 2012, L'Atelier des Femmes ASBL, Eau en Coleurs ASBL, Marie-Paule Dupuis and I organized the first session of a 4-day watercolour workshop untitled Cities and Villages. During this weekend, the students learned how to use the three basic elements (line, shape and point) in order to create dynamic cityscapes, as well as the rules of composition with Marie-Paule. Then, they practiced the colour gradient in one brush stroke and they also discovered how to choose their pigments depending on the effect they wanted to achieve. Finally, we all observed the textures of wood, metal, glass, stone, bricks, ... used in buildings and I explained and demonstrated the different ways to depict them.
The second session of Cities and Villages will be dedicated to the notions of perspective and a introduction to the figure in a cityscape and to nightscape. The theory will be illustrated by several examples. Each watercolour demonstration will be made step by step, in order to enable the students to discover, understand and master each creative approach and every technical aspect. This workshop will take place on 16th and 17th March 2013 in Grand-Leez (BEL).
There are still a few seats available but this workshop sells quickly. The activities are proposed at the affordable price of 50 euros for the weekend. Moreover, benefits will be donated to support two projects in Rwanda and Senegal, including the purchase of irrigation pumps and water filtration equipment in order to reduce childhood diseases and to encourage the creation of income generating activities such as market gardens. If you are interested, please do not hesitate to contact me at stages@catherinederyck.be.
Photos / Pictures : Anne-Sophie Namurois, all rights reserved.