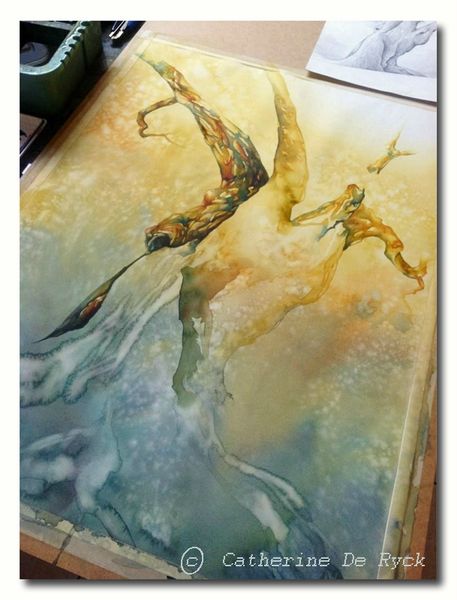 Il y a quelques mois, le Département français du Nord m'a sollicitée pour l'illustration de sa dernière campagne intitulée "Les Rendez-Vous Nature 2013". J'ai tout de suite été séduite par l'idée et suis très heureuse d'avoir pu contribuer à cette action de sensibilisation. Édité et publié par le Département, le Guide des Rendez-Vous Nature propose des centaines de balades et de visites guidées gratuites dans les plus beaux sites naturels du Nord, de mars à novembre. Cette année, le thème est celui de l'Arbre.
L'idée première était de représenter l'Arbre, Source de Vie, et d'accentuer son côté majestueux. Mon choix s'est arrêté sur un chêne découvert lors d'une balade sur le site départemental Marguerite Yourcenar. La lumière et la dynamique jouaient donc un rôle très important dans la composition car le chêne, bien que robuste, possède un tronc de faible hauteur. Un premier jeu créatif d'eau et de pigments, en suggérant l'écorce par les cernes nés de ruptures du temps de séchage, m'a permis de peindre une texture de base. J'ai accentué celle-ci par un jeu de lignes et de couleurs pour représenter l'écorce. Enfin, les feuilles sont nées de l'alternance entre les techniques du positif et du négatif et ont amené une belle poésie à l'ensemble.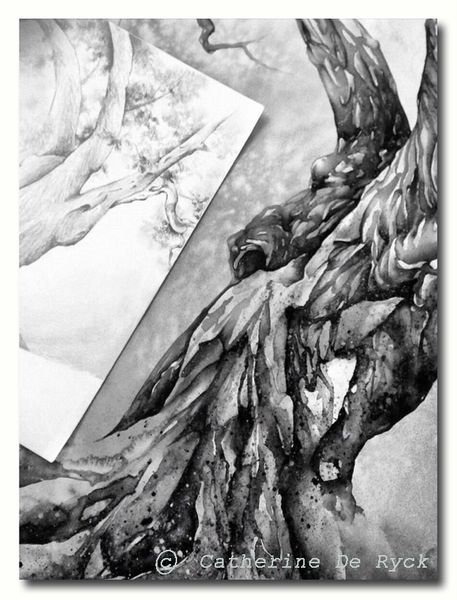 Le Département du Nord est impliqué dans la gestion des Espaces Naturels Sensibles. Les espaces naturels sensibles et les espèces sauvages qui les occupent nécessitent d'être préservés de toutes destructions ou altérations. Pour vous permettre de découvrir leurs richesses et de vous y promener, le Département du Nord a adopté une gestion exemplaire et volontariste de ces espaces. Plus de 2.200 hectares sont aujourd'hui acquis sur 5 grands types de milieux : dunes littorales, marais et zones humides, terrils et carrières, forêts, bocages et vergers. De plus, le Département est gestionnaire de 700 hectares de dunes, propriétés du Conservatoire de l'Espace Littoral et des Rivages Lacustres, dont la Réserve Naturelle Nationale de la Dune Marchand.
Les équipes de garderie départementale assurent quotidiennement la surveillance, l'entretien et le nettoyage de ces milieux naturels. Elles participent activement au suivi scientifique et technique de ces zones, à la protection des espèces remarquables qui y ont élu domicile. Enfin, elles sont présentes sur le terrain pour accueillir, animer les promenades et sensibiliser tant à la notion de protection et de respect de ces espaces qu'à leurs richesses biologiques et paysagères.
A few months ago, the French Department of the North asked me to illustrate the poster and booklet of its latest campaign untitled "Les Rendez-Vous Nature 2013". I was immediately interested in this project and I was very happy to join this action of environmental awareness. Edited and published by the Department, the Guide des Rendez-Vous Nature proposes hundreds of walks and free guided tours, from March to November, in the most beautiful natural areas of Northern France. This year, the campaign is centrered on an essential element of our forests, the Tree.
From the artistic point of view, the main idea was to depict the Tree, Source of Life, and to enhance its majesty. I chose to paint an oak that I noticed while walking in the natural park Marguerite Yourcenar. The light and dynamic played an important part in the composition because the oak, although robust, has a low rise trunk. A first creative mix of water and pigments enabled me to paint a basis texture, which appeared from breakings in the drying process, also named backruns. I highlighted this texture with lines and colours to depict the bark. Finally, the foliage was paint by combining the positive and negative watercolour techniques and brought a poetic atmosphere to the painting.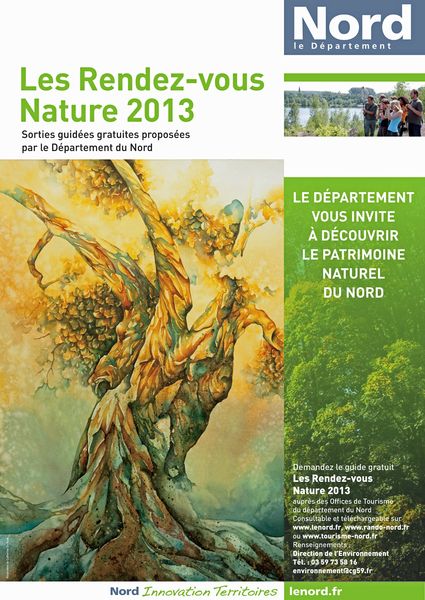 The Department of the North is actively involved in the management of Sensitive Natural Areas. Sensitive natural areas, and the wildlife that live there, need to be preserved from destruction or alteration. To enable you to discover their beauty through nature walks, the Department of the North has adopted a proactive and exemplary management of these areas. Over 2200 hectares now gathers five major types of environments: coastal dunes, marshes and wetlands, quarries and spoil heaps, forests, groves and orchards. The Department also manages 700 hectares of dunes, which are the property of the "Conservatoire de l'Espace Littoral" and the "Rivages Lacustres", including the National Nature Reserve of Dune Marchand.
Departmental care teams provide daily guard, maintenance and cleaning of these habitats. They actively participate in scientific and technical monitoring of these areas, and contribute to the protection of remarkable species. Finally, they accommodate and lead walks, they raise awareness as to the concept of protection and respect of these areas and their biological resources and landscape.