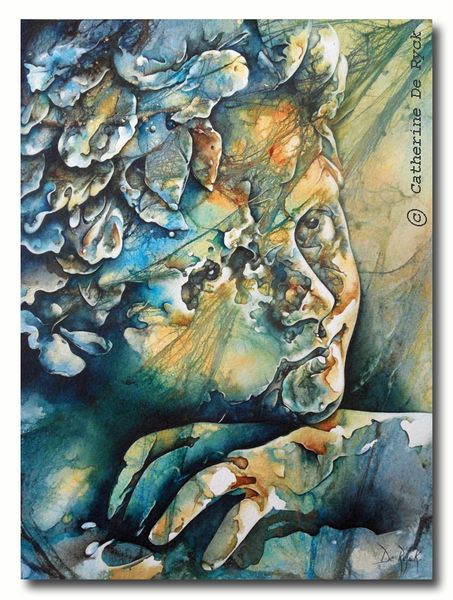 Au Premier Regard / At First Sight. Aquarelle / Watercolour, Saunders-Waterford, 300 g/m2. 38 x 28 cm. 2012.
Je suis très heureuse de vous annoncer que mon aquarelle, "Au Premier Regard", a été sélectionnée parmi plus de 800 oeuvres proposées en sélection par le prestigieux Royal Institute of Painters in Water Colours (RI) pour participer à son exposition annuelle, à Londres.
Fondé en 1831, le RI a pour objectif de présenter le meilleur de l'aquarelle contemporaine et progressiste, en proposant une grande diversité de styles et de techniques, de l'utilisation la plus tradtionelle du médium à la plus expérimentale et innovante.
Cette année, une section de l'exposition annuelle se propose d'attirer l'attention du public sur le sort des forêts de Grande-Bretagne et s'intitule "Arbres et Paysage". En effet, en raison du dépérissement des frênes qui menace 80 millions d'arbres et le projet de vente des forêts publiques émis par le gouvernement britannique, l'événement souhaite mettre à l'honneur ces arbres en péril. Certains des meilleurs aquarellistes actuels se sont donc rendus sur le motif afin de capturer la lumière scintillante du soleil à travers leurs feuilles avant qu'il ne soit trop tard.
L'exposition du Royal Institute of Painters in Water Colours se déroulera du 5 au 18 avril 2013 aux Mall Galleries de Londres et sera accessible chaque jour de 10 à 17h. Les Mall Galleries se situent à 2 min. de marche de Trafalgar Square et de la National Gallery (Métro : Charing Cross).
Le vernissage se tiendra le jeudi 4 avril de 14 à 20h . Si vous désirez y assister et visiter ensuite l'exposition, écrivez-moi à info@catherinederyck.be.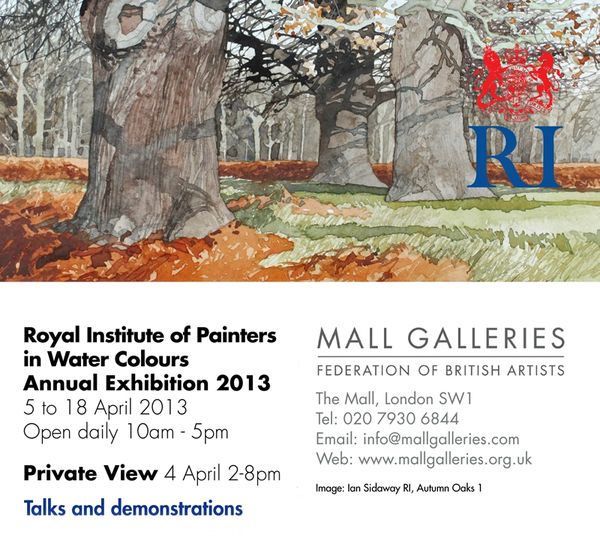 I am pleased to announce that my watercolour, "At Frist Sight", has been selected from over 800 submitted works by the prestigious Royal Institute of Painters in Water Colours (RI) to be shown on exhibit during its annual exhibition in London.
Founded in 1831, the RI was established to exhibit the best of contemporary and progressive watercolours, showing a diversity of styles and techniques, from traditional uses of the medium to the more experimental and innovative paintings.
This year a small section of the annual exhibition is being used to highlight the plight of Britain's woodlands with the special exhibition untitled Trees and Landscape. With Ash dieback threatening 80 million ash trees and British Government plans to sell off public woodlands, the event is a celebration of the dwindling trees. Some of the finest watercolour painters working today have gone out into the woods to capture the dappled light of sun shining through leaves before it is too late.
The Royal Institute of Painters in Water Colours exhibtion will be on display at the Mall Galleries from 5 until 18 April 2013. The show opens daily from 10am until 5pm. The Mall Galleries are located at 2 minutes walk from Trafalgar Square and the National Gallery (Tube station : Charing Cross).
The Private View will take place on 4 April, from 2 until 8pm. If you wish to attend and then visit the exhibition, please send me an e-mail, info@catherinederyck.be.