Thessalonique est la seconde plus grande ville de Grèce et la capitale de la région de Macédoine. Thessalonique est également le second centre économique, industriel, commercial et politique de la Grèce. Son port commercial joue un rôle important tant pour la Grèce que pour l'arrière-pays de l'Europe du sud-est. La ville est célèbre pour ses festivals, ses manifestations et sa vie culturelle intense, elle est considérée comme la capitale culturelle de la Grèce.
Fondée en 315 AC par Cassandre de Macédoine, l'histoire de Thessalonique s'entend sur plus de 2.300 ans. Cassandre la baptisa en l'honneur de sa femme, la demi-soeur d'Alexandre le Grand et princesse de Macédoine, à qui il offra la ville en gage de son amour. Thessalonique recèle de merveilles : nombreux monuments byzantins ainsi que plusieures églises et édifices romains, ottomans et juifs. L'Université Artistote, principal établissment d'enseignement supérieur de la ville, est la plus grande de Grèce et des Balkans.
Thessaloniki is the second-largest city in Greece and the capital of the Greek region of Macedonia. Thessaloniki is Greece's second major economic, industrial, commercial and political centre. Its commercial port is also of great importance for Greece and the southeastern European hinterland. The city is renowned for its festivals, events and vibrant cultural life in general and it is considered to be Greece's cultural capital.
Founded in 315 BC by Cassander of Macedon, Thessaloniki's history spans some 2,300 years. He named it after his wife Thessalonike, a half-sister of Alexander the Great and princess of Macedon. Thessaloniki is home to numerous notable Byzantine monuments, as well as several Roman, Ottoman and Sephardic Jewish structures. The city's main university, Aristotle University, is the largest in Greece and the Balkans.
L'exposition Watercolor International II se déroule dans la Cité d'Alexandre le Grand du 15 septembre au 7 octobre 2014, dans la Galerie de la Société d'Etudes Macédoniennes. Une centaine d'artistes issus de 25 pays différents s'y sont donné rendez-vous, grâce à l'organisation exceptionnelle de George Politis. L'événement présente l'aquarelle contemporaine / le watermedia dans toute sa diversité. Différents styles et techniques se côtoient puisque l'aquarelle d'aujourd'hui comprend également l'emploi d'acryliques fluides, d'encre, de tempera, de tempera à l'oeuf, de collage et de techniques mixtes aquarellables.
The exhibition Watercolor International II takes place in the City of Alexander the Great, from 15 September until 7 October 2014, in the Gallery of the Society of Macedonian Studies. A hundred of artists coming from 25 countries met there, thanks to the exceptional organization orchestred by George Politis (Thank you George !!!). The event focuses on contemporary watercolour / watermedia through its diversity. Different styles and techniques are proposed, as watercolour today also includes fluid acrylics, inks, tempera, egg tempera, collages and mixed watermedia.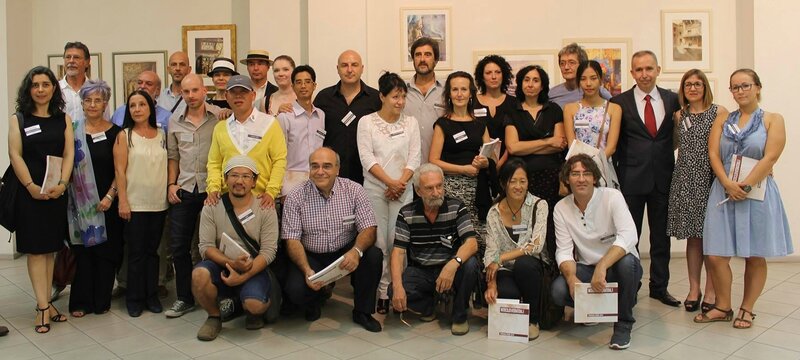 Les artistes présents lors du vernissage / The artists who attended to the opening ceremony : Giorgos Saltaferos, Jurate Bumcyte, Albertas Krajinskas, Binnur Cavusoglu, Daniel Napp, Jason Yeoh, Kwan Tam Yuen, Massimiliano Iocco, Jocelyne Chauveau, Rosa Sepple, Anna Massinissa, Keith Hornblower, Chantep Phatcharaphan, George Politis, Anna Morales Puigcerver, Anna Ivanova, Lafe, Keiko Tanabe, Igor Sava and myself. Picture by Anna Ivanova. I don't know everyone's name, so if you find yourself on this image, please contact me and I will add yours.
Vernissage, démonstrations, activités communes, ... ont figuré au programme de la première semaine d'exposition et ont constitué une occasion unique pour les artistes d'échanger leurs idées et d'apprendre les uns des autres. Si vous passez par la Grèce, faites un arrêt à Thessalonique, offrez-vous une visite de l'exposition et une découverte de la ville, deux joyaux à ne surtout pas manquer !

Opening ceremony, demonstrations, collective activities, ... were on the programme of the first week of the exhibition and they offered to the artists a unique opportunity to exchange ideas and learn from each other. If you are living or travelling in Greece, then have a stop in Thessaloniki, visit the exhibition and discover the city... Don't miss it!