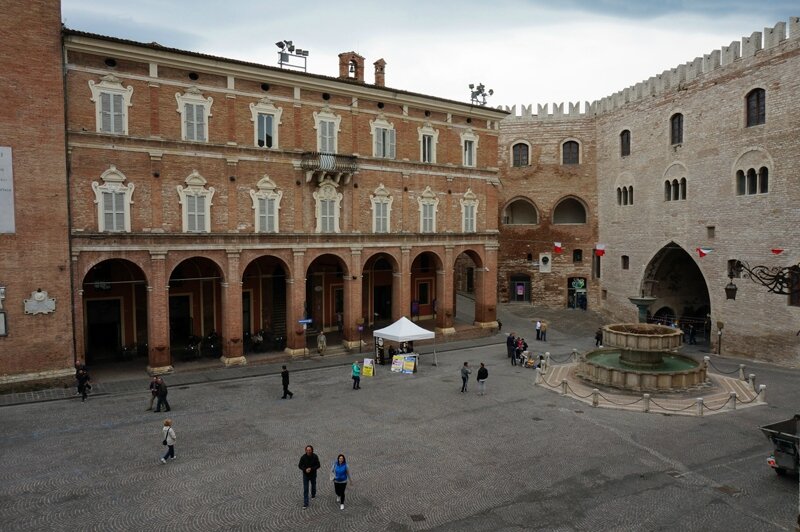 Fabriano, au coeur de la ville / heart of the city.
Il y a deux semaines, j'ai participé à la Convention Internationale d'Aquarelle Fabriano in Acquarello 2015, organisée du 23 au 26 avril, avec d'autres membres de l'Aquarel Instituut van België. Fabriano était alors "the place-to-be" (aquarellement parlant) et le lieu de rencontre d'artistes issus de tous continents, un événement brillamment orchestré par Anna Massinissa et son association "In Arte Fabriano".
Des démonstrations par des aquarellistes internationaux dont George Politis, Lafe, António Bártolo, Ahmet Oğraş, ... ainsi que des dîners officiels figuraient au programme. Un record du monde destiné à figurer dans le prochain Guinness Book a également été organisé, celui de la plus longue aquarelle de l'histoire réalisée par les représentants IWS de chaque pays. L'oeuvre, qui mesure 15 mètres de long, a été peinte sur un papier Fabriano et divisée en sections, chacune d'elles représentant un sujet différent, des places et édifices historiques de Fabriano aux paysages côtiers de la région.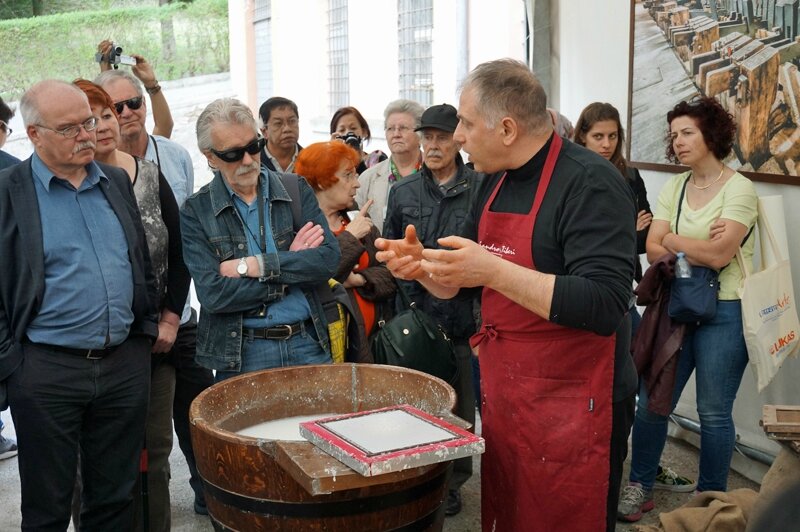 Démonstration de la fabrication du papier / papermaking demonstration.
L'exposition présente non moins de 718 tableaux. Les artistes sont débutants, émergents ou professionnels reconnus de longue date. L'art doit être accessible à tous et c'est ce que Fabriano in Acquarello semble défendre, des valeurs que je rejoins totalement. Les critiques diront qu'il existe des différences notables entre les oeuvres en termes de technique et de qualité mais l'exposition propose une large palette de couleurs, d'inspirations, de sujets et de styles. En d'autres termes : des identités culturelles desquelles nous avons tous quelque chose à apprendre.
L'exposition se poursuit jusqu'au 17 mai dans certains des plus beaux sites de Fabriano. Il vous reste donc quelques jours pour vous y rendre et découvrir cette belle ville.
Aux côtés de mon aquarelle, "Trésor de Pierre" / with my painting, "Stone Treasure".
Two weeks ago, I attended to the International Watercolour Convention of Fabriano in Acquarello 2015, from 23 until 26 April, with others members of the Belgian Watercolour Institute. Fabriano was then the place-to-be (watercolour speaking) and the gathering place of artists coming from all continents. It was a pleasure to meet old and new friends but also to enjoy all activities brilliantly organized by Anna Massinissa and her association "In Arte Fabriano".
Demonstrations by international watercolour artists, including my friends George Politis, Lafe, António Bártolo, Ahmet Oğraş, ... took place during the mornings in the municipal library. A paper manufacturing demonstration and official dinners were also on the programme. A Guinness watercolor world record, for the longest watercolour painting of in history painted by IWS representatives of each country, was also organized. The 15 meters long watercolour was painted on Fabriano paper and divided into sections, each of them represented a different subject from Fabriano's buildings and places to seascape and coastal scenes.
Le record du monde / the world record.
The exhibition itself shows no less than 718 paintings. The artists are beginners, emerging or well-established professionals painters. Art should be to everyone and this is what Fabriano in Acquarello seems to defend. I totally agree with this. Of course, critics might say that there are a lot of differences between paintings in terms of technique and quality, but the exhibition also presents a huge variety in colours, inspirations, subjects and styles. In other words: cultural identities from which we all have something to learn.
The exhibition runs until 17 May in Fabriano's most prestigious locations. There is still time to visit it and to discover this beautiful city.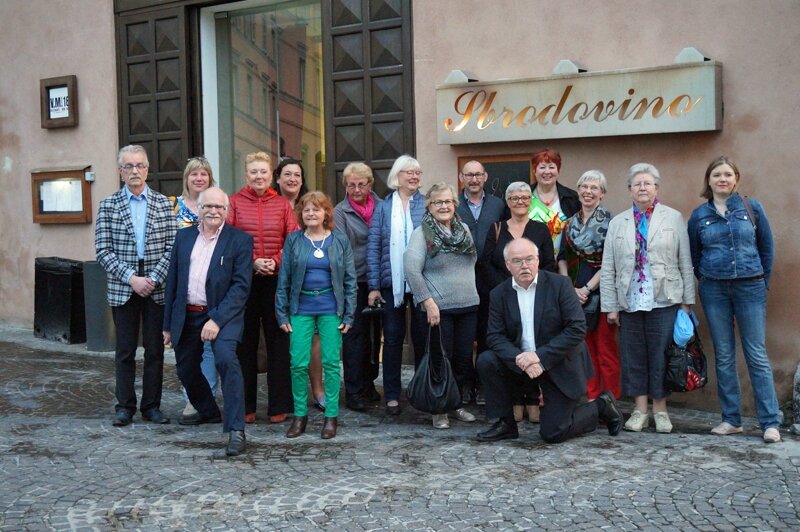 Les membres de la délégation belge / the members of the Belgian delegation.