Reflets du Quotidien est une exposition internationale d'art postal (aquarelles allant du format carte postale aux dimensions maximales de 20x28 cm) qui réunit des artistes venus de 42 pays différents. L'événement a lieu du 10 au 26 septembre 2015 à Thessalonique, Grèce. J'y participe avec Fresh Crab, une aquarelle que je vous avais présentée il y a quelques mois.
Selon George Politis, l'organisateur de l'événement : "L'usage de l'aquarelle pour représenter quelques instants volés de notre quotidien permet de dépeindre rapidement une atmosphère, de manière immédiate et spontanée. L'exposition a pour but d'inciter les artistes à utiliser l'aquarelle et à communiquer par ce biais, en échangeant leurs idées et opinions. Enfin, elle tend à promouvoir l'aquarelle et à encourager davantage de peintres à se familiariser avec le médium."
Infos pratiques : Galerie Govedarou, 5G Papandreou Street, 54645 Thessalonique. Heures d'ouverture : lundi, mardi de 11h à 14h - mardi, jeudi et vendredi de 17h30 à 21h - samedi de 10h30 à 14h. Website : www.govedraoufineartgallery.com
Le catalogue d'exposition est également accessible en ligne, il reprend l'intégralité des aquarelles présentées.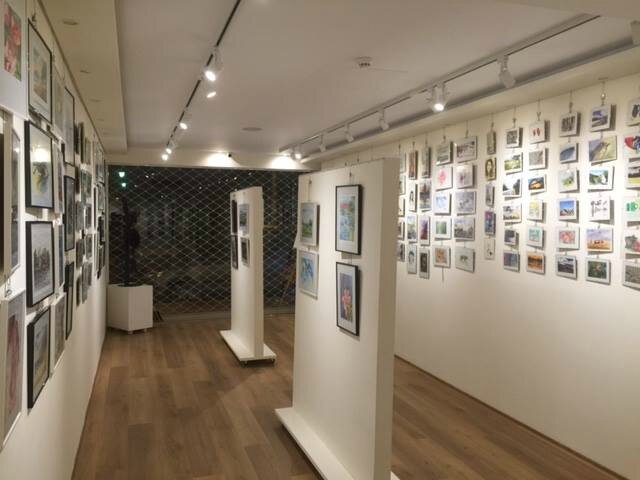 Thessalonique : la galerie ouvrira bientôt ses portes / Thessaloniki: the gallery is nearly ready... Image / Picture : George Politis.
Glimpses of Everyday Life is an international mail art exhibition gathering artists from 42 countries. It will take place from 10 until 26 September 2015 in Thessaloniki, Greece. I take part in this exhibition with Fresh Crab, a watercolour painting that I shared here a few months ago.
According to George Politis, curator: "The use of watercolour in picturing everyday life and conveying the atmosphere quickly, in an immediate and more straightforward way, seems to be a good idea. The exhibition aimed to serve as a motivation to artists to use watercolour and to communicate through it. It aimed to help watercolourists to exchange views and ideas. And last... but not least, to promote watercolour and to encourage artists to engage themselves with this fantastic medium."
Useful information: Govedarou Fine Art Gallery, 5G Papandreou Street, 54645 Thessaloniki. Opening hours: Monday, Tuesday from 11 am to 2 pm - Tuesday, Thursday and Friday from 5.30to 9 pm - Saturday from 10.30 am to 2 pm. Website: www.govedraoufineartgallery.com
The art book of the exhibition is also available online, it presents all the watercolours shown on exhibit.