Durant les mois de mai et juin, cet arbuste à feuilles caduques annonce l'arrivée de l'été partout en Irlande en produisant des fleurs papilionacées de couleur jaune vif, au parfum d'amande. Il doit son nom au fait que ses rameaux souples et résistants étaient autrefois séchés puis utilisés pour fabriquer des balais. Le Genêt à balais est originaire du nord-ouest de l'Europe mais il a été largement introduit sur d'autres continents. Il est maintenant considéré comme une plante envahissante dans plusieurs pays (États-Unis, Australie et Nouvelle-Zélande). On le rencontre dans les landes, les bois, et les terres peu cultivables. Le Cytisus scoparius est la variété la plus résistante de genêts, il peut supporter des températures allant jusqu'à -25 °C (-13 °F).
Je préfère nettement peindre les fleurs dans leur environnement naturel plutôt que coupées et disposées dans un vase. Pour l'arrière-plan, j'ai choisi un mélange de terre de sienne naturelle, d'alizarine cramoisie et de bleu céruléen pour créer un violet-grisé léger, couleur complémentaire du jaune employé pour le genêt. Le vert utilisé pour le feuillage, lorsqu'il est travaillé en négatif, apporte un motif intéressant et révèle d'autres éléments de la végétation environnante. Ce procédé me permet également d"intégrer harmonieusement le vert au tableau. Enfin, les ombres déposées sur le genêt sont issues des mêmes mélanges violet-grisé et vert utilisés précédemment.
Cette aquarelle de petit format (16 x 12 cm) sera exposée à New York au printemps, plus d'informations ici.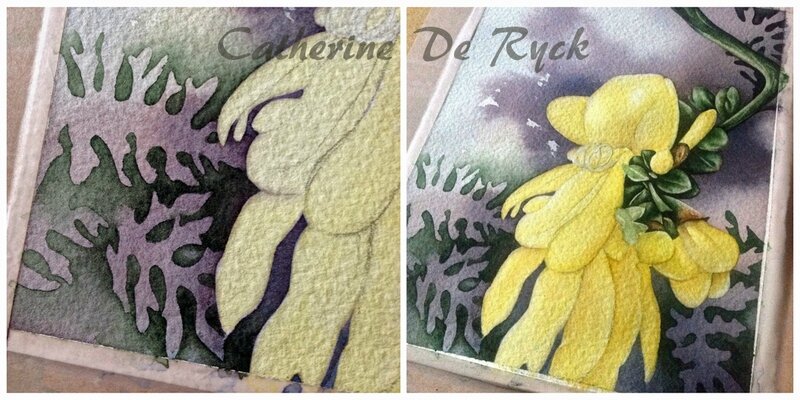 During the months of May and June, this deciduous shrub announces the arrival of summer by producing golden, almond-scented spikes of peaflowers on wiry branches all over Ireland. Cytisus scoparius owes its name to the fact that its flexible and resistant shoots were once dried and used to make brooms. Broom is native from Northwestern Europe, but it has been widely introduced in other continents. It is now considered as an invasive plant in several countries (USA , Australia and New Zealand). It is usually found in the moors, woods and on dry, sandy soils. This is the hardiest species of broom, tolerating temperatures down to about -25 °C (-13 °F).
I rather paint flowers in their natural environment than cutted and arranged in a vase. I chose a mix of raw sienna, alizarin crimson and cerulean blue to create a light, greyish-purple background, this is the complementary colour for the yellow broom. The green used for the foliage also creates an interesting pattern and reveals other purple elements of vegetation when worked in negative painting. This process also enables me to harmoniously incorporate this colour to the painting. Finally, I used the same mixes of greyish-purple and green to add the shadow to the broom.
This small-sized work (16 x 12 cm) will be exhibited in New York City this spring, more information here.