Comme je vous l'écrivais dans un post précédent, voici le premier artiste de l'exposition Regards du Nord présenté sur ce blog, Claude Carretta. / As mentionned in my previous post, here is the first artist from Regards du Nord Exhibition presented on the blog, Claude Carretta.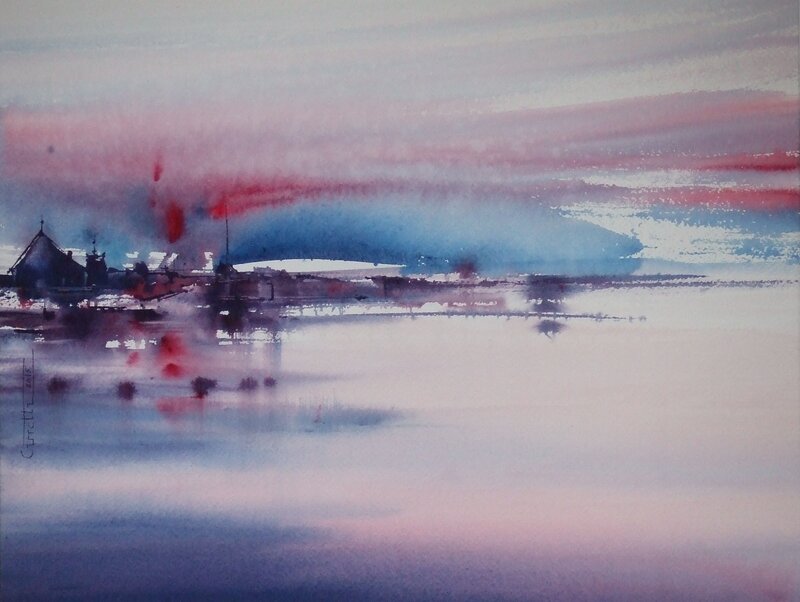 Claude Carretta - Lac Erié. Aquarelle / Watercolour.
Amateur de dessin et notamment de caricature, Claude Carretta découvre l'aquarelle en 1990 et se passionne peu à peu pour le jeu des couleurs et la liberté avec laquelle l'eau disperse les pigments et gère les hasards ; il recherche surtout les ambiances, mises en évidence dans le premier temps de la création, puis fait naître la lumière dans toute sa force par le jeu des contrastes. Sélectionné et plusieurs fois récompensé dans divers Salons Internationaux en Europe et Outre-Atlantique, il est devenu membre signataire de la société américaine North East Watercolor Society.
Il est inscrit à la Maison des Artistes depuis 2005 et a présidé pendant plus de six ans l'association Aquarelle Reims Evénement qui œuvre à l'organisation d'événements internationaux autour de l'aquarelle à Reims.
Découvrez son travail et visitez son site, claude-carretta.com.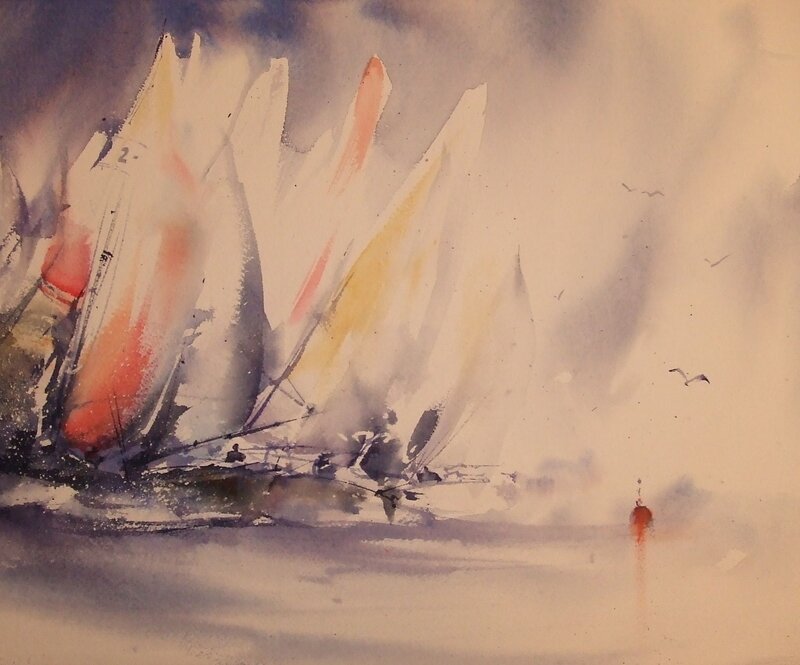 Claude Carretta - Top Départ 2. Aquarelle / Watercolour.
Drawing and caricature-lover, Claude Carretta discovered watercolour in 1990. Day by day, he experienced playing with colours and he began to love the freedom with which water spreads pigments and handles unexpected effects. The artists mainly seeks for atmosphere, which is enhanced by creation at first, then he emphazises the light in all its strength by adding contrasts. His work has been selected and rewarded several times by international exhibitions in Europe and overseas. He is a signature member of the North East Watercolor Society (United States).
Claude Carretta paints professionnally since 2005 (member of the Maison des Artistes) and he was the President of Aquarelle Reims Evénement for more than six years. This association organizes international events dedicated to watercolour in Reims.
Discover his work and visit his website, claude-carretta.com.