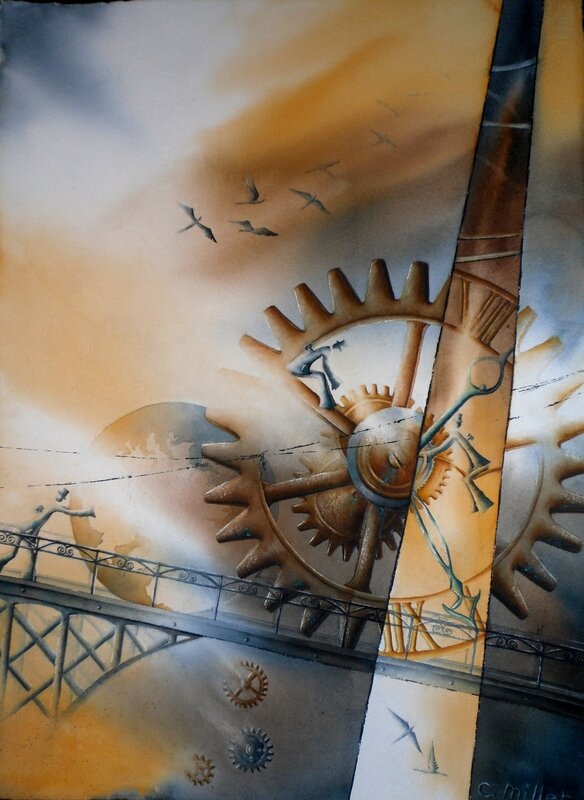 Catherine Millet - Mécanique poétique I. Aquarelle / Watercolour. 93 x 73 cm.
Née à Lille, peintre et sculpteur, Catherine Millet est une artiste autodidacte. Elle travaille l'acrylique sur toile, mais c'est surtout le travail sur papier, à l'aquarelle, qui l'attire, avec toutes ses subtilités, lui permettant ainsi de développer une technique et un univers très personnels.
Elle se forme dans une école d'art qui l'amène à se situer artistiquement, mais aussi à s'intéresser à la mise en volume par le travail de la terre. Elle se lance donc naturellement dans la sculpture, en utilisant cette fois différents matériaux (papier, enduit, métal...). Le travail de ces deux disciplines lui offre une plus grande liberté dans sa démarche artistique, de par leur complémentarité. Ses tableaux et sculptures voyagent autour d'un même thème : l'homme y est perçu comme un explorateur d'un monde où il recherche un équilibre. Il va de rencontres en rencontres, perché sur les roues du destin. Il découvre chaque face de cet univers, en mutation constante, le portant parfois à bout de bras ou le survolant pour mieux le comprendre.
Catherine Millet expose régulièrement en France et Belgique dans des salons et galeries d'art. Elle fréquente aussi quelques salons internationaux d'aquarelle. Son travail a été récompensé à plusieurs reprises et est présenté dans des magazines spécialisés.
Découvrez son travail et visitez son site, millet.artblog.fr.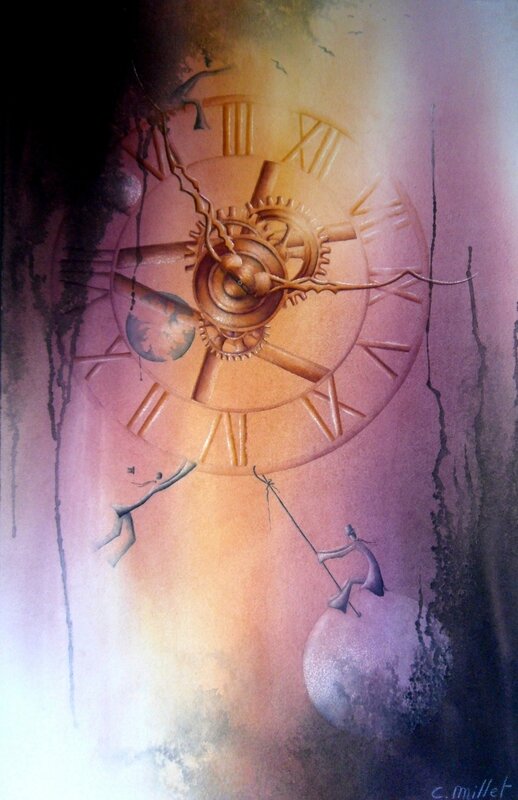 Catherine Millet - Mécanique poétique III. Aquarelle / Watercolour. 93 x 73 cm.
Born in Lille, painter and sculptor, Catherine Millet is a self-taught artist. She paints in acrylics on canvas but it's watercolour painting on paper that interests her the most. By using this subtle medium, she develops a very personal technique and universe.
Trained in Art School, she artistically finds herself and she also learns how to create volumes by modeling clay. She naturally begins to sculpt, using several materials (paper, coatings, metal...). Because they complement each other, working with both disciplines (painting and sculpture) gives her a great freedom in her artistic process. Her paintings and sculptures follow the same theme: the man is shown as the explorer of a world, where he is always looking for equilibrium. He goes to meet others, perched on the wheels of fate. He discovers every facet of this changing universe - by carrying or flying over it - and tries to better understand it.
Catherine Millet regularly exhibits in France and in Belgium, in art galleries and salons. She also takes part in a few international watercolour exhibitions. She won several awards for her work and her paintings are also featured in art magazines.
Discover her work and visit her website, millet.artblog.fr.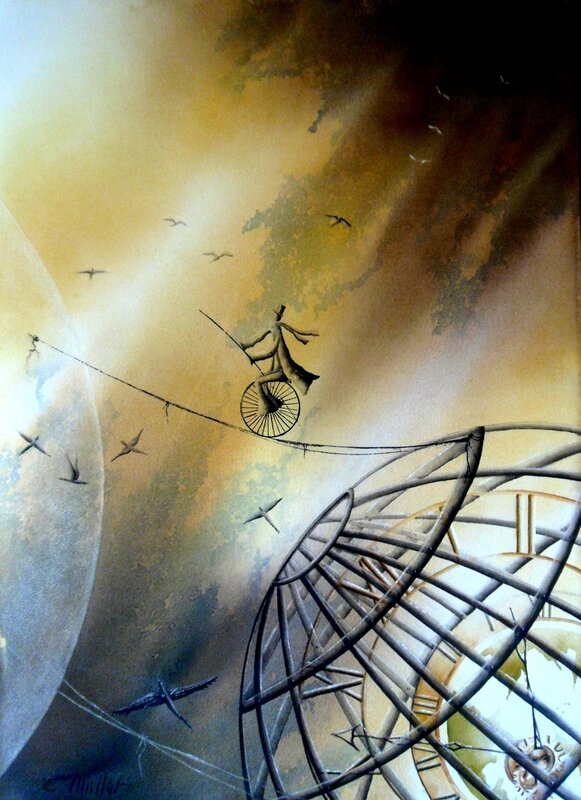 Catherine Millet - Mécanique poétique IV. Aquarelle / Watercolour. 76 x 56 cm.