Michel Magnani - Autruche 3. 2016. - Acrobates. 2015. Bronze

Sculpteur et peintre, Michel Magnani doit certainement sa passion pour ces disciplines à son arrière grand-père et son grand père tailleurs de pierre. Dans son enfance passée dans l'Est, il commence par la taille de la pierre, du granit, il s'intéresse aux bas reliefs ainsi qu'à la ferronnerie. Un prix lui est décerné en 1965 lors d'une exposition à Megève. Toutefois, il n'en fait pas son métier. Ce dernier l'amène à effectuer de nombreux séjours en Afrique Equatoriale et en Asie. Pourtant, cette activité ne lui interdit pas de continuer passionnément son art. Les thèmes abordés sont souvent liés aux clichés de ses séjours exotiques, la beauté des corps, la guerre, la misère du tiers monde.
Progressivement, il passe du réalisme à l'abstrait plus riche en émotions. Ce qui caractérise cet artiste est sa continuelle recherche d'émotions sensorielles émanant de la matière en développant toujours de nouvelles techniques et de nouveaux supports, mais toujours en privilégiant la pérennité, la solidité, la noblesse des matériaux tels que les bois durs, le marbre, les aciers spéciaux, le bronze.
Découvrez son travail et visitez son site, sculpteurmagnani.blogspot.com.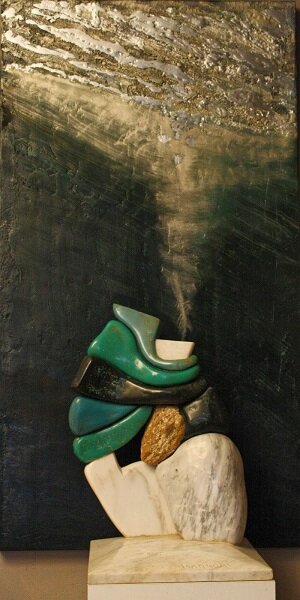 Michel Magnani - Atlantide. 2013. Marbre et Huile sur bois / Marble and Oil on panel.
Sculptor and painter, Michel Magnani inherited his passion for these art disciplines to his grandfather and grand grandfather, both stone cravers. He spent his childood in the East of France and he began to sculpt stone and granite, then he took an interest in bas-relief and ironwork. He received a prize in 1965, during an exhibition in Megève. However, he didn't make his profession of it. Because of his job, he stayed in Equatorial Africa and in Asia but he continued to practise his art with passion. The recurrent themes ofhis work are often inspired from the clichés of his exotic travels: the beauty of bodies, the war and the misery of the Third World.
Little by little, his realistic approach moves to abstraction, that he considers much filled with emotion. This artists is always looking for new sensory emotion coming from the materials. He develops news techniques and medium and he always favours durability, solidity, nobility of the materials as hardwood, marble, steel, bronze.
Discover his work and visit his website, sculpteurmagnani.blogspot.com.