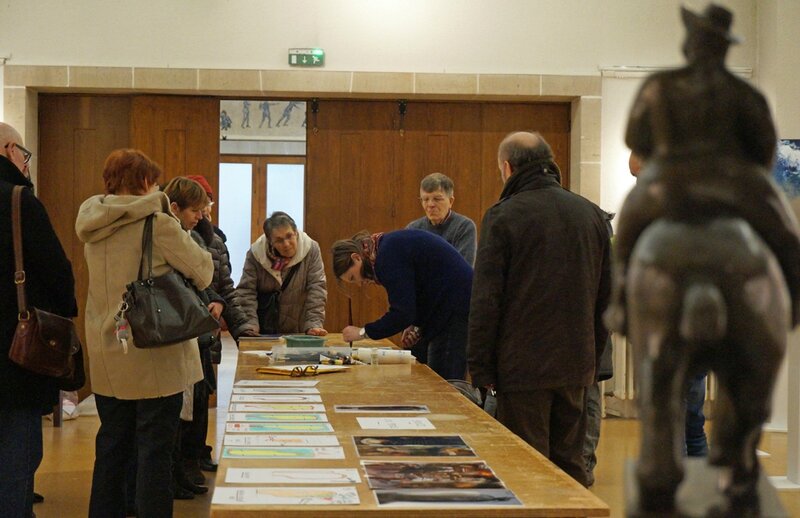 Pour celles et ceux qui n'ont pas pu y assister, voici quelques images commentées de la démonstration d'aquarelle que j'ai donnée ce samedi 19 mars lors de l'exposition Regards du Nord.
For those who couldn't attend, here are some commented images of the watercolour demonstration I gave on Saturday 19 March, for Regards du Nord exhibition.
Etape 1 : J'humidifie les zones de fond à l'eau claire puis, j'applique les premiers lavis bleutés. Lorsque le papier est humide et en fonction du comportement des pigments utilisés, les couleurs interagissent entre elles de manière imprévisible. Pour garder un certain contrôle, il faut donc gérer la quantité d'eau sur le papier, dans le pinceau et la quantité de pigments utilisés. Le type de pigment déposé sur le papier a aussi son importance.
Step 1: I wet the background areas with clean water, then I apply the first blue layers. When the paper is still wet and depending on the behaviour of the pigments used in the process, the colours intermix on the paper in a somewhat unpredictable way. To keep some control, I have to handle the amount of water on the paper and in the brush as well as the amount of pigment. The nature of the pigments is also important.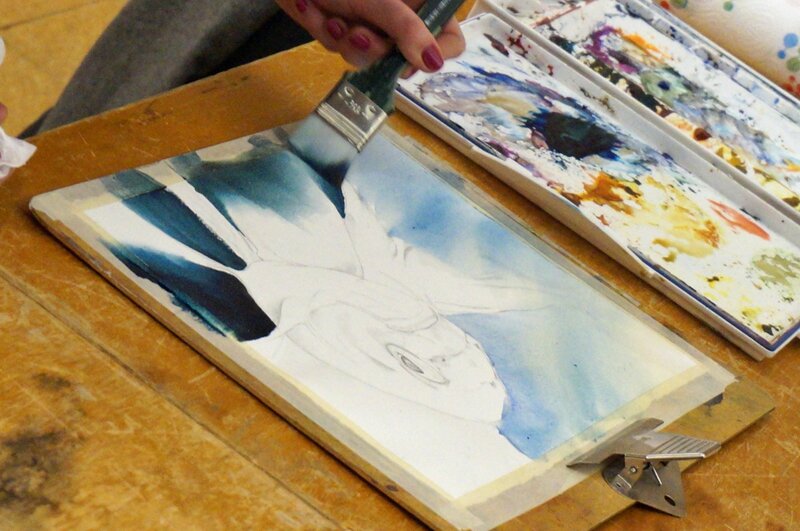 Etape 2 : Il est temps d'introduire les nuances jaunes du poisson. Le papier est encore humide, je dois donc être attentive sous peine de donner naissance à des flux de couleurs non désirés ou à des auréoles. Par la même occasion, je joue avec les valeurs et les ombres délicates.
Step 2: It is time to add the yellow undertones to the fish. The paper is still wet, I have to be careful otherwise I could create unwanted flows of colour or backruns. At the same time, I play with values and subtle shadows.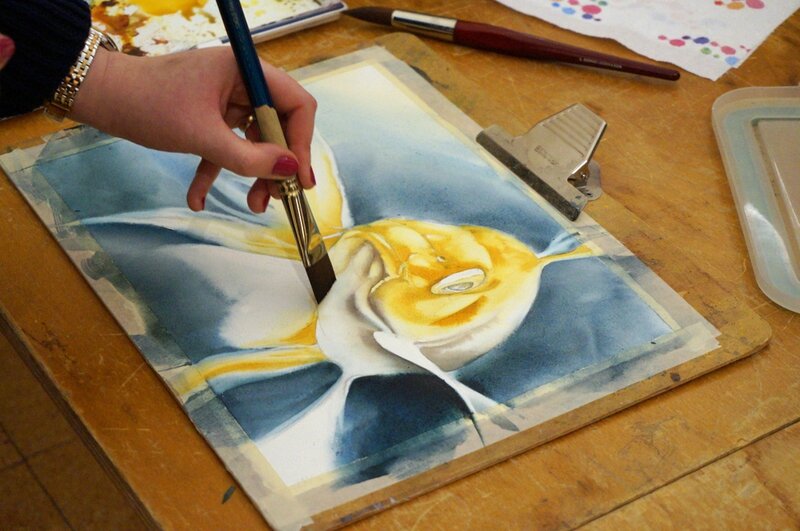 Etape 3 : La majeure partie du travail est terminée. J'ajoute encore quelques détails au niveau de l'oeil et sur les nageoires, j'accentue les ombres et je crée davantage de contrastes pour donner vie au koï.
Step 3: The main work is done. I have to add some details to the eye and the fins, to enhance the shadows and to create more contrasts in order to make the koi pop.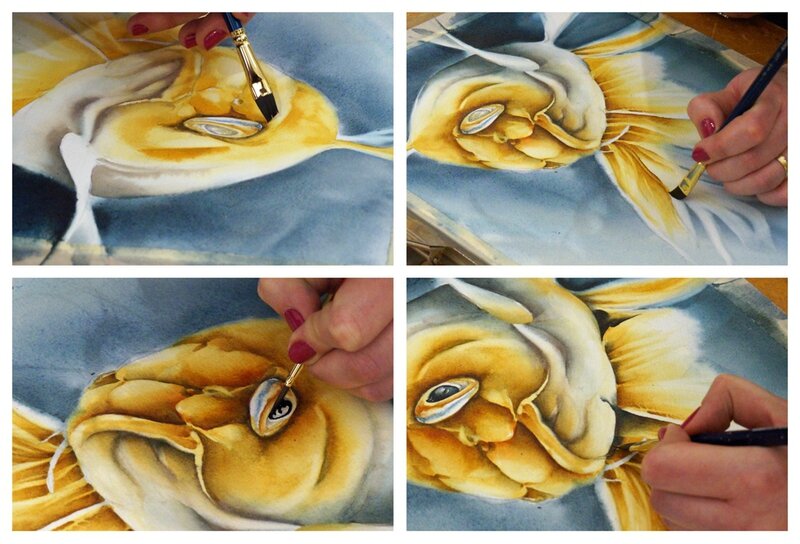 Et voici le résultat final, qu'en pensez-vous ? / And here is the final painting, I hope you like it:
Golden Boy. Aquarelle / Watercolour, 26 x 36 cm. 2016.