La trousse de croquis Derwent propose une sélection assez polyvalente de matériel de croquis, parfaite pour les artistes qui travaillent sur le motif. Elle contient :
6 crayons Graphic (2H, H, B, 2B, 4B, 6B) qui peuvent être utilisés pour l'esquisse ;
2 crayons esquisse aquarellables (4B et 8B). Leur mine douce et large est parfaite pour les traits intenses comme pour les aplats. Des lavis aux nuances subtiles peuvent être créés en y ajoutant un peu d'eau ;
un crayon Onyx, de couleur très foncée, plus sombre qu'un crayon 9B ;
1 crayon fusain, il s'agit du fusain traditionnel présenté sous forme plus pratique ;
3 crayons fusain teintés en Ocean Deep (TC12), Forest Pine (TC14) et White (TC21). Il s'agit de fusain avec une légère touche de couleur ;
un taille-crayon en métal, une gomme plastique, un bloc de croquis au format A5.
Ce set de 17 pièces semble être un compagnon idéal pour les croquis réalisés à l'extérieur, il convient plus particulièrement l'esquisse de paysage. Pour les portraitistes, je crains que quelques-uns des outils les plus indispensables manquent à l'appel : une sanguine, quelques crayons fusain teintés de couleur beige ou déclinés en diverses nuances chair (TC01, 02, 03, 04). Derwent, sachez que j'adorerais trouver une variante de cette trousse pour le portrait ! Enfin, je ne suis pas fan des gommes plastique, j'aurais préféré une gomme douce ou mie de pain. Une estompe compléterait ce set à merveille, puisqu'elle permet d'estomper ou de mélanger les traits des crayons fusain et graphite. Pour plus d'information sur les produits, visitez le site web de Derwent.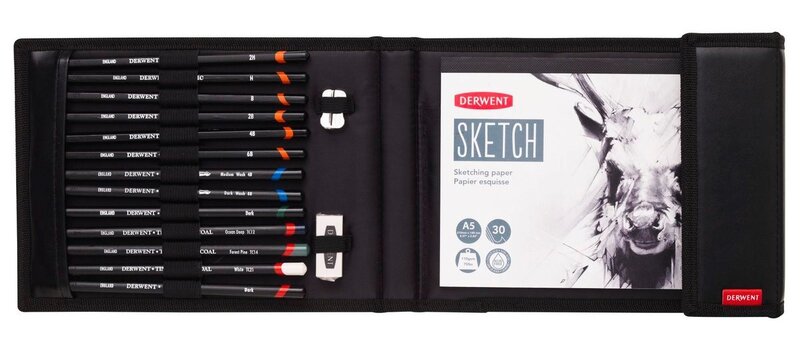 The Derwent sketching wallet offers a versatile selection of sketching media, perfect to work on location. It contains:
6 graphic pencils (2H, H, B, 2B, 4B, 6B) that can be used for initial sketches;
2 watersoluble sketching pencils (4B and 8B). Their soft wide core is perfect for bold sketches and large application of shadows. Subtle shades and washes are created by adding water;
Onyx pencil, this pencil is a very dark black-grey, it is darker than a 9B sketching pencil;
1 charcoal pencil in Black, this is the traditional charcoal in a easy to use pencil;
3 tinted charcoal pencils in Ocean Deep (TC12), Forest Pine (TC14) and White (TC21). These a charcoal but with a hint of colour;
a metal sharpener, plastic eraser and A5 sketching pad.
This 17-pieces wallet seems to be a good companion for sketching expeditions, especially if you draw landscapes. For portrait artists, I am afraid that some useful tools are missing: a sanguine pencil, some beige or flesh-toned tinted charcoals (TC01, 02, 03, 04). Derwent, if you read me, I would love another set for portrait painters! Finally, for my own taste, I am not a fan of plastic eraser, I would have perfered a soft or rubbed eraser. A stump would also have been a nice addition to this set, as it helps to smudge or blend marks made with the charcoal and graphite pencils. More information on Derwent's website.