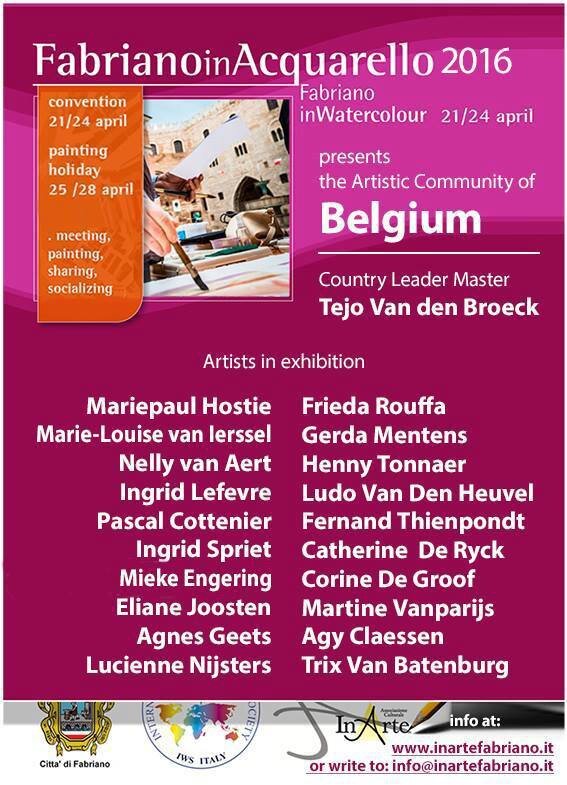 La quatrième édition de Fabriano in Acquarello s'articule autour d'une convention internationale d'une part, et d'une exposition d'autre part. La convention se déroulera du 21 au 24 avril 2016. L'exposition se poursuivra jusqu'au 15 mai dans les lieux plus prestigieux de la ville de Fabriano. Durant la convention, Fabriano accueillera des artistes professionnels, amateurs, passionnés d'art et collectionneurs qui se rencontreront et partageront leur passion lors des différentes activités organisées : stages, démonstrations, exposition et, pour la première fois, un voyage artistique de 4 jours : le Painting Holiday (du 25 au 29 avril).

Plus de 730 artistes originaires de 38 pays participent à cet événement : Albanie, Allemagne, Autriche, Bahamas, Belarus, Belgique, Brésil, Bulgarie, Canada, Chine, Espagne, Estonie, Etats-Unis, Europe de l'Est, Finlande, France, Ghana, Grèce, Hong Kong, Inde, Iran, Iraq, Italie, Japon, Lettonie, Lithuanie, Maroc, Moldavie, Pakistan, Pays-Bas, Pays du sud de la Méditerranée, Pologne, Portugal, Russie, Serbie, Slovénie, Royaume-Uni, Thaïlande, Turquie, U.A.E., Ukraine.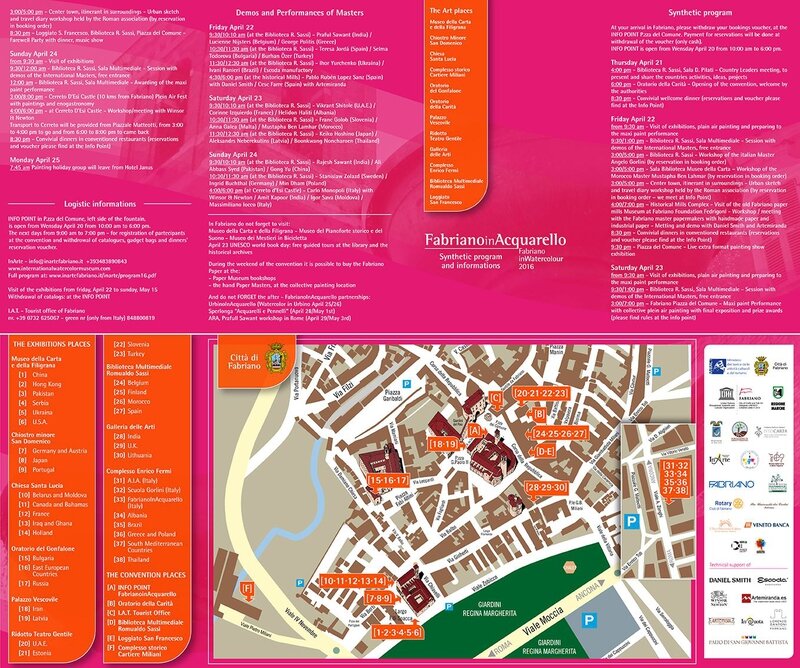 Il s'agit de ma quatrième participation à Fabriano in Acquarello. Malheureusement, en raison d'un programme déjà très chargé, je ne serai pas en mesure d'accompagner mes amis de l'Aquarel Instituut van België et de faire le voyage en Italie cette année. Voici Retour en Lumière, l'aquarelle que je présente dans le cadre de cette exposition internationale.
Découvrez en plus sur l'historique de Fabriano in Acquarello en lisant mes compte-rendus des éditions 2013 et 2015. Contact : InArte ass. culturale - 60044 Fabriano (AN), inartefabriano.it, info@inartefabriano.it.
Retour en Lumière / Back to the Light. Aquarelle / Watercolour, 46 x 36 cm.
The fourth edition of Fabriano in Acquarello offers an international art convention and an exhibition. The convention will take place from 21 until 24 April. The exhibition will run until 15 May in Fabriano's most prestigious locations. During the convention, Fabriano will welcome professional artists, art lovers and collectors who will meet and share during the several workshops, painting demonstrations, exhibition and, for the first time, an after event Painting Holiday (4 days, from 25 to 29 April).
More than 730 artists coming from 38 countries take part in this event. The representied nations are: Albania, Austria, Bahamas, Belarus, Belgium, Brazil, Bulgaria, Canada, China, East European Countries, Estonia, Finland, France, Germany, Ghana, Greece, Hong Kong, India, Iran, Iraq, Italy, Japan, Latvia, Lithuania, Moldova, Morocco, Netherlands, Pakistan, Poland, Portugal, Russia, Serbia, Slovenia, South Mediterranean Countries, Spain, Thaïland, Turkey, U.A.E., Ukrain, United Kingdom, United States.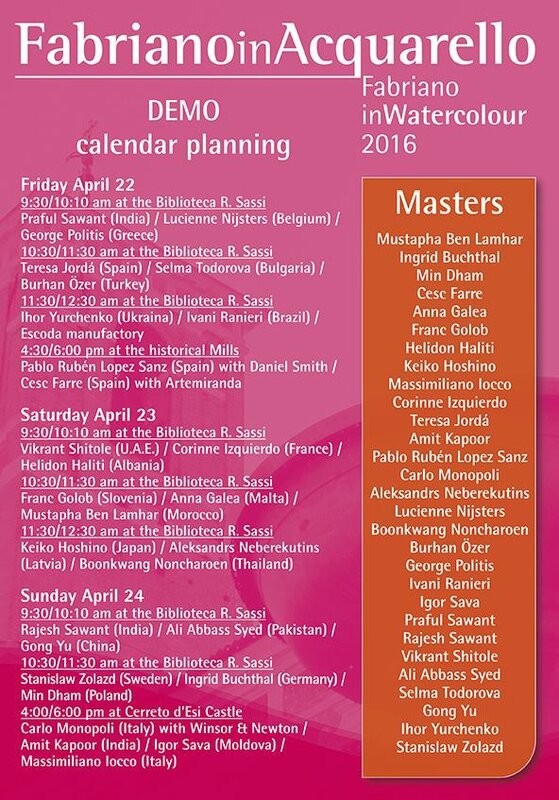 This is my fourth participation in Fabriano in Acquarello. Unfortunately, due to a very busy schedule, I will not be able to join my friends from the Belgian Watercolour Institute (A.I.B.) and to travel to Italy this year. Above is the painting that I present for this international exhibition, it is untitled Back to the Light.

Learn more about Fabriano in Acquarello with my reports about the 2013 and 2015 exhibitions. Contact information: InArte ass. culturale - 60044 Fabriano (AN), inartefabriano.it, info@inartefabriano.it.