Les beaux jours sont de retour et, avec eux, notre envie de travailler à l'extérieur. Cependant, il n'est pas toujours facile de limiter la quantité de matériel à emporter avec soi. Voici quelques trucs et astuces... Premièrement, gardez ceci à l'esprit : tout votre matériel doit être contenu dans un petit sac à dos, de cette manière vous vous assurez de voyager d'un endroit à l'autre muni d'un équipement léger.
Couleurs aquarelle : j'utilise très souvent les mêmes couleurs, que celles-ci soient conditionnées en tubes ou en godets. Lors d'un voyage en avion, une palette à la fois petite et légère peut s'avérer très pratique. Il n'est pas nécessaire d'emporter beaucoup de couleurs, un choix limité de nuances chaudes et froides produit d'excellents mélanges. Mes 12 couleurs de base sont :
bruns : terre de sienne naturelle, terre de sienne brûlée, terre d'ombre naturelle, terre d'ombre brûlée, or quinacridone

bleus : bleu céruléen, bleu cobalt, bleu outremer

jaunes : gomme gutte, jaune cadmium
rouges : rouge cadmium, rose quinacridone
Parfois, je me limite aux 3 couleurs primaires. Je n'ai pas de marque de préférence mais, si je dois utiliser des godets, j'opte pour les couleurs crémeuses de Schmincke. Vous pouvez acheter (ou réutiliser) une palette de godets vides que vous remplissez des couleurs en tube de votre choix.
Pinceaux : pensez aux pinceaux que vous utilisez le plus et prenez-les. Lorsque vous choisissez vos outils, refléchissez aussi à leur polyvalence. Par exemple, le spalter couvre de larges surfaces mais vous pouvez ajouter des lignes ou d'autres éléments de design si vous l'utilisez sur sa tranche, ils vous permet aussi de réaliser des dégradés en un coup de pinceau ou de faire des projections, soit 1 outil = 4 utilisations. Certains pinceaux synthétiques possèdent un réservoir d'eau et sont idéaux pour de rapides croquis aquarellés.
Papier : le bloc collé 4 côtés est très pratique pour le travail sur le motif. Il permet à la feuille de ne pas gondoler, il ne doit pas être tendu et ne nécessite aucun traitement préalable. Une planche sous votre bloc n'est pas indispensable, vous pouvez travailler directement en fixant le bloc à votre chevalet ou en le posant sur vos genoux. Ma préférence va au papier Arches grain fin ou torchon, 300 g/m2, qui est suffisamment résistant pour premettre une multitude de techniques, de la superposition de lavis au sgraffito.
Autres outils :
ruban de masquage, cutter (si vous ne voyagez pas en avion)
petits récipients d'eau. Ils sont disponibles sous différentes formes et matières. Les récipients en textile résistants à l'eau sont parfaits car ils peuvent contenir une grande quantité de liquide. Lorsqu'ils sont vides, ils se plient à plat et ne requièrent pas beaucoup de place.
essuie absorbant ou sopalin
crayons aquarellables et/ou pastel dans des teintes classiques, pour l'ajout de lignes et d'éléments graphiques
pensez aussi à travailler confortablement : appareil photo si vous comptez terminer votre aquarelle à l'atelier, écran solaire, répulsif pour les insectes...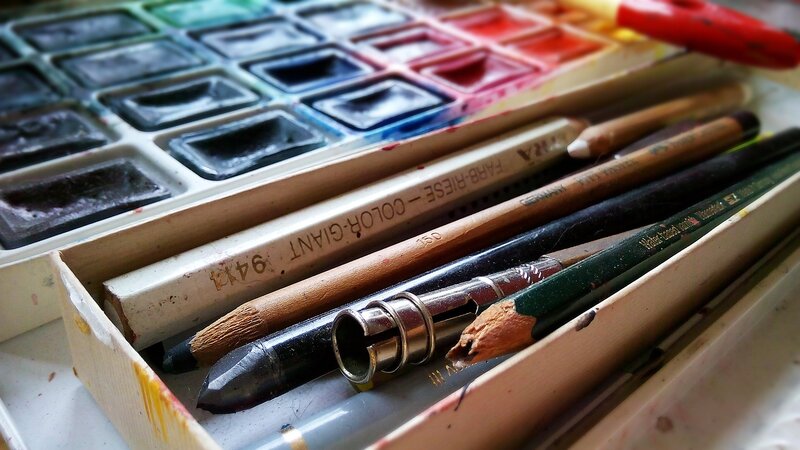 The sun is coming and, with it, our wish to work outside. However, it is not always easy to limit our equipment to a minimum. Here are some tips... First of all, keep this in mind: all painting material should fit into a small backpack, this way you know that you will easily travel from one place to another with a lightweight equipment.
Watercolour paints: wether I choose to work with watercolour tubes or pans, the colours I use are often the same. While travelling by plane, a small and lightweight palette can be very useful. It is not necessary to take a lot of colours, a limited palette of a warm and a cool colours can produce surprising results. My basic palette is made of:
browns: raw sienna, burnt sienna, raw umber, burnt umber, quinacridone gold

blues: cerulean blue, cobalt blue, ultramarine blue

yellows: new cambodge, cadmium yellow
reds: cadmium red, quinacridone rose
Sometimes, I only use the 3 primary colours. I have no favourite brand to recommend but if I have to use pans, my choice goes to Schmincke because the colours are very creamy. You can buy (or re-use) an empty metal box and fill it with the colours of your own choice. When the colours run low, you can refill the pans with tubes.
Brushes: think about the brushes you use the most and pick them. While choosing your material, it is important to think about the versatility of each tool. For example, think about spalters: you can use them on the entire surface to cover large areas but also on the edge to add details or lines, they also enable you to paint graded washes in one stroke or to make directional projections. So, 1 brush = 4 uses. Some synthetic brushes hold water in the barrel and they are great for quick watercolour sketches.
Paper: 4-sided glue pad is very useful while working on location. It prevents the paper from buckling as it is glued down on all sides. Also you don't need to stretch the paper or to do any pre-treatment. You don't need a board under your pad, so you can place the pad onto your easel or on your knees and directly start painting. My favourite is Arches CP or rough, 140 lbs, because it is a resistant paper that enables me to work with several watercolour techniques, from superposing layers to sgraffito.
Other tools:
masking tape, cutter (if not travelling by plane)
small water containers. They are available in different shapes and materials. Waterproof textile containers are excellent as they contain a large amount of water. When empty, they easily fold flat and do not take a lot of space
tissues
watercolour and/or pastel pencils in basic shades, to add lines or graphic elements
think about your own comfort while painting: camera if you wish to complete your work in the studio, sunscreen, insect repellent...