Il y a quelques mois, je posais la question suivante : que peindre et j'écrivais à quel point il peut être passionnant d'emprunter de nouvelles directions artistiques. Je ne suis pas peintre paysagiste, je n'ai tout au plus qu'une expérience relative. Le paysage est un thème commun en peinture, de nombreux artistes le maîtrisent à merveille et ils composent avec les formes contrastées, les valeurs et textures, les couleurs parfois inhabituelles, les reflets, les accents, les ombres… Lorsqu'il travaille sur le motif, le peintre doit rapidement saisir le mouvement du soleil sur une surface ou celui d'autres éléments qui peuvent changer au cours du temps. Il doit souvent simplifier ou optimiser la composition.
Mon premier voyage en Ecosse, il y a quelques années, a été une révélation. Je suis tombée sous le charme du pays, de la lumière, du paysage, de ses habitants, de l'héritage celte et des traditions. Rien de moins ! Pour partager ce ressenti, il n'existe pas de meilleur moyen pour moi que de saisir mes pinceaux. Dépeindre le paysage écossais me demandera d'observer comment les masses nuageuses influent sur le relief et comment le soleil filtre à travers elles, de sentir le poids des montagnes, la dureté et le relief de la pierre, l'énergie des eaux et l'atmosphère de lieux empreints de légendes.
Après m'être demandée pendant un long moment si je devais ou non concentrer mon travail sur le paysage, je suis prête pour un nouveau challenge. En 2013, j'ai visité le nord des Highlands et les Orcades. Lorsque vous lirez ces lignes, Fred et moi serons à nouveau dans l'avion vers l'Ecosse. Mes prochaines aquarelles et les dessins issus de mon carnet de croquis illustreront les lieux que nous avons déjà visité / visiterons. Je réaliserai également quelques portraits inspirés de nos rencontres. J'espère que vous apprécierez le voyage !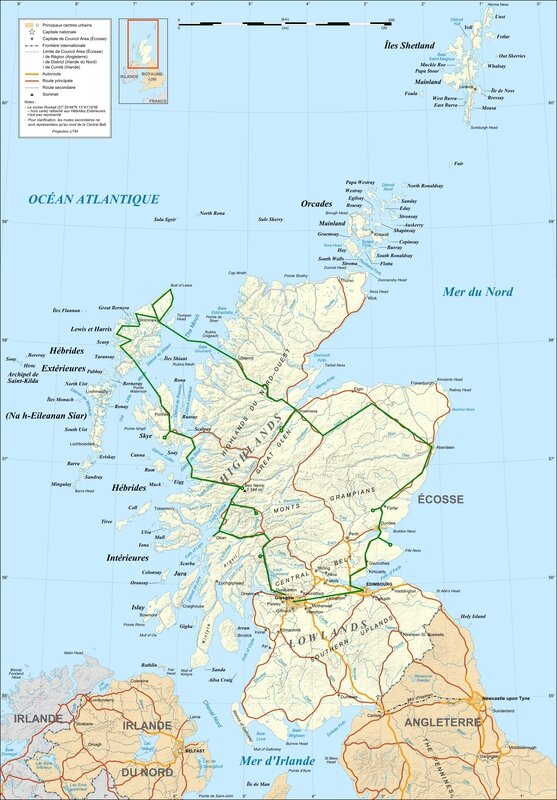 En vert sur la carte / Outlined in green on the map: Roadtrip, Ecosse / Scotland, 2016.
A few months ago, I wrote about what to paint and how it can be challenging to take new paths. I am not a landscape painter, or at least I only have a little practice. Landscape is a common theme in painting and a lot of artists already master it very well. The landscape painter deals with contrasting shapes, values and textures, unusual colours, reflections, highlights, shadows… When painting on location, he must be quick to capture the movement of the sun across a surface, or other such items that have a way of changing over time. He often needs to simplify the elements or to rearrange them in a more effective way.
My first trip to Scotland, a few years ago, was a revelation. I fell in love with the country, the landscape, the scenery, the people, the Celtic heritage and traditions. Yes, all of it! And there is no better way for me to share how I felt and what I saw, than to paint it. To express the Scottish landscape in painting, I'll have to sense the large masses of the clouds and how the sun filters through them, to feel the weight of the mountains, the hardness of the stone, the energy of the waters and the atmosphere of places charged with legends.
After wondering if I should or shouldn't focus on landscape painting for a while, I am ready for this new challenge and a new series of works. In 2013, I visited Northern Highlands and Orkney. At the time you will read these lines, Fred and I will be on the plane, travelling to Scotland for new adventures. All paintings or drawings from my sketchbook will depict places that we already visited / will discover. I will also paint portraits of some of the people we met / 'll meet. I hope that you will enjoy the trip!