La Rivière Etive (en Gaélique écossais : Abhainn Èite) est située dans la vallée du même nom, le Glen Etive, au coeur des Highlands (région de l'Argyll). La rivière prend sa source sur les sommets de Rannoch Moor et ses affluents se rejoignent à la pointe de la montagne de Glen Coe. Elle façonne la vallée verdoyante sur 18km, jusqu'au Loch Etive qui se jette à son tour dans la mer. Au fil de son parcours, la rivière s'enrichit des eaux pluviales et s'écoule, tantôt en se reposant paisiblement dans son lit, tantôt en s'écrasant avec force et fracas contre les parois rocheuses abruptes qui la bordent ou qui jalonnent son chemin. La Rivière Etive est d'ailleurs très populaire auprès des amateurs de kayak en eaux vives et sa descente est considérée comme l'une des meilleures d'Ecosse, avec sa succession de rapides à eaux blanches, de chutes et de dénivelés.
Je me suis rendue sur place il y a trois ans. Malheureusement, le temps écossais, capricieux ce jour-là, ne m'a pas permis de travailler sur le motif : "it never rains but it pours", comme les gens disent ici. Je tiens donc à remercier mon ami écossais Andy MacDougall qui m'a fourni quelques visuels de référence afin que je puisse terminer cette aquarelle. Andy est un photographe talentueux qui capture l'atmosphère de la campagne et des villes écossaises. A travers ses clichés, il partage ses sentiments, l'émotion qu'il ressent à vivre dans ce magnifique pays dont il est si fier. Son travail a été salué lors de nombreuses compétitions de photographie et son site Internet vaut définitivement le coup d'oeil !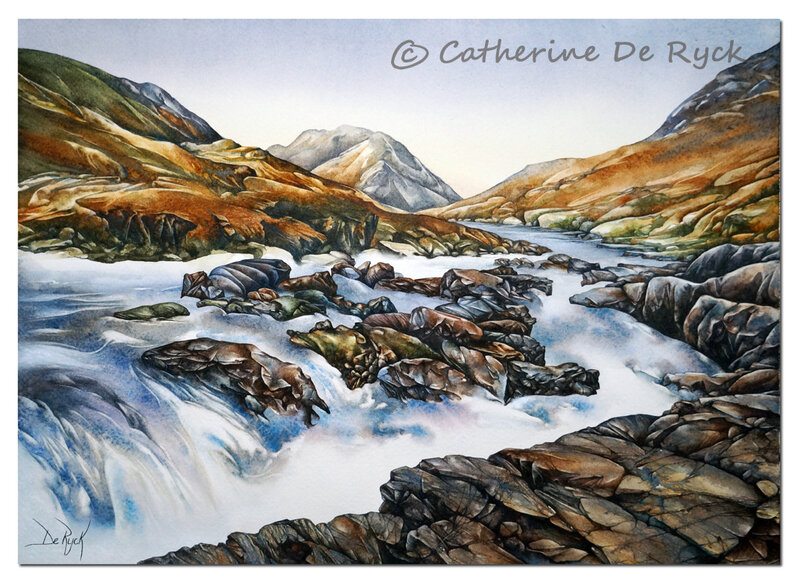 River Etive. Aquarelle / Watercolour, 25 x 35 cm. 2016.

The River Etive (Scottish Gaelic: Abhainn Èite) is located in Glen Etive, in the heart of the Highlands (area of Argyll). The river rises on the peaks surrounding Rannoch Moor, with several tributary streams coming together at the head of the Glen Coe Mountain. It flows for about 18 km, dividing the glen in two green parts and offering a beautiful scenery. Rainwaters bring the river's level up and it flows - sometimes resting peacefully in its bed, sometimes splashing with force against the rocks that are on its way - before reaching the sea loch, Loch Etive. The River Etive is also one of the most popular and challenging white water kayaking runs for the afficinados. Indeed, it provides a multitude of white rapids with a variety of falls and pool drops and it is considered as one of the best water runs in Scotland.
I visited this place three years ago but, unfortunately, I wasn't able to paint on location. On that day, the Scottish weather didn't allow it: "it never rains but it pours", as people say here. I wish to thank my Scottish friend Andy MacDougall who helped me with the reference materials I needed to complete this painting. Andy is a talented photographer who captures the mood of the Scottish countryside and towns in an attempt to convey his personal feelings about living in this beautiful country that he is so proud of. He is the winner of several photography competitions and his website is definitely worth a look!