Je ne voyage jamais sans carnet de croquis. Mieux qu'une photographie, le croquis me permet de créer un lien profond avec chaque lieu où je m'arrête. Chaque dessin ou croquis aquarellé conte une histoire : il grave les souvenirs, couleurs et ambiances dans mon esprit. Il constitue en quelque sorte un répertoire des paysages, scènes de vie, personnes, de la flore, faune, de l'histoire et de la culture locales rencontrés au cours d'un voyage. Lorsqu'il dessine, l'artiste est entouré d'éléments extérieurs qui influencent plus ou moins directement son travail : conditions météorologiques, sons, arômes, ... Dès lors, le carnet de voyage l'encourage à faire usage de tous ses sens, il implique le "vivre ici et maintenant".
Tenir un carnet de croquis favorise également la découverte. Cela permet de contempler l'invisible ou, en d'autres termes, de comprendre son sujet et de se concentrer sur des détails auxquels on ne prêterait peut-être pas attention de prime-abord. L'artiste peut alors réaliser des études détaillées de sujets inhabituels, situés parfois aux antipodes de sa zone de confort, et expérimenter de nouvelles approches par la forme, la couleur, les valeurs et la texture.
Enfin, dessiner ou peindre sur le motif favorise les rencontres avec la population locale car cela encourage souvent les uns et les autres à s'approcher, découvrir les esquisses en cours et entammer la conversation.
De retour à l'atelier, certains croquis seront réutilisés ou retravaillés pour donner naissance à un tableau plus abouti. Le carnet de voyage devient alors un ensemble de visuels de référence composé d'inspirations, d'informations et d'idées. Je complète généralement mes dessins par des annotations telles que dates et heures, observations du ciel, descriptions de paysages, de personnes ou d'objets, routes parcourues, couleurs, contrastes, textures, ...
Article complémentaire : Matériel - Peindre sur le motif.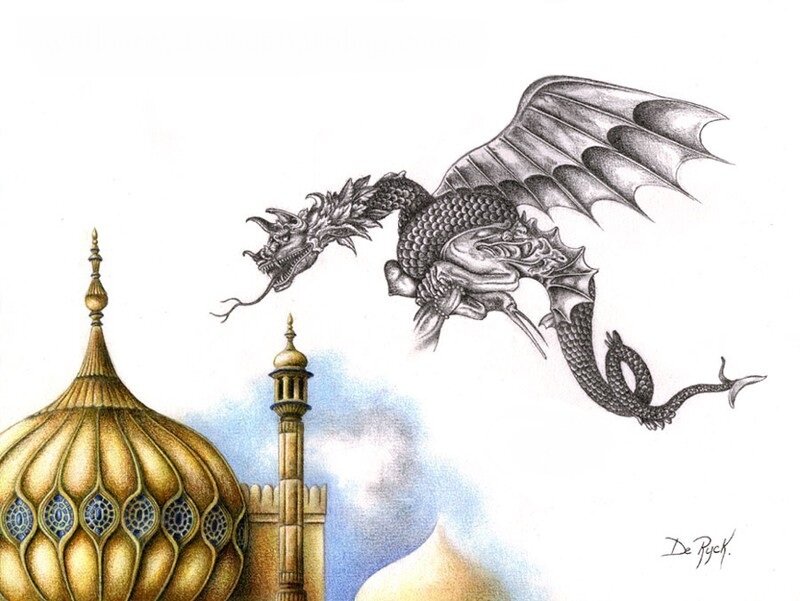 Georges's Dragon. Crayon de couleur et graphite sur papier / Coloured pencil and graphite on paper. 2007.
I never travel without a sketchbook. Better than any photograph, a sketch creates an emotional bond with every place that I visit. Each new drawing or quick watercolour sketch tells a story: it fixes memories, colours and atmosphere in my mind. It is a record of the scenery, people, flora, fauna, local history and culture encountered while traveling. Because the atmospherical conditions, the sounds, the aroma's are part of your drawing, the travel journal encourages you to make use of all your senses. It means "living here and now".
The sketchbook is also a tool for discovery. It helps to look at the unseen or, in other words, to understand a subject and to focus on unnoticed details. It enables the artist to create in-depth studies of unusual subjects, far from his comfort zone, and to experiment with shapes, colours, values and textures.
Finally, sketching opens doors and creates connections with people, as it encourages people to approach you, look at your work and have a little chat.
Back at home, I eventually decide to re-use or -work some sketches to paint. Then, the journal becomes a visual database for inspiration, information and ideas. It is often completed with personal notes like dates and times, weather observations, scenery descriptions, roads traveled, colours, contrasts, textures ...
Complementary blog post: Material - Painting on location.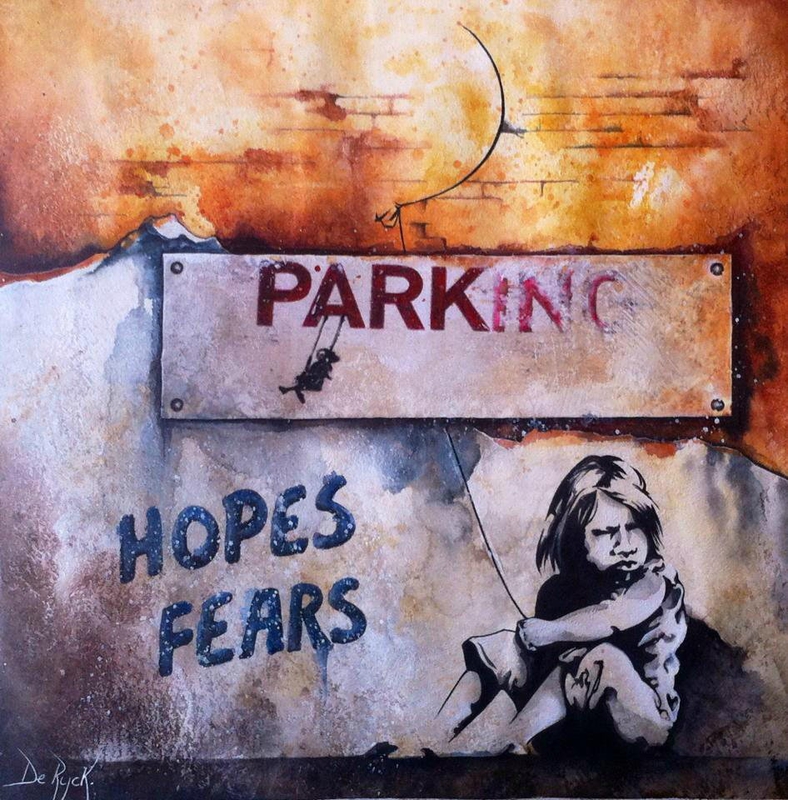 Wall Study. Technique mixte sur papier / Mixed media on paper. 2013.