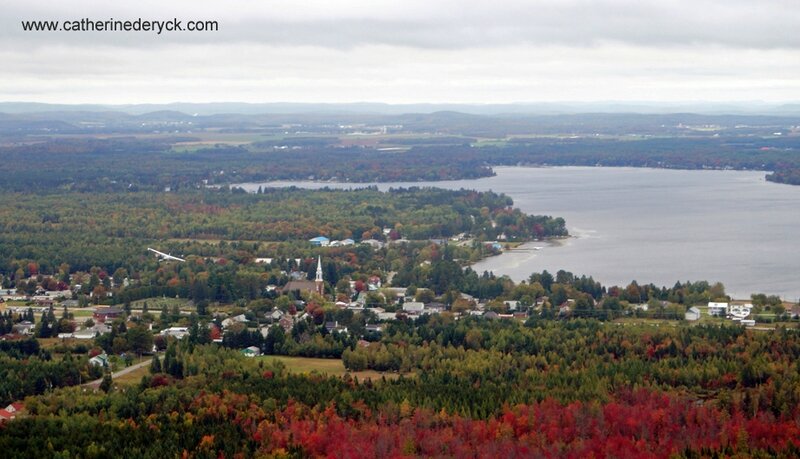 Couleurs du Québec, survol du Parc National de la Mauricie en hydravion, septembre 2016.
Suite à mon dernier billet concernant notre voyage au Canada et notre visite de l'Ile Bonaventure, plusieurs lecteurs m'ont demandé de retracer l'itinéraire parcouru sur une carte. En ce début d'automne, nous avons atterri à Toronto et nous avons visité l'Ontario avant de prendre la route vers Montréal et Québec. Après avoir exploré ces villes, nous sommes partis à la découverte des trésors cachés de Dame Nature et des paysages à couper le souffle de la Gaspésie, de la Sagamie et de la Mauricie. Nous avons choisi ces régions pour la beauté de leurs paysages, forêts, lacs et rivières, massifs montagneux et falaises, réserves naturelles et parcs nationaux, ainsi que pour les couleurs particulières de la flore qui peuvent être spécifiquement observées en cette saison.
J'ai répertorié les lieux que nous avons visités en croquant quelques paysages, animaux, silhouettes, éléments d'architecture, personnages... et en les annotant. Cette carte vous permettra de mieux les localiser.
After my latest post regarding our trip in Canada and the Bonaventure Island, some of my regular readers asked me to trace our travel itinerary on a map. This autmun, we landed in Toronto and we visited Ontario before driving to Montreal and Quebec. After having explored these cities, we discovered Dame Nature's natural beauties and breathtaking landscapes of Gaspesie, Saguenay and Mauricie. We chose these regions for their beautiful scenery, forests, lakes and rivers, mountainous massifs and cliffs, nature reserves, national parks and for the colours of the flora than can be observed in this particular season.
I kept some records of the places we visited by drawing landscapes, animals, silhouettes, people, architecture... and adding a few notes. This map will help you to locate each of them.