Cet été, mon grand ami George Politis (RI, AWS) organise un stage watermedia en Grèce. Celui-ci se déroulera du 22 au 28 août à Pélion. Le Mont Pélion est ponctué de villages traditionnels aux toîts de pierre grise, aux maisons élégantes et aux sentiers pavés. De magnifiques plages bordant la mer turquoise s'étendent à l'est de la péninsule. Les artistes et les amoureux du paysage apprécieront sans aucun doute son authenticité et la beauté naturelle du lieu.
Description par George : nous utiliserons une grande variété de techniques, aquarelle, gouache, acrylique, encres, collage... Peinture sur YUPO, etc...
L'accent portera sur la composition et la création d'oeuvres étonnantes qui pourront être présentées en exposition.
Un autre aspect sera dédié à comment "sauver" une aquarelle. Comment la retravailer et lui donner une nouvelle vie.
Programme et sujets :
mardi : esquisse, composition, centre d'intérêt. Peindre les textures à l'aquarelle.

mercredi : techniques mixtes, abstraction. Technique, pratique & comment peindre les graffiti sur papier. Peindre la plage et le paysage de bord de mer à l'aquarelle.

jeudi :

esquisse, composition

. Utilisation du collage. Mixed watermedia (acrylique, collage) : sujets urbains, nature.
vendredi : peinture sur YUPO : abstraction + nature morte, paysage sur YUPO. Texture à l'aquarelle.


samedi : peinture sur le motif. Texture watermedia, approches expérimentales et classiques.

dimanche :

esquisse

/ p

einture sur le motif

.
Je vous recommande vivement les stages de George. Toutes les informations pratiques et photos se trouvent ici.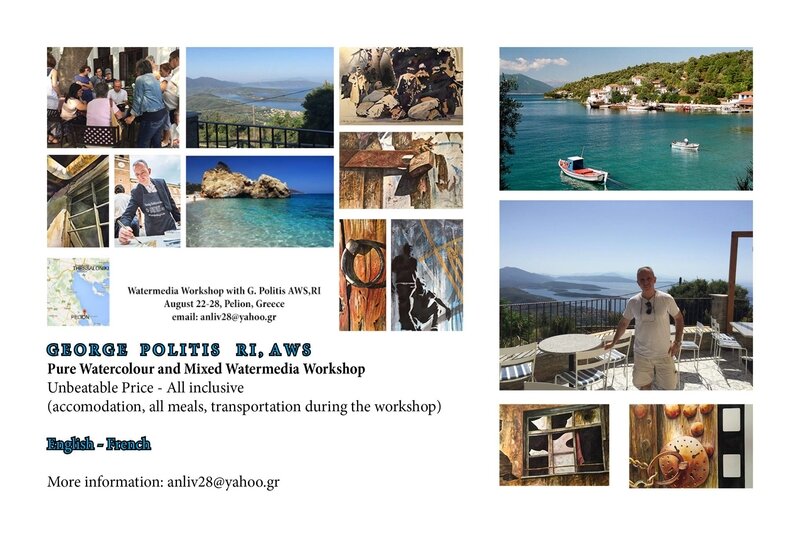 This summer, my dear friend George Politis (RI, AWS) organizes a watermedia workshop in Greece. The workshop will take place from 22nd until 28th August in Mount Pelion. Pelion is actually a large mountain dotted with traditional villages, with grey stone roofs, elegant houses and paved paths. On the eastern side of the peninsula, there are wonderful beaches with exotic blue water. All landscape lovers and artists will appreciate its authenticity and its natural beauty.
Description by George: We will be using a variety of techniques, watercolour, gouache, inks, acrylics, collage... YUPO painting, etc...
A great emphasis is given to compositional ideas and how to create striking pieces for entering exhibitions.
Another part is trying to "save" unsuccessful watercolours. How we could rework and "save" them.
Schedule and subjects:
Tuesday: sketching, composition, centre of interest. Painting texture in watercolour.

Wednesday: mixed media, abstract paintings. Techniques, practice & painting graffiti on paper. Painting a beach landscape in watercolour.

Thursday: sketching, composition. Use of collage. Mixed watermedia (acrylics, collage): buildings, nature.

Friday: YUPO painting: abstract + still life, YUPO landscape. Texture in watercolour.

Saturday: plein air painting. Texture in watermedia, experimental and classical approaches.

Sunday: sketching / plein air painting.
I can't recommend George's workshops enough. All pratical information and more pictures can be found here.
is a place of great natural beauty. It is actually a large mountain dotted with traditional villages and exotic beaches. Makrinitsa, Portaria, Milies and Tsagarada are the most traditional villages of Pelion, with grey stone roofs, elegant houses and paved paths. On the eastern side of the peninsula, there are wonderful beaches with exotic blue water. Source:
www.greeka.com