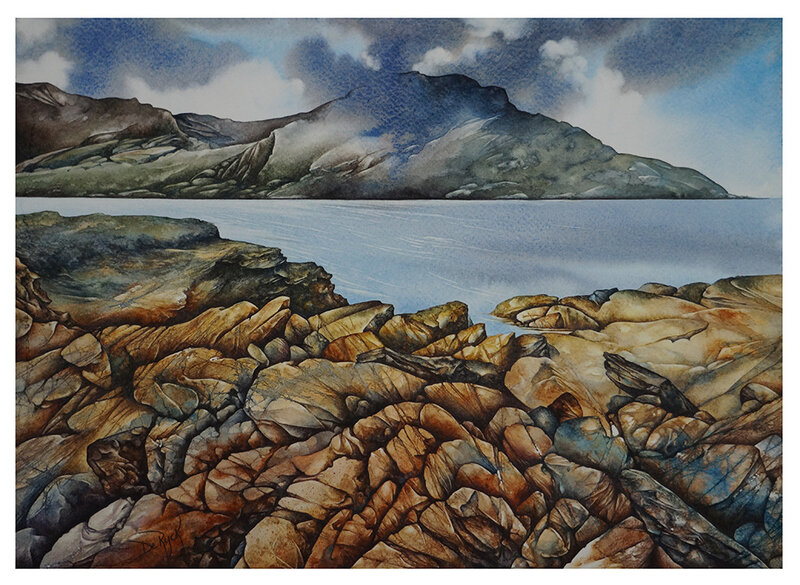 Le Cap des Peuples Endormis / The Point of the Sleepy People. Aquarelle / Watercolour, 26 x 36 cm. 2017.
Rhue est un petit village situé à environ 5 km au nord d'Ullapool, dans l'ancien Comté de Ross et Cromarty, au nord-ouest des Highlands, en Ecosse.
Rhue vient du nom An Rubha qui signifie cap (ou promontoire) en gaélique. Le nom complet de cet endroit est Rudha Cadail, qui peut se traduire par "le Cap des Peuples Endormis". Selon la légende, ce nom provient des marins qui avaient été retrouvés endormis et totalement désarmés sur les rochers du cap, après le naufrage de leur navire par une nuit de tempête. Rudha Cadail est accessible par une courte balade qui prend son point de départ au village de Rhue.
Le phare, aujourd'hui devenu un emblême du lieu, a été construit sur ces rochers. Il se trouve à la séparation entre le Loch Kanaird et le Loch Broom et il marque l'entrée nord de la partie supérieure du Loch Broom et du port d'Ullapool. La vue sur le Loch Broom et vers la mer, en ce compris les Iles d'Eté, y est magnifique. Sur l'aquarelle ci-dessus, vous pouvez voir se dessiner la montagne de Beinn Ghobhlach (635 m), située sur l'autre rive du Loch Broom, dans la Péninsule de Scoraig.
Sur la photo, en bas de ce post, vous pouvez apercevoir le phare et les rives de Rhue. La photo a été prise sur le ferry qui relie Stornoway à Ullapool, au retour de notre voyage dans les Hébrides Extérieures.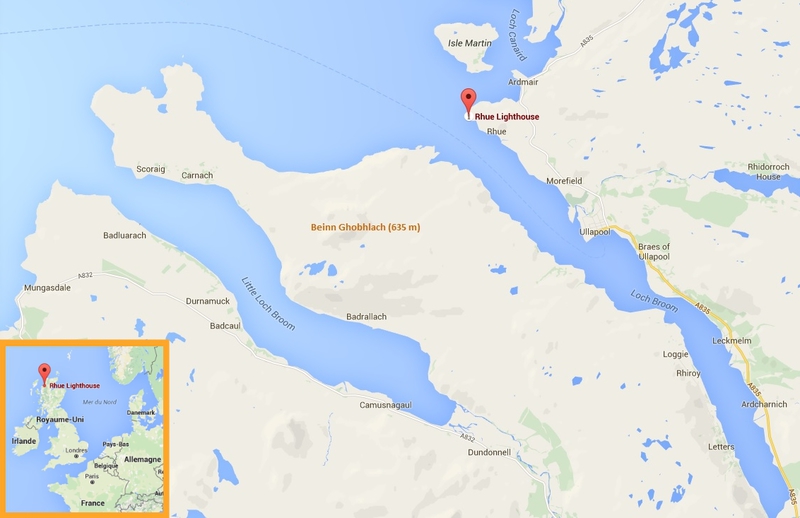 Rhue, Beinn Ghobhlach and the Scoraig Peninsula. Highlands, Scotland. Cliquez pour agrandir / Click to enlarge.
Rhue is a small settlement about 5 km north of Ullapool in Ross and Cromarty, it is located in the North West of the Highlands, Scotland.
Rhue derives from An Rubha which means headland in Gaelic. The full name of the area depicted here is Rudha Cadail, which in Gaelic means "the Point of the Sleepy People". According to the legend, the name came from sailors found asleep but quite unharmed on the rocks after their boat was shipwrecked on a stormy night. Rudha Cadail is accessible by a short walk from the village of Rhue.
The lighthouse, which is now a landmark of the place, was built on these rocks. The Rudha Cadail lighthouse is located on the point separating Loch Kanaird and Loch Broom, marking the north side of the entrance to the upper portion of Loch Broom and the harbour of Ullapool. It offers good views down Loch Broom and out to sea including to the Summer Isles. On the watercollour above, you can see the shapely mountain of Beinn Ghobhlach (635 m) which is directly situated across Loch Broom, on the Scoraig Peninsula.
On the picture below, you can see Rhue's lighthouse and shores. This picture was taken on the ferry that connects Stornoway to Ullapool, during our return journey from the Outer Hebrides.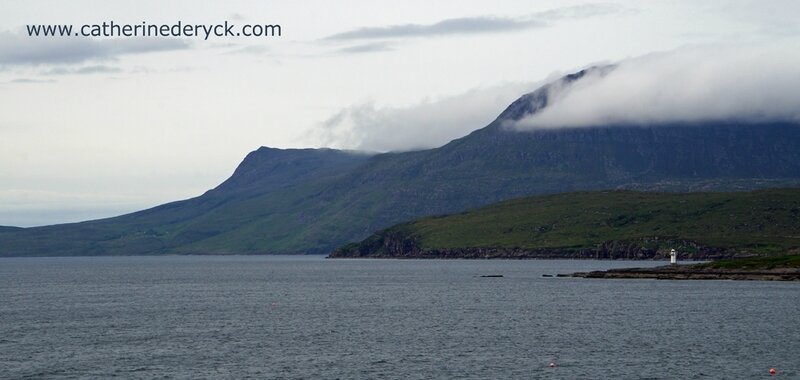 Phare et rive à Rhue / Rhue's lighthouse and shores.