L'exposition Grandmasters of Fine Arts 2017 est en ligne. Cette année, elle s'intitule 40.000 ans plus tard.
Les premières oeuvres d'Art ont été découvertes dans les grottes, il y a environ 40.000 ans.
L'Art coule dans nos veines. Pour les artistes et les amateurs d'art, il est nécéssité vitale !
Imaginez, il y a des milliers d'années, les peuples s'arrêter devant de magnifiques créations.
Plus tard, à travers les siècles, autour du monde, l'Art s'est développé, donnant naissance aux étonnantes peintures du Moyen-Age, puis de la Renaissance. Nos Impressionistes lancèrent une nouvelle tendance, une nouvelle ère elle-même suivie par le Cubisme, l'Abstraction et bien d'autres encore... A travers cette exposition, vous apprécierez combien l'Art est aujourd'hui plus fort que jamais et encore bien vivant.
Par le biais du site internet, vous pouvez naviguer dans les galeries virtuelles et découvrir le travail d'un pléiade d'artistes (59 exactement !) venus des 5 continents. Le fait qu'il s'agisse d'une exposition multi-techniques qui réunit aquarellistes, peintres à l'huile ou à l'acrylique, pastellistes, ... démontre à quel point l'art est versatile et exprime tant de choses de tant de manières différentes.
Merci à l'artiste britannique Beatrice Cloake pour toute son énergie investie dans la collecte des images, la création des galeries et l'organisation de cette exposition. Elle a réalisé un travail incroyable, comme toujours. Rendez-vous sur le site web et partez à la découverte de nouveaux horizons artisitques, nous espérons que vous apprécierez la visite !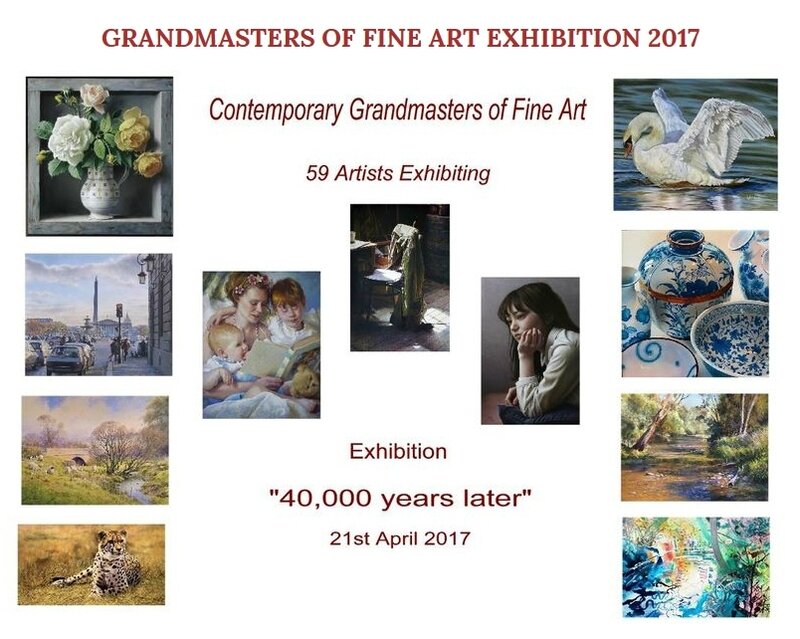 The Grandmasters of Fine Arts 2017 exhibition is online live. This year, the show is untitled 40.000 years later.
The first works of Art were found in caves, approximately 40.000 years ago.
Art is in our blood. Either for artists or for their followers, it is a necessity of life !
Imagine thousands of years ago, people staring at the magnificent creations.
Later, through centuries, around the world, Art carried on, giving birth to the astonishing paintings of the Middle Age, then Renaissance. Our Impressionists started a new trend, a new era and it carried on with Cubism, Abstract and more... Through this exhibition, you will appreciate that real Fine Art is stronger than ever and very much alive.
Through the website, you will be able to browse the galleries and discover the works of a crowd of artists (59 exactly!) coming from the 5 continents. The fact that this is a multi-media exhibition gathering watercolour, acrylics and oil painters, pastellists, ... shows how art can be versatile and express so many things in so many ways.
Once again, I wish to thank my friend, UK-based artist Beatrice Cloake, for her tremendous work collecting the pictures, organizing the galleries and curating this online exhibition. She did an amazing job, as always. Go see the website and discover all artists and works, we hope that you will enjoy the visit !