L'exposition Once upon a time, au Cinquantenaire (Bruxelles), a fermé ses portes le 17 septembre. Pendant plusieurs mois, 120 montres émaillées issues des collections du musée ont brillé à côté de répliques en papier de robes historiques datant de la même période (1650-1850). Ces robes ont toutes été réalisées par l'Atelier Isabelle de Borchgrave, à Ixelles. Elles appartiennent à la collection Papiers à la Mode imaginée par l'artiste pour raconter à sa façon 300 ans d'histoire de la mode, de la reine Elisabeth Ière jusqu'à Coco Chanel. A ce jour, cette collection a été admirée par plus d'un million de visiteurs à travers le monde.
Isabelle de Borchgrave est une artiste bruxelloise active depuis les années 70. En 1994, elle est bouleversée par la vsite d'une rétrospective consacrée à Yves Saint-Laurent. Depuis, elle a élaboré quatre grandes collections de robes en papier mettant chaque fois en scène des univers différents.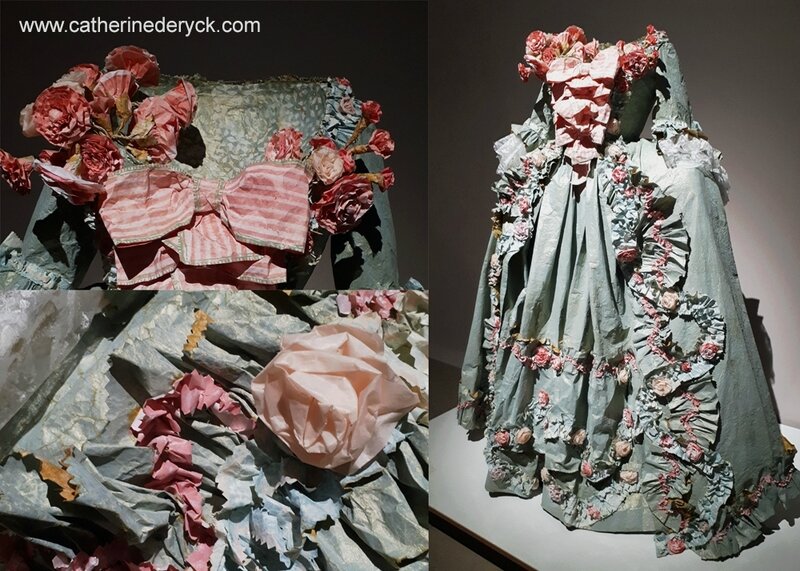 The Once upon a time exhibition, in the Cinquantenaire (Brussels), closed its doors on 17th September. For a few months, 120 enamelled watches from the museum's prestigious collections were shown accompanied by paper dresses, all copies of period outfits from the same era (1650-1850). These dresses have been created by the Isabelle de Borchgrave Studio, in Ixelles. They are part of the collection Paper in Fashion, in which the artist reviews 300 years of fashion history, from Queen Elizabeth the First to Coco Chanel. To date, this collection has been seen by more than a million visitors worldwide.
Isabelle de Borchgrave is a Brussels artist who has been active since the 1970's. In 1994, she was inspired by a visit to an Yves Saint-Laurent retrospective exhibition, and she has since produced four large collections of paper dresses, each time creating a different universe.